Junior Brooke Dommenge, from Waldrick, NJ (Bergen County) shares her insight on meal prepping as a college student. Brooke double majors in public relations and communications studies, both within the College of Communication & Creative Arts.
Many college students struggle with maintaining a healthy diet while in school. Busy schedules and lack of funds often discourage many from buying their own groceries and preparing their own meals. These tips and tricks make those daunting tasks just a little bit easier. The main key
to eating healthy in a time management-friendly way is to prep all of your meals in advance. "Meal-prepping" can sound like an intimidating term reserved for the fitness-savvy and health freaks. In reality, it is very simple and can save unbelievable amounts of time for busy college students.
The first step of meal prepping is to head to your local grocery store. For us Rowan students, this would be ShopRite. ShopRite is a great option since they accept RowanBucks. The first trick to meal prepping while staying on a budget is being minimalistic while grocery shopping and making the most meals as possible out of the food you purchase. I always start in the produce section. Here you pick out some of your favorite vegetables and fruits.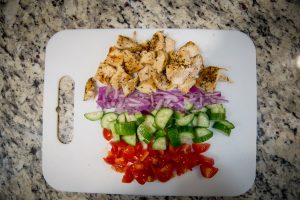 Next, I head to the meat section where I pick up some chicken, which is a huge part and the base of most of my meals. I also make sure to pick up some other necessities like almond milk, eggs, yogurt, oatmeal, etc. Yogurt, oatmeal, and cereal are all budget-friendly and fast breakfast options. More go-to options that can be prepared in advance and stored is hard-boiled eggs and smoothies. Some of my favorite lunch options include sandwiches and wraps.
These can be made in advance and stored in Tupperware along with some veggies and ranch. Now for my favorite part of meal prepping – stir-fry. Stir-fry is my absolute favorite meal to prep for dinner. Mostly because it can be changed up into so many different variations. I usually make about 3-4 servings per stir-fry, where I combine all of my favorite veggies in a pan with some chicken and seasonings. Stir-fry can be eaten alone or served over something like rice or noodles.
These are just some of my personal favorite ways to meal prep, but they can be adjusted to any type of preference. There are also many vegetarian and vegan ways to prepare these meals I have mentioned.
Like what you see? Come visit us!