Meet Kayla Molinaro, a junior Law and Justice major with minors in and Sociology and Psychology from Rockaway, NJ (Morris County). Kayla is a member of the first class of Rowan's National Honor Society for First Generation College Students, and her sister now joins her studying at Rowan. Kayla shares what it's like to be a first-gen student on campus, and gives advice on how she makes the most out of her college experience.
"It makes me so excited when my mom gets to come visit Rowan and see what it's like down here," Kayla says. "It is such a good feeling making her proud of the things I have accomplished and it really makes me feel good about myself for following my dreams."
Kayla is one of thousands of students who are the first in their family to attend college each year. While this is a major accomplishment, she shares that it doesn't come without overcoming difficulties.
"The challenge for me is that I had to navigate the application process and the whole transition process without any prior knowledge. It is hard but it's a learning process and it gets easier as time goes on." With only one year left for her degree she hopes that, "other students who are also first-generation students [will] believe in themselves and do the hard work and it'll pay off."
While many students can turn to family or siblings when navigating barriers in college or adjust to a new environment, some first-generation students can not.
"It was definitely so hard leaving my mom and my siblings to move here, but I knew it was the best decision for me and for them," Kayla says. She hopes to pave the pathway for her siblings to follow down their own career path, and pave their own way. "I wanted my younger siblings to see me go after my goals so one day they would too."
Kayla is part of the inaugural group of inductees to Rowan University's National Honor Society of First-Generation College Students. This organization helps students with their transition into college in their time spent here.
"Our advisors and chapter officers are really helpful and are there to answer any and all questions about our organization, and really anything else. Another great aspect to the group is that they help us get involved with activities and events that will grow our connections outside of Rowan. It is really a big achievement and something to be proud of!"
The adjustment to living on campus is often one of the most difficult transitions for college. 'How do I meet friends, roommates?' all while living in a completely new environment. "You will make friends no matter where you go so don't let friends in high school alter your decision," Kayla says.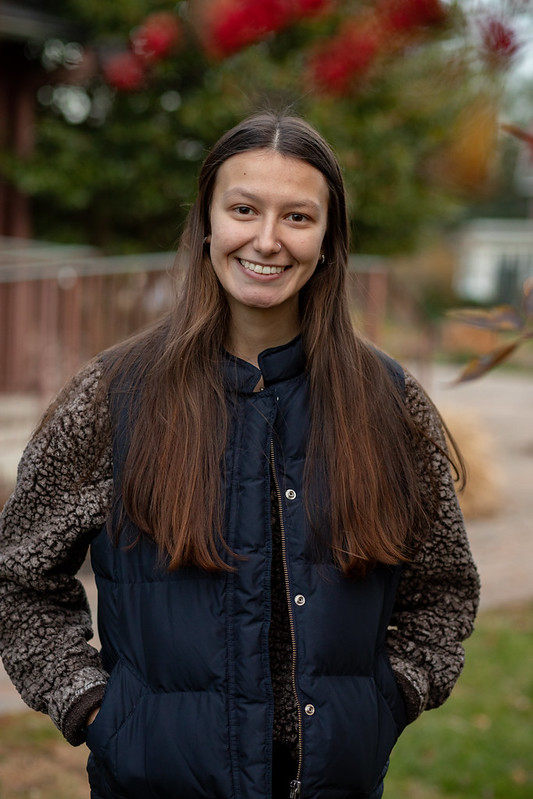 She adds, "The best way to enjoy campus is to get involved. I've attended all of the Rowan After Hours and Student University Programmers events that I could. My favorite is always Hollybash. It's also really fun to walk around the whole campus and catch up with friends on a day where we don't have class or homework. There truly is an event for everyone and so many fun things to do. I also love how the school utilizes the whole campus. I lived by Hollybush Mansion my first year and all my classes were online so I never had a reason to go to the other side of campus, so it was nice to be able to explore and get to know my way around campus better."
This is Kayla's third year of living on campus and she shares, "This year I have the best roommates ever that make being here so much fun and we all bonded so quickly. I also have my little sister here now, she's a freshman, and just knowing I have that part of home here is just really comforting."
Choosing your roommates can make a big difference on your college experience. "I honestly didn't know all of my roommates moving in, but now that we're almost done with the semester we're all so close and hang out all the time. Bonding with roommates can be challenging but these girls became my best friends so quickly and we all just meshed so well together. It has been so much fun already and it's only been a couple of months. These girls have really been a rock for me this past semester and I wouldn't trade it for anything else. Being best friends with your roommates is not something everyone experiences and I'm so thankful I can; they truly are my best friends!"
Kayla shares this advice for future incoming students: "It is important to be confident in the decision you make regarding a school. It's not all about the college life atmosphere that should sway your decision. Make sure the schools you apply to have your major or program and can help you succeed!"
She adds, "My family truly deserves the biggest thank you shout out. They pushed me to achieve all the things I did in high school and to always try my best. I know if I ever need anything that they will always be the first ones to come out and help me. I really wouldn't be where I am or who I am today without any of them."
Like what you see?