Today we feature senior Alivia DiNorscio (she/her) from Bridgewater, NJ (Somerset County). Alivia is an on-campus resident and first-generation college student majoring in Supply Chain and Logistics, having transferred to Rowan University from Raritan Valley Community College. She discusses the major with us here along with the internship she recently completed with Cape Resorts in Cape May, NJ.
What attracted you to the major?
I wanted to be a buyer for a while. It originally started as fashion buying, and then it turned into people telling me that supply chain is up and coming. I was like, ok, let me get a degree. I could do procurement, I could do logistics, I could do a lot of things for any company. I can work for Tito's Vodka [or] the place I interned for, anywhere.
Could you tell us about your internship?
The internship I did was for Cape Resorts. Cape Resorts is a company in Cape May, New Jersey — they have nine hotels, cottages, restaurants. I worked in the procurement department. My job was pulling merchandise from the warehouse, loading up the van, and taking it to the hotel. I did tagging, I did the prices, inventory, I put them in the system. I worked with an inventory program called Yellow Dog. It was a lot. [But] you get to live by the beach, you get all the benefits of being at a resort town. So it was fun.
How did you find out about it?
The reason why I wanted to work for this company is because I've been going since I was two years old. Every year I would go winter/summer. So when I saw them at the Career Fair at Rowan, I wasn't really expecting that. I was like, "Do you guys have procurement?" Because I was told that hotels, they don't have supply chain and procurement. They were like, oh, yeah, we do have a procurement department for the shops and the clothes and I was like, oh perfect.
They provide housing, so that was great. I got to live by the beach, and if you're familiar with Cape May, it's a ridiculously expensive place. So it's actually really nice because … you're inches away from the beach.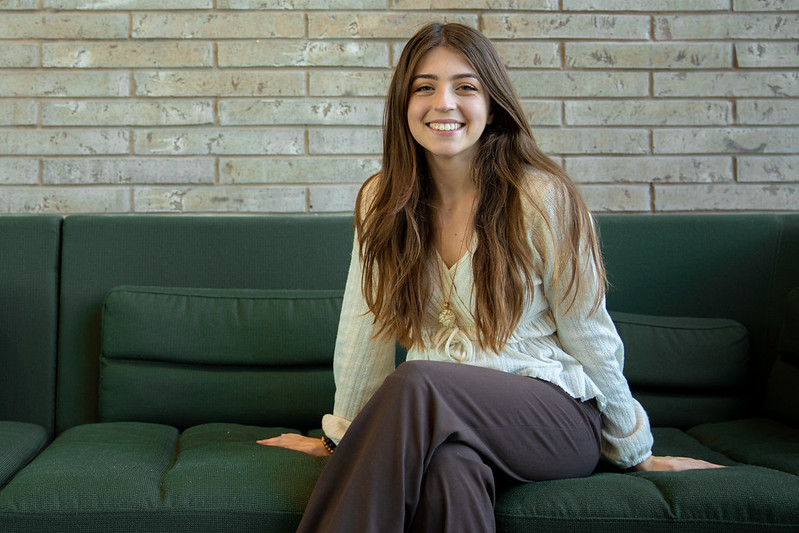 What did you enjoy most about the internship?
At first I was kind of like, oh, this is grunt work. But as I started doing more, understanding more, I [realized], oh wow, this is really the most entry level thing you could do for procurement. I was literally the one hauling rugs, hauling all this stuff. There were no dudes in the warehouse. It was literally me and a group of women that were buying, doing the uniforms for everybody that works there.
I like understanding the work and process that goes into it so that when I'm further in my career I can remember this experience and be like, damn, I was hauling an 8 by 10 rug and, you know, this is heavy s**t. You've got to have empathy for the people down the line.
I feel like some CEOs probably forget how hard the job actually is. And kind of just sit there and they're like, oh this is easy. But no, it's pulling and driving the van every single day, making sure the inventory and all that [gets processed]. It's a lot of work. It made me realize it's hard for one store, so doing it for multiple stores — wow. It helped me prepare because even though it was hauling a lot of heavy stuff, sitting there counting inventory, I'm learning a lot. It was more hands-on.
Could you walk us through a typical day at the internship?
I lived in another hotel that was built in the 1800s — over 100 people live there. I always got to see all these people [from] a lot of different countries. So I'd talk to these people, then we would separate. They'd go to their waitressing job, I'd go to the warehouse. It was a nine to five, so 9 a.m. I would get there, talk to my supervisor and just be like, what's going on today? She would give me a list of what the store needs after a while. I would print that out on my own and just go up in that attic. The attic is the warehouse, because it's literally an old candy store. That's the funny thing. So I would go up there, pull items that were needed, and then I would take it, put it in bins, load it, put it in the van, drive it in the sprinter van to the hotel, drop it off, load it all out of the van and then check in with the store manager.
They have hotels in New York, too, so you'd have to tag stuff from New York, ship it to New York. There'd be online orders that we need to fulfill. Then there'd be new merchandise that gets sent to the warehouse, and I would sit [and] put everything in the system, because, let's say we get a brand new crew neck. I have to put that in the system — men's crew, tag everything, box it, put it in the warehouse. It was a lot of that. There was a point [where] for an entire week I had to count inventory, and I ended up counting over 15,000 items up there.
How long did the internship last?
I started at the beginning of June and I left at the beginning of August. I wanted to do my entire summer there, but I wanted to get ready for another semester at Rowan. I am going back, but not as a procurement intern. This summer coming up I'm actually going to work on their farm — it's called Beach Plum Farm. It's just really cute, there's chickens free roaming everywhere, there's a hiking trail. All the food for all the hotels and everything comes from that farm.
Do you have a favorite moment or experience?
The people definitely. It was a small team of women, and they were just really nice people. If I had to work nine to five with horrible people, I would hate it. But there was a woman named April who was like the nicest woman ever. We always talked, [and] she always kept the day entertaining. My supervisor, Marissa, she was also really nice. She's only a year older than me. I forget that sometimes because it's like, how could you be a buyer for this company? I had to remember sometimes, this is crazy to you too.
And I've met people from Thailand, Czechoslovakia, Europe, all over the place. Slovenia. So it was very interesting meeting these people, hanging out with these people. One guy, he's Belgian and he lives in France. So it helped me meet new people, new friends, have a great experience, and then on top of that, I'm getting a great supply chain and procurement experience.
Like what you see?
Story by:
Joseph Conte, junior community and environmental planning major
Photos by:
Valentina Giannattasio, sophomore dance and marketing double major
Header image courtesy of:
Cape Resorts