As a graduating senior, Sarah McClure reflects on her time as a Rowan student. Sarah was an International Studies and Political Science double major and on-campus resident from Rockaway, NJ (Morris County). 
Sarah held positions on the Student Government Association and Honors Student Organization executive boards. 
"My executive boards, through the Honors Student Organization and the Student Government Association, especially this year, left me with lifelong friends. These are people I'm going to come back and visit next year and check-in with. I'm really lucky to be blessed with such amazing people I was able to work alongside that I could eventually call my friends."
Sarah is passing her Executive Vice President (EVP) position on SGA to one of her newfound lifelong friends.
"I'm so thrilled with my successor that was elected, Emily Lowe. She was on the board with me this year and she was the Vice President of Student Affairs. She is so lovely, so nice, and I'm really confident that she's going to do a really good job."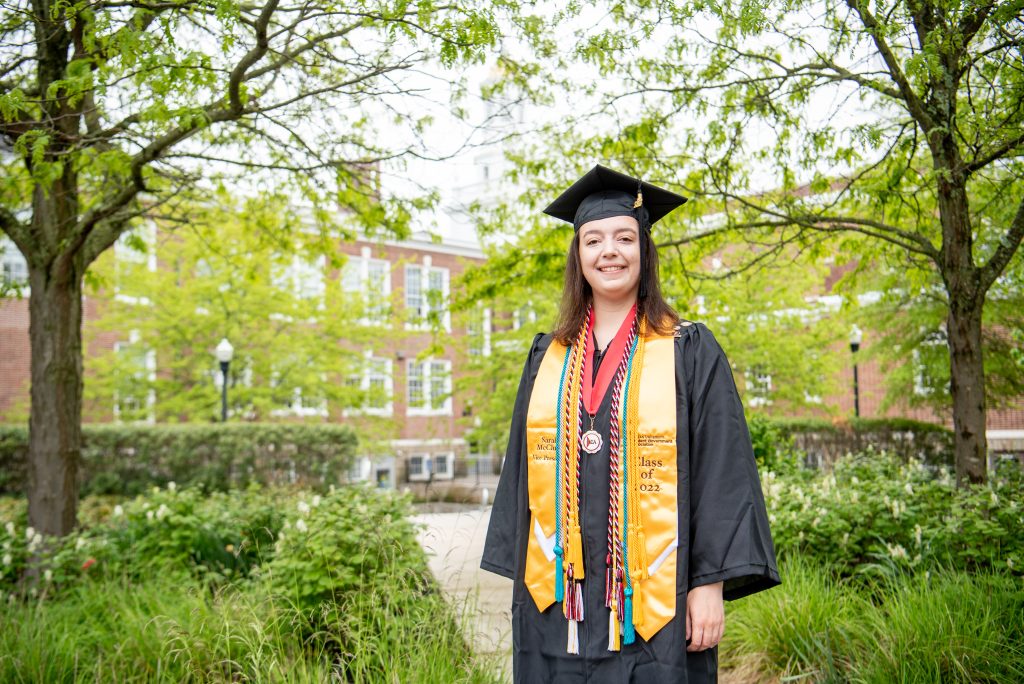 Although she is thrilled with her successor, Sarah will miss being in the Executive Vice President role.
"I really loved the position of EVP. I enjoy engaging with all the clubs and getting to see what they all do on campus. When clubs did really cool things, I celebrated their successes with them, whether it was like a really awesome event or a great fundraiser. It's hard saying goodbye, but I know Emily will do great things. SGA is something I will really miss," she says.
Sarah reflects on her Rowan experiences and leaves a piece of advice for incoming students. 
"I just got a letter from my freshman year self through a mentorship program I did through the Honors College and the end of the letter said, 'I hope you become someone that we can be proud of.' It really moved me reading that because I think I have become someone that I would have been proud of because I got involved and that was something that I didn't do freshman year."
She adds, "I think one of my biggest regrets in college is not getting the jump on that sooner and looking at clubs and organizations during my first year of college. I would say to put yourself out there and don't let your past experiences define who you're going to become in college."
Sarah is looking forward to starting her M.A. in Political Science in the fall through Rutgers University's United Nations and Global Policy Studies program.
Like what you see?
Story by:
Rachel Rumsby, junior communication studies and public relations double major
Photos by:
Stephanie Batista, junior business management major