Today we feature Samantha Santos, a recent Rowan Global graduate of the M.S. in Athletic Training program. Samantha won the 2022 Athletic Training Medallion Award for her commitment to her major and passion for the athletic training field. She talks about her experience as an athletic training major, her experiences with her professors, and how working in the Rowan University Athletic Training Program has prepared her for her future endeavors.
How would you generally describe the athletic training major?
The easiest way to describe athletic training is that we are the sports medicine professionals who assist athletes in injury rehabilitation. We all specialize in the prevention and emergency care — we do a lot of paperwork — but we are the guys you see on the sideline of a football game. I feel like that's the most of the easiest way to put it.
Can you talk about what you do on a day-to-day basis?
When people think about athletic training, they instantly think of taping ankles or a specific body part before players attend a practice or play in games. We do tape ankles, and we tape a lot of everything, honestly, but what we do is way more than that.
Athletes come in to see us, and they may tell us that they don't feel great today, and I don't feel that well. We come in and assess their symptoms for general medical concerns like sicknesses or allergies for a doctor to then come and officially diagnose. There are also moments where players come in, and it's related to their mental well-being. Sometimes we have to sit down and have a conversation with them. We want athletes to know that we are here for them in other ways other than just rehabbing their hamstring or ankle. The field setup and game coverage are the best part of the job and why I was drawn to the profession; but honestly, I think my favorite part of it is seeing an athlete that got hurt and went to rehab with your return to play and get back out on the field.
Why did you choose to major in athletic training? What made the field stand out to you?
I first got interested in athletic training in high school. We didn't have an athletic trainer at my high school because I went to a small private school. So when I found out about the profession, I was like, wait a second…this seems like something that would fit me perfectly.
I love how the role athletic trainers play in the lives of the athletes they work with is continuous. I like to be there every step of the way. It's not a job where I'm in an office all day. With this job, we are involved with initial symptoms and injury prevention and recovery, return to play, and the mental and physical components of being a player who came back from injury. I remember my junior year here when I started my clinical assignment; on my first day in the facility, I worked with women's basketball and men's and women's swimming and diving and helped out with football because they were beginning preseason. I remember thinking that there were so many football players, and it was overwhelming.
I am not going to sugarcoat it, you do get thrown into the fire, but it was the best way to learn and be comfortable in this field.
How was being an athletic trainer major different post-Covid-19 lockdown? After returning from lockdown, how do you handle the fast-paced, athletic training environment?
It is crazy how much has changed over the years. The other day, I was talking to Colleen, the head athletic trainer, about how we had to do temperature checks on every athlete and person who walked into the training room. We had to set scheduled time slots for teams and athletes to come into the training room to eliminate many people being in all at once. It is controlled chaos in the athletic training room. We would continuously keep up with patients via email and online too.
In Spring 2021, I was at Delsea High School, and when I was there, there were still some Covid-19 protocols and enforcements to follow, like wearing masks. But as time went on, it started to feel more and more normal. This past fall, it was the first time I thought we were genuinely seeing normalcy in the training rooms. We still were encouraged to wear masks; however, athletics in high school and college had no more restrictions. The most significant adjustment was definitely from Spring 2020 to Spring 2021. I saw a substantial change in regulations and accessibility from Spring 2021 to Fall 2021 and even Spring 2022.
What is the best part of pursuing this major at Rowan?
The hands-on experience is the best part of the program. We learn so much in this program in and out of the classroom. For example, in my sophomore year here at Rowan, we learned so much anatomy about injuries, pathologies, rehabilitation, case patterns, how to reach a diagnosis, and so much more. I remember feeling like my brain was overloaded because we had obtained so much information. I was overwhelmed the summer before my first clinical because I was thinking, how will I apply everything I learned into actual practice on patients and athletes? But obtaining this clinical experience while being a student was unique and an excellent opportunity for learning and applying knowledge in real-life settings.
As previously stated, I have completed hours with Rowan University Women's Basketball, Swim and Dive, Football, and Baseball teams which made my experience special. The opportunities that we get as athletic training majors regarding working with athletes in high schools are also fantastic for obtaining experience in the field. I got to work and complete hours at Woodstown and Delsea Regional High Schools.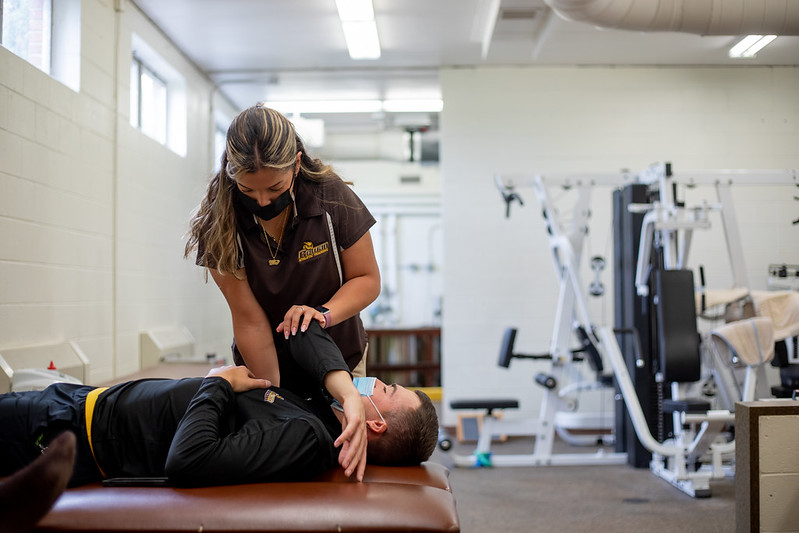 Can you talk about how working with professors and professionals like Head Athletic Trainer Colleen Grugan and Assistant Athletic Trainers Chris Pantellere and Steve Schultz have helped prepare you for your future endeavors?
Our professors are great. I worked with Dr. Sterner, Dr. Mann, and Dr. Pledger. My professors impacted my academic, professional, and even personal life in so many different ways. Classes were never easy. We were always learning a lot of material, and it became very overwhelming at times, and I was constantly studying. I had worked over 1,600 clinical hours, and I probably put equally the same amount of time just into studying. The work was non-stop, and it felt at the time that it was never going to end. But it always ended up being worth it. Thankfully, I did well in my classes, and it truly helped me clinically to be able to practice what I have learned. My professors made it easy because if I needed help, all I had to do was ask. My professors would go over anything ranging from quizzes, exams, material taught in class, and more.
I have had the same experience working with Head Athletic Trainer Colleen Grugan and Assistant Athletic Trainers Chris Pantellere and Steve Schultz. I have never hesitated to ask them questions on anything I was unsure of or wanted more guidance on. In my first semester, Chris was my preceptor. It was just one of those things where you are just thrown into the fire.
I remember it being the third week in August that we started, and we were covering the men's soccer tournament. There was an emergency, and my partner and I just had to do what we were taught to do, and Chris was coaching us through it. We handled the situation exactly how we were taught to handle it in class; however, Chris guided us the whole time and really established for me that we are never alone. It was nice having Chris there because we calmly handled the situation quickly and efficiently. Colleen is so easy to talk to and one of my favorite people to work with. She taught two of my lab classes, and I instantly remember thinking that Colleen was a boss and an excellent person to be mentored by. She is knowledgeable, loves teaching, and truly wants us to learn from experience. Colleen, Chris and Steve all put us in situations where we are forced to figure it out, and I have learned to love expanding my knowledge within the field this way.
What advice would you give to someone pursuing the athletic training major at Rowan?
Stay on top of studying because it is easy to fall behind in this field. Go to the library for an hour or two every day to familiarize yourself with the material. I felt like I lived in the library most of college because I was always studying or trying to obtain new material in a quiet space. It is essential to find people in your classes with whom you work well. These people can be great study partners and can help with collaborating ideas.
Can you sum up your experience at Rowan? Why was Rowan the best fit for you?
Rowan was my first and kind of only choice, to be honest with you, when I was in my college search. I was in a community college. I went there for two years and got my associate in Biomedical Science. I remember looking up athletic training programs one day, and I saw that Rowan had a top program, and I grew up in Vineland, so it was convenient for me. I knew coming into it that it would be difficult, but I knew that if I wanted to be successful, this was the route that I had to take. So when I started, I didn't realize that it would be as difficult as it was, but I genuinely feel that I am now ready for work post-graduation and am confident that I will be fine.
But Rowan was definitely my number one choice for that reason, and I just knew that I just felt right, and it was so close to home, and then the program itself resonated with me. So Rowan was the right fit for me; there was no question about that.
What are your plans post-graduation?
So as far as the job hunt goes, I have seen plenty of jobs up in North Jersey, which is fine. However, I don't think I could do more than an hour commute, and I can't move just yet, so I'm going to try to say more in the South Jersey area.
I would love to work in the college atmosphere. However, my dream job would be to work as a trainer in professional baseball. Right now, I am going to search for jobs in college or high school. I want my first job to be a huge learning experience to continue to build and grow. So I'm kind of open to whatever opportunities I find.
Rowan is excellent because you form these connections with professors and fellow students, and sometimes they know people that are hiring or are good referrals for job applications. I feel like people are always helping each other in some capacity, and it is nice.
See our video with Samantha here.
Like what you see?
Story By:
Natalie DePersia, senior public relations major