Today's story is written by sophomore Communication Studies and Public Relations major Rachel Rumsby from River Edge, NJ (Bergen County). Rachel is an on-campus resident currently living in the Rowan Boulevard Apartments. Here, she shares with us some of her favorite, easy holiday cookies, and how she makes them in her apartment. 
The holidays are my favorite time of year. There is a special kind of magic, no matter what holiday you celebrate. It fills my heart with joy, love and warmth. This time of year reminds me of cheerful memories with family and friends. It is a time of helping others and enjoying certain traditions. 
One amazing tradition in my family during the holidays is baking. Every year, my mom and I bake cookies and make little bags of them for some of our neighbors. Some of these recipes are super easy to recreate in my apartment. Here are three easy holiday cookie recipes that you can make where you live.
123 Cookies. 123 cookies are one of my favorites, yet easy to make. We call them 123 cookies because there are only three ingredients in them.
You will need: 1 and 1/4 sleeves of graham crackers (count how many are in one sleeve and use 1/4 of that), 1 can of sweetened condensed milk, and 1 1/2 cups of chocolate chips.
Directions: 
Put the graham crackers in a plastic bag. Pound them into crumbs. 
Mix all of the ingredients together and pour into a greased, square baking pan.
Bake for 30 minutes at 350 degrees.
Cut into squares.
Peanut Butter Blossoms. My mom loves this kind of cookie. The Hershey kiss gives it a nice finishing touch, especially for the holidays!
You will need: 1 cup of creamy peanut butter, 1 cup of sugar, 1 egg, and Hershey Kisses.
Directions:
Warm peanut butter in the microwave for 1 minute, stirring often.
Beat and stir in the egg and sugar, mix well.
Form the "dough" into 1 inch balls and place on a greased cookie sheet, then flatten with a fork.
Bake for 8-10 minutes at 350 degrees.
press Hershey's kiss into the middle of the cookie while it is still warm.
Bark. This is another one of my favorites! I love the sweet and salty flavors in this treat. 
You will need: 1 sleeve of saltines, 1/2 cup sugar, 1 bag of milk chocolate chips, 1 stick of butter or margarine, and red and green sugar (optional for the holidays).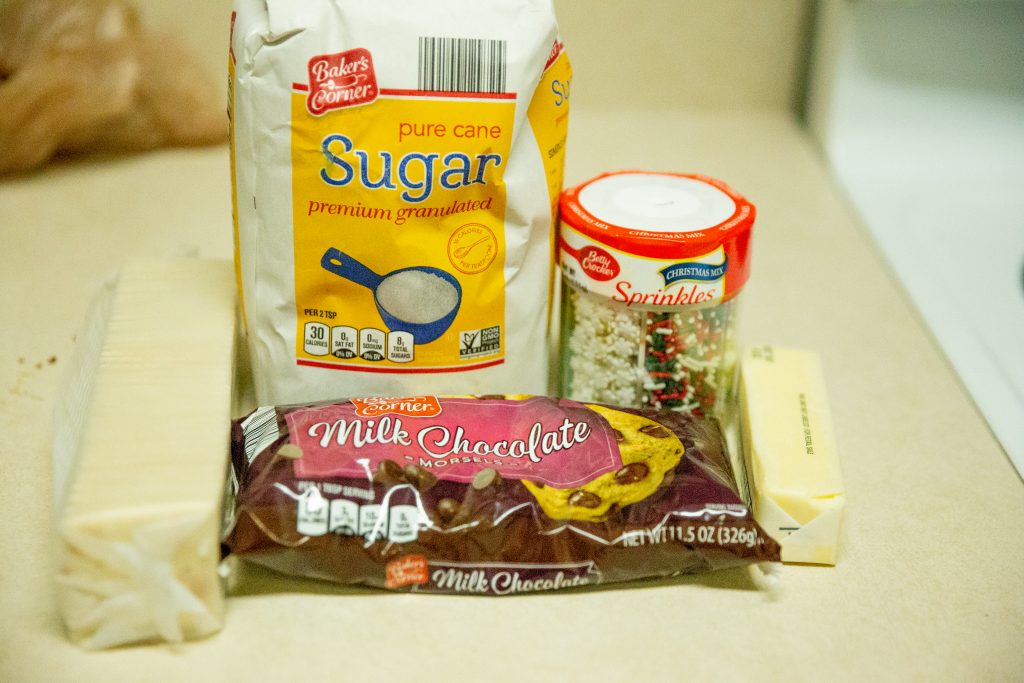 Directions:
Lay out the saltines on a greased cookie sheet.
Microwave the butter and sugar together until the butter melts.
Pour over the saltines.
Bake at 350 degrees for 10 minutes or until the saltines are light brown.
Spread the chocolate chips on the saltines, and put them back in the oven for one minute to melt.
Spread the melted chocolate over all the saltines, sprinkle on the colored sugar, and refrigerate until it is cold.
Break the bark into pieces.
Like what you see? 

LEARN MORE
Story and photos by:
Rachel Rumsby, sophomore communication studies and public relations double major
Header photo courtesy of:
Unsplash