Today, we speak with Jeff McConnell Jr., a sophomore engineering entrepreneurship and music industry double major from Marmora, NJ, who will live on campus in Whitney Center this year. Jeff will give us insight on his career as being a member of Rowan PROS and will share his #PROFspective with us on what it's like to be a Rowan University student and how he's getting the most out of his college experience as a Rowan Prof.
Name: Jeff McConnell Jr.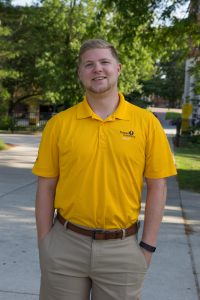 Major: Engineering Entrepreneurship and Music Industry
Year: Sophomore
Hometown: Marmora, New Jersey (Cape May County)
On Campus Resident: Yes, I will be living in Whitney Center this coming year!
Sports Clubs: Unified Sports
Social Clubs: Leadership Rowan, Chi Alpha Christian Fellowship
On Campus Jobs: Rowan Rec Center, Peer Referral and Orientation Staff (PROS)
Why did I choose my major: For Engineering Entrepreneurship: I have always been interested in engineering, and business as well, so in this major I get to combine the two in this hybrid major where we learn about the business side of the engineering world. For music industry major I have always loved music and have been getting more and more involved in all parts of music in the past few years. When I get older I want to work in the music industry as a music producer so these two majors are the perfect pair for providing me a great deal of information and experience so that I can have a successful career after college.
One reason why you chose Rowan: Rowan was close enough to home where if I needed something I could get it, but far enough that I had my own independence. Rowan also has amazing engineering and music programs which is the path I wanted. Now that I am at Rowan I have gotten more out of college than I ever thought possible and I every day I am happy for the decision I made.
Peer Referral & Orientation Staff (PROS): When I came to my freshman orientation last summer I was not super excited to be coming to Rowan University. However, everything changed once I met the PROS staff. PROS members at my orientation made the whole experience worthwhile. A fun environment made me more excited to come to Rowan. After all the sessions and all the information I received, my PROS members then answered all my questions. After we had a lot of fun at the Late Night event at the Rec Center and then stayed up later afterwards and ordered pizza and just talked about life at Rowan. When I left my orientation my feelings and attitude toward Rowan had completely changed and I could not wait to come and start college in the fall. When my PROS had that effect on me I knew that I wanted to the same thing for other incoming freshmen who maybe felt the same way as I did. I want to show them all the amazing possibilities and opportunities that are possible at Rowan, and offer them information and help getting involved at this university.
My involvement on campus: I am involved with many different things on campus which really helped me become part of Rowan. To start off, my involvement at Rowan started before I even had a class on campus. I went on a Freshman Connection Leadership trip and got involved with Leadership Rowan. I also stayed involved with Leadership Rowan taking part in the Freshman Leadership Involvement Program (FLIP) and many other Leadership Rowan programs. Once I finally was on campus I joined a Christian Fellowship group on campus cal
led Chi Alpha in the first few week. I soon after joined the Rec Center team! I got a job in the intramural department there which allowed me to meet a lot of different people. In the middle of the fall semester I found out about a club called Unified Sports which is a sports club where you play soccer and basketball with Special Olympics athletes. The last thing I got involved with before I applied for the PROS position was the Student Alumni Association. Here we host events that connects students and alumni and teaches students about life after college. At the start of my second semester I not only found out that I got the job as a PROS member but I also got a position with Leadership Rowan as a Leadership Mentor for this coming year!
All of these involvements helped me make the most of my college experience as well as keep me busy. I became really good friends with my student colleagues but also kept up connections with my bosses and the graduate assistants who oversee my jobs and activities. After my freshman year I could not be any happier with my choice to attend Rowan.
A typical day for me at Rowan: I almost always start my day working out at the Rec Center before I head to one of my 6 classes covering both of the majors I am pursuing (engineering entrepreneurship and music industry). After this I head to my classes throughout the day as well as work on any homework or group work my classes might require. Throughout the day I will either make food in the kitchen in my apartment (for the 2017-2018 school year I will be living in Whitney Center) or I will eat in the Holly Pointe Café or Profs Place on the first floor of the
Student Center. Also during the day I may participate in meetings for both of my on campus jobs as well as meeting for my positions in the Student Alumni Association and as a Leadership Mentor. At night, I will go to work at the Rec Center being an official for the intramural sports going on that night. I start and end my day at the Rowan Rec Center. All of my commitments keep my busy.
Some things that I do that aren't a part of my normal daily routine are the once a week meetings for Chi Alpha and the once a week meetings at night for PROS training. Also, Unified sports meets on the weekends so during that time in the semester I will be doing that on Sunday afternoons. Lastly, throughout the week I spend a lot of time in many places all over campus. I spend a lot of time in Wilson Hall practice rooms for my music industry major as well as the Mac Lab and Recording Studio. In addition to this I spend time in Rowan Hall (the engineering building) and in the library working on homework but if you don't find me there you may find me hanging out in my hammock on campus!
Story organized and photography by: Jen Green
Like what you see? Register for a tour or open house.
Related stories:
#PROFspective: Biomedical Engineering Major Kelsey DeFrates
#PROFspective: Music Major Steve Solkela [Video]
Finding Myself at Rowan