A proud first-generation college student from Newark, NJ (Essex County), Shirley Celi-Landeo is an Anthropology and Modern Language and Linguistics double major. She has concentrations in medical and forensic anthropology, and concentrations in Spanish, German, and Arabic. Shirley is minoring in Latin American Studies and has three certificates of undergraduate studies in Spanish, German, and Forensic Studies.
Shirley looks back at how she made friends on campus.
"I made friends in the Educational Opportunity Fund through the Pre-College Institute and through all the clubs that I'm involved in, especially in Greek life. I just became a sister in the Lambda Theta Alpha Latin Sorority, Incorporated. With that involvement, I was able to make more bonds on-campus, make more friends, and do a lot more."
Shirley advises her high school self to take risks.
"Don't be scared. Take risks, even if it seems kind of cringey and scary, especially coming into a PWI and not having the family support. Do whatever is offered to gain the opportunity to gain the experience. I'm grateful for coming to school across the state."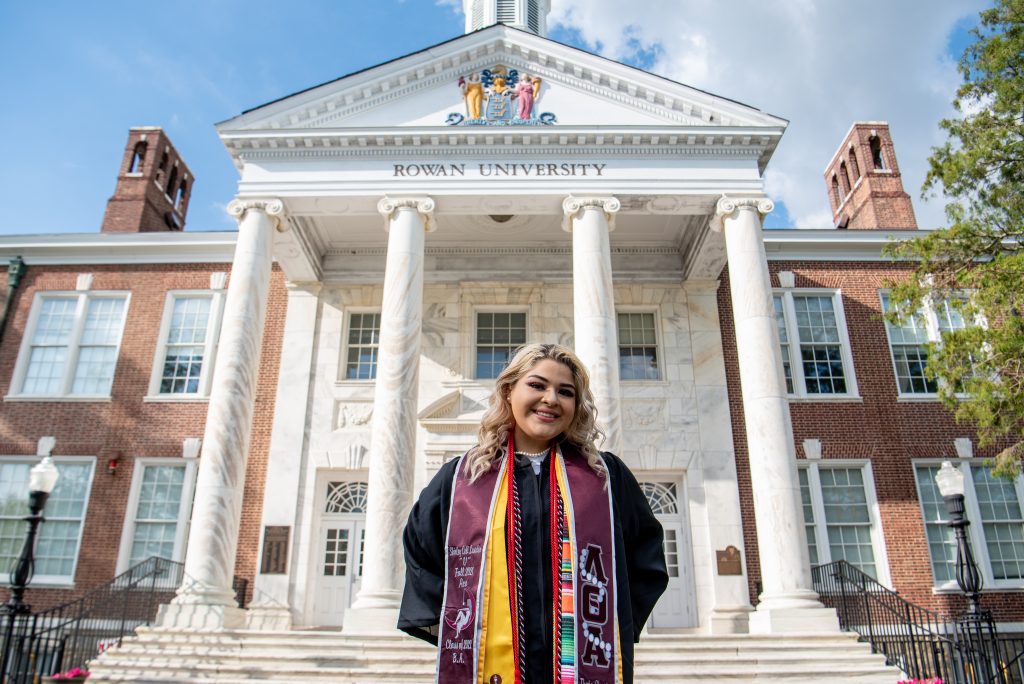 A mentor in the Dr. Harley E. Flack mentorship program, Shirley reminisces about her favorite moments being a mentor. 
"My partner and I had to create an event or program for our mentees using a resource on campus. We paired up with the Flying First Task Force because a lot of our mentees are first-generation students. We were able to show them the resources on campus not only to them but open to the public. I was able to really get to know my partner as well as like getting to know my mentee a little more. I also developed a really good relationship with my supervisor."
Shirley hopes to use her platform as a college graduate to help pave the way for others in her community and family.
"I am a minority coming from the city of Newark where the stereotype is that you don't graduate high school, let alone go to college and graduate college and go to grad school. I am not only the very first college graduate in my family, but I have younger siblings. My goddaughter looks up to me. The babies from my church from back home, I'll be able to help them navigate when it comes to their time for college."
Shirley advises current and incoming students to find what they love on-campus, join Greek life, and more.
"Greek life has been a huge thing in my life, and I just became a sister last semester. Also, don't be scared when you change your major like 20 times like I did. I don't regret any moments of changing my major. Don't be scared, do what you gotta do. If you're the first, be the first and pave the way for your family. Take the risk, and inspire more people."
In the fall, Shirley will finish up her degree while applying to Rowan's M.A. in Diversity and Inclusion program. Shirley hopes to go to law school in the future. 
Like what you see?
Story by:
Rachel Rumsby, junior communication studies and public relations double major
Photos by:
Stephanie Batista, junior business management major