Rowan Blog contributor Bianca Gray compiled this list of her top places to study on campus that she says "you need to know about for the upcoming semester."  
5. Campbell Library 
Since it's kind of a given, I've decided to place the university's library at the bottom of the list of places to study. However, that doesn't make it any less of a good resource to know about. Located between Savitz Hall and the Student Center, Campbell Library is home to many different places to study. While there are communal areas to on each floor, there are also special rooms that can be reserved for just you and whoever you choose to study with.
Along with this, there are communal areas available throughout any normal day that allow for people to speak freely with each other like the communal area located on the fourth floor as well as areas where people can work independently like the silent study hall on the first. Personally, I prefer to study at the Rowan Writing Center located on the first floor. The library is perfect for accommodating any studying needs.
4. Chamberlain Student Center
If you don't mind a bit of activity going on around you while studying, then I'd highly recommend the Student Center. While you won't find as many quiet places to study in it as you will with the library, that doesn't mean the Student Center isn't a good place for people to get work done. As someone who prefers a bit of quiet, I usually find it best to study here on Friday mornings when most students are too busy sleeping in on the usual campus wide 'day off.'
Though The Pit is a comfortable place to sit, I always head up to the second floor where there's always an empty table. Alternatively, when the weather's not too bad, there are tables available at both the front and back of the building that are great places to study as well. Editor's note: Construction is underway to expand the Student Center through fall 2023.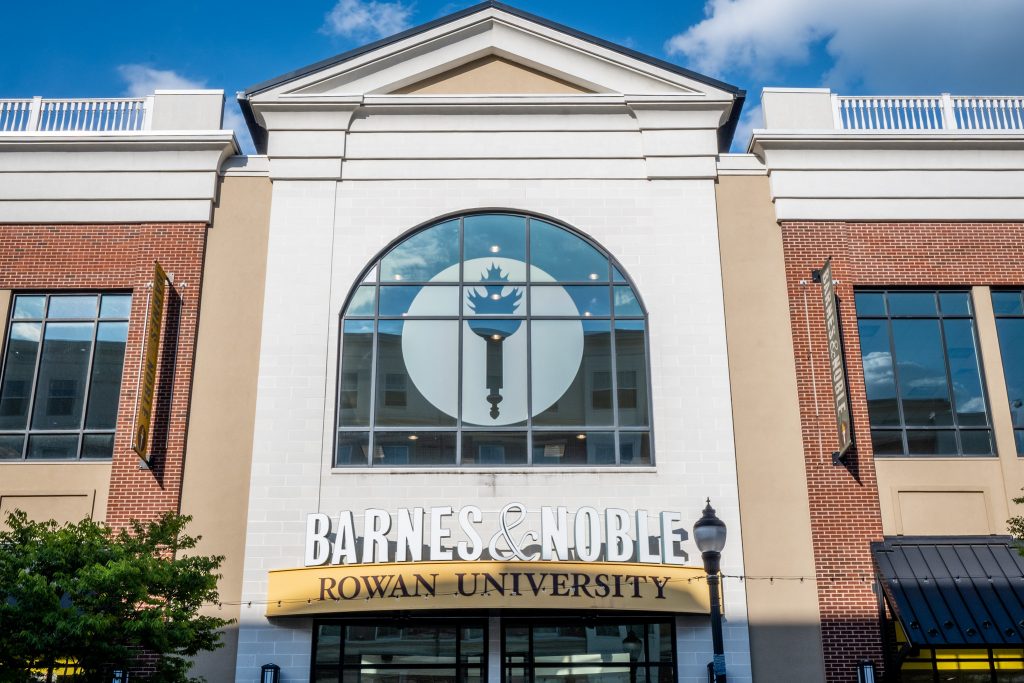 3. Barnes and Noble/School Bookstore
Further up Rowan Boulevard, Barnes and Noble (aka the school bookstore) is a favorite study spot of mine due in large part to the Starbucks located on the first floor of the building. I mean seriously, what's a better way to get through a long study session than with a coffee and a brownie? Before even transferring to Rowan, the Barnes and Noble near my house was always the perfect place to go and study when I wanted to get out of the house. So having one right across the street from my room was literally one of the best things about coming here.
And, again, if you would like to study on the Boulevard on a nice day, there are several seating areas along the strip to sit at when you just don't feel like being cramped indoors.
2. Robinson Hall
I think I may be bias to places that come with snacks because my second favorite place to study is definitely Robinson Hall, specifically, in the small dining area near the first floor snack shop. Robinson Hall is right at the heart of campus, sitting right next to the Owl Statue and across from the Science Hall. Unlike the places mentioned above, Robinson never feels particularly crowded even at peak times throughout the day, making it perfect for people in need of a quiet place to study. The only downside: on the few busy occasions, space is limited. 
Honorable Mention: Whitney Common Area(s)
As an honors student, the Whitney Center has practically been a second home for me on campus. Though there is an honors exclusive wing on the second floor of the center that comes equipped with a computer lab and study hall, my favorite place to get my work done is definitely one of the common areas located on nearly every floor of the center.
If you're not an honors student then don't worry because nearly every residence hall on campus has its own common area/study room. 
1. Bunce Hall
I'm not so sure about letting you guys in on my secret study spot, but I figured why not be generous? If you're genuinely looking for a quiet and secluded place to hit the books, then Bunce is the best option.
Bunce Hall is the face of Rowan University, but rarely do students visit the building if they aren't attending class or going to the theater. Due to the lack of visitation, it's easy to overlook the abundance of study space that the building offers. The ground floor of the building houses many classrooms that often go unused throughout the course of the semester and are left unlocked.
Along with this, there's plenty of seating space throughout the halls that are perfect for any student in need of a quiet escape. 
Like what you see?
Story by:
Bianca Gray, senior English major
Related posts:
40 Ways to Get the Most out of Your College Experience
Ten Ways to Avoid Getting Lost on Campus
Freshmen, Don't Freak! It's Easy to Eat