Today, Rowan Blog contributor and Writing Center tutor Bianca Gray answers questions people often ask her about the Rowan Writing Center. Bianca, a senior English major with a concentration in Shakespeare Studies, notes: "Spoiler alert! Don't be surprised by how much I say RWC." 
What is the RWC?
The Rowan Writing Center (often abbreviated as RWC) is the place on campus to go if you need help with any form of writing and is also a nice place to study. It's open Sunday-Friday and operates throughout the entire school year as well as the summer. Currently, it's fully virtual, but there are hopes that it will be open for the 2021-22 academic school year (check the RWC site for up-to-date hours of operation). 
Where is the RWC?
The RWC is located on the first floor of the Campbell Library.
How did you get hired with the RWC?
Buckle up 'cause it's a long story: The worst part about being a transfer student was everything I had built for myself at my previous institution being torn down. Before coming to Rowan, I spent the majority of my [first] year at my previous school making a name for myself around campus, specifically with the Writing Arts department. I had won the Freshman essay contest and had snagged an internship working with the Writing Center at that campus before I had to leave the school due to an unforeseen change in my finances.
I came to Rowan because I saw how well the Writing Arts department was and hoped to make the same foothold at this institution as I had at my previous one. My academic advisor placed me in a class called 'Tutoring For Writing' where I met one of the nicest professors on campus, Dr. Leslie Allison. I told Dr. Allison about my situation and how I wanted to be involved with the writing department on this campus and, while she couldn't just give me a job, she helped me strengthen my tutoring skills to make me properly prepared to apply to work at the Writing Center when the time came. Thanks to Dr. Allison's help as well as my newly strengthened skills, I was able to get a job with the RWC. 
Will the hiring process be as dramatic for me?
No, I'm just dramatic by nature. The hiring process is pretty straightforward. Applications go out in the spring, then there's interviews, then you'll know if you got the job relatively quickly.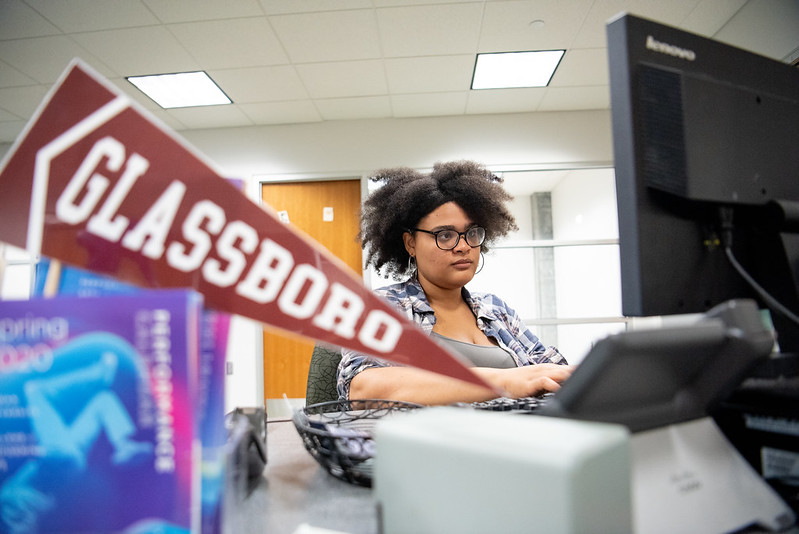 What does your job consist of?
Students from all over the university (both undergraduate and graduate) make appointments with my co-workers and I in order to get feedback on any given writing assignment. We don't just look over English or writing major papers; we look and give feedback on papers that span across many different majors.
The RWC hires people of many different majors so that we're better equipped at helping all students. We even have Engineering and Biology major tutors in order for them to help students who need help with lab reports.
On top of that, tutors also work closely with first year writing classes and hold weekly hour-long sessions in order to help first year students with their home/classwork as well going over things they may have been struggling with in class.
So if I go to the RWC for help with a paper, will they edit it for me? 
No, RWC tutors are not editors. Editing a paper does nothing to help a student grow. It's like when a teacher just X's something you wrote out and writes wrong next to it. If you don't know what the problem is then how can you be expected to solve it? RWC tutors, however, will go through your paper and mark areas where they see repeated problems and discuss those problems with you so that you can better understand the issue and learn not to make those same mishaps again.
What I do is this: If I see a repeated problem in a paper, I correct it the first time and mark it the next two times but don't correct it. After that, I don't correct or mark the problem at all. I discuss the issue with the student and expect for them to go back through the paper and find places where they see the problem and correct it themselves. Editing a paper doesn't help a student to become a better writer. 
What's the best part about working there?
Definitely my co-workers and supervisors. Celeste, Donna and Cate are some of the coolest people I've ever met since being in college. I remember taking Shakespeare my first semester of working at the Writing Center and Cate always taking the time out of her day to better help me understand my work for the class, something she was under no obligation to do. It's little stuff like that that makes me really appreciate them. My coworkers are cool as well. They're a very boisterous group of people (more boisterous than you'd expect a group of tutors to be), but they all mean well. I remember my coworker, Nia, going out of her way to make me feel included and help me out when I first started. Having such a positive work environment with friendly faces makes the job so much easier. 
What's your advice to anybody nervous to come to the RWC in fear of their paper being judged or criticized harshly?
The RWC is a no-judgement zone. No tutor wants to read a paper and rip it apart. Everything we say is meant to be constructive and help to make your paper the best it can possibly be. If a tutor does or says something that makes a student feel upset or uncomfortable, report it immediately and it will be handled by the supervisors. 
What are some other cool things about the RWC?
They host so many different events throughout the academic year. In a COVID-free school year, the RWC hosts multiple events including movie nights, trivia nights and holiday parties. If you're ever free, don't be afraid to come! 
Like what you see?
LEARN MORE 
Story By:
Bianca Gray, senior English major