Today we feature senior Radio/Television/Film (RTF) major Joshua Hedum. Joshua was a transfer from Atlantic Cape Community College and is from Cape May, NJ (Cape May County). He shares with us his journey to becoming a RTF major and his club, internship and class experiences.
What is it like having a parent who went here?
It is cool to hear about how far the college has come from what it used to be. My father expresses how much he wished the college was how it is now back then. He talks about how they have expanded so much since. He really likes how the college is now and is so impressed.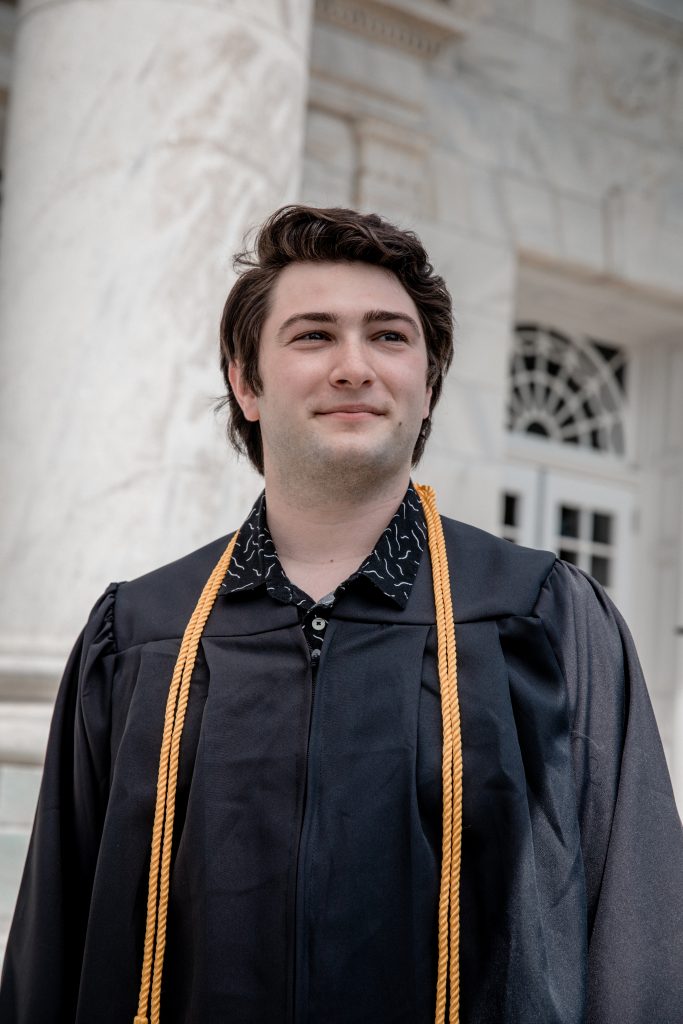 How did you become interested in your major?
I used to be an architectural engineering student and then realized I did not want to. I wondered what other way I could display my creativity in a way people could see. I guess this was the next step and it is something I had done in the past, making videos. I do also love movies. This seems like a fruitful degree, something that I can really get a hold of and love.
I came here and started taking classes. They have you go through the basics, and I never realized how much they really do in movies. In movies they do things a certain way because they want you to feel a certain way or express a type of emotion. It really changed the way I view movies, film or anything.
How were you involved?
I did the Rowan TV Network club junior year and they really have a lot you can to do. I did a shoot with Cinema Workshop, which is a film club on campus. I did things to help me figure out what I liked and did not. Even though I love film, being on a film set was not for me. I focused more on TV club and broadcasts.
I really enjoyed doing the sports broadcasts. We would go to the Hollydell sports arena and do a live broadcast from there. I like doing the switcher for sports and making that sports message come across.
Is sports broadcasts where you would like to go professionally?
I do not think I want to get into sports at this time of my life. When I started my senior year I got an internship for marketing at Rowan. It made me realize that this is the kind of media work I want to do — marketing for business and creating an image they want to project. I also liked the sharing people's stories aspect of it, it is so cool. I love learning about what people do and what can be done. It is all just so cool. Recently we have been doing beyond the classroom stories. This one video we are working on with Fiona Hughes was really nice to be a part of and to help get her story out there. She is the chief financial officer for SGA and seeing a woman in such a powerful role is so inspiring and something like that should be out there.
Through this internship I have come to find what my niche is, and in film there is so many different things to do. It is really just how comfortable you are doing what you're doing and you really have to try everything to figure that out.
When did you start this internship?
This past fall. The first two projects I had were the Rowan Puppet Artists and the Rowan MSA. I had such a good time doing both those projects. These two projects were what sparked it for me, even though they were both so different. They were both completely out of my comfort zone, and I went with it anyway. Being a part of their journey and helping them display what they are about is awesome.
What was your favorite class?
One of the classes that I took throughout my time in the program was Screenwriting. You come up with an idea, you pitch it, and write the entire script. The first screenwriting class was short story and I already had a small concept in mind but I really wanted to expand on it and with the right tone could go so far.
I wrote a story called "Makes Cents" about the journey of a penny and how if change had emotions and understood the economy sort of way. The main character is a penny and has to realize over the course of the story that the penny is under-appreciated but finds its value and I entered it into RTF Media Fest, and it was chosen as a winner for the RTF screenwriting section.
Like what you see?
Story by:
Stephanie Batista, junior music industry major