Get into the Halloween spirit with these book picks by Rowan Blog contributor and senior Public Relations and Advertising double major Camryn Hadley.
Spending more time inside this year, I recently picked up reading more than I have been before the shutdown. Bringing together my new love of reading and my current love of spooky season, I've compiled a list for you to help get you in the mood for Halloween!
1. "Dracula's Crypt" 
Interested in something spooky while also tackling social issues? This book parallels the life of vampires to some issues currently hitting our country. Be prepared to be both scared and open-minded.

2. "Slayers and Their Vampire"
This isn't your typical "Twilight" love story. Get a deep dive into the history of vampires and those who save us from them. 

3. "Modern Mummies"
Not looking to be scared? Check out the historical truth of mummies. Get a deep dive into the process of preservation from the ancient Egyptians to the process of today. When you're done, make sure to suggest it to your mummy!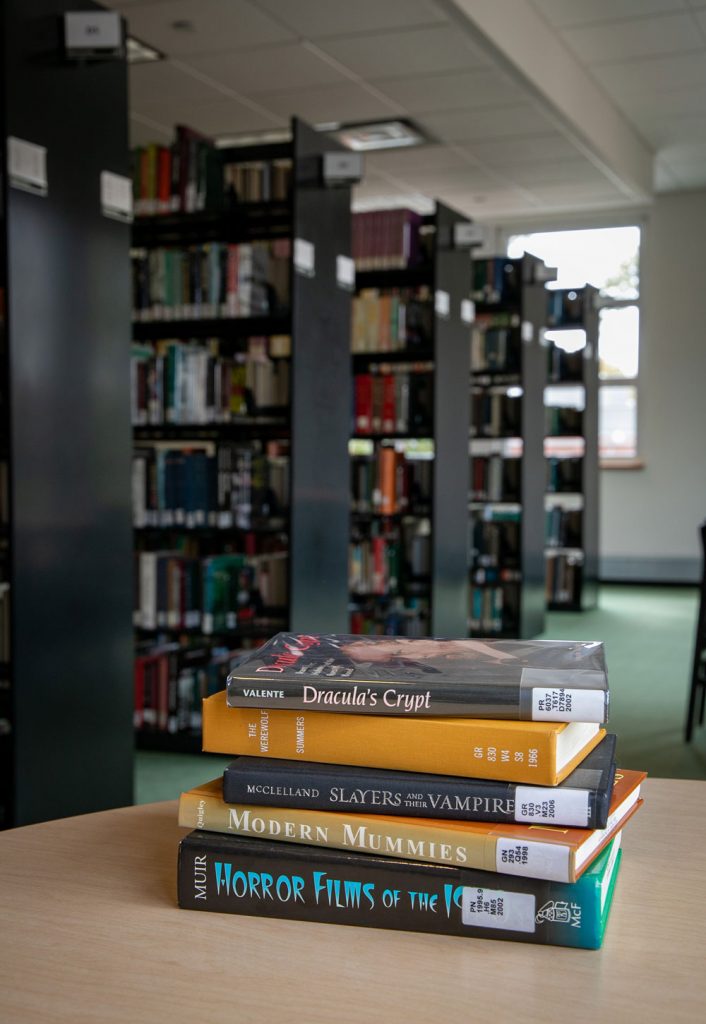 4. "The Werewolf"
The Werewolf dives deep into the historical folklore of the shape-shifting monster. If you're looking to have your skin crawl, look no further.

5. "Horror Films of the 1970s"
Radio/TV/Film majors: have I got a book for you! Dive deep into your favorite horror movies and learn more about them. You might be surprised at what you learn!

6. "Dracula"
We all know the name, but get to know the story of the world's most famous vampire. Take a deep dive into the story and try not to get too scared!

7. "There's Someone Inside Your House"
Lover of crime shows? Make sure to try this one out for some hair-raising fun. This young adult book is perfect for the Halloween season, just make sure to leave the lights on.

8. "A Monster Calls"
Go on the journey with Conor to find the truth about the monster following him. This read is definitely one to make your skin crawl!

9. "The Legend of Sleepy Hollow"
This famous story is ready to put you in the Halloween spirit. Fall into the story of the Headless Horseman and be prepared for a fright!

10. "The Halloween Tree"
Think you know the origins of Halloween? Think again! Dive deep into Ray Bradbury's tale and find the magic of Halloween in every page.
All of these books can be found on campus in Campbell Library. Make sure you bring your Rowan ID and your mask! Happy reading!
Like what you see? 

LEARN MORE
Story by:
Camryn Hadley, senior public relations and advertising major
Photos by:
Anthony Raisley, senior history major