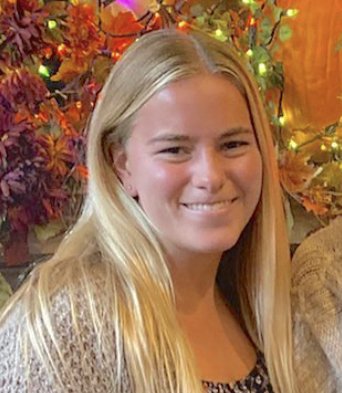 Recent grad Julia McAleavey shares guidance through this advice column for incoming students. A student with well-rounded experience, Julia earned a bachelor's in advertising this spring. She transferred to Rowan her sophomore year, after another school wasn't a great fit. While at Rowan she started as an exploratory studies major, unsure of what to major in. She's lived both on campus and off campus, held student worker jobs and internships, and participated in clubs and sports.
Adjusting to life as a college student is a big change. Unlike high school, you are not in the same building for seven hours of the day with a structured schedule laid out for you. It is much easier to break habits in college since your day is typically not as structured. Here are my tips for sticking to a schedule so you can be successful .
Go to class! It seems obvious, but it is much more tempting in college to skip class every now and then. First of all, your family aren't here to wake you up and make you go, it's all on you. It is going to be hard get up for that 8 a.m. you thought wouldn't be so bad. Even later classes can be tempting to skip. However, it is  so important to go. You do not want to miss
class material and miss out on networking opportunities. Professors have attendance policies, so it is best to save yourself the easy points there. I try to keep in mind that skipping a class is wasting my own tuition money. It is a good technique to get me to go when I really am not in the mood, so I highly recommend it. 
Do things at the same time daily: You won't have classes at the same time every day, but classes usually match every other day. For example, if you have class at 8 a.m. and 12:30 p.m. on Monday and Wednesday, you can use that to work around whatever else you have to do during the day. Have a times when you eat, exercise, do homework, and relax on those days, and
do them at the same time every day. This practices good time management, and will get you into good habits for the rest of college. 
Have a planner! This is huge! Writing everything down in my planner is how I got through college. If you don't like hard copies, set reminders in your phone. I always set mine up for the week so I have a plan of which assignments and what else I have going on each day. I also write what is due on certain dates as soon as I find out, that way, I won't forget about it later.
Four years into college and I'm good at managing and prioritizing my time. I saw many of my peers struggle with time management and they were always going crazy trying to finish assignments at the last minute, pulling all-nighters on the regular. Take care of yourself, prioritize your time and too, will be successful. 
Like what you see?
Story by:
Julia McAleavey, advertising graduate