The smell of pine and crisp air, the sound of bustling trees flowing with the wind, and the warming sun-rays accompanied my friend and I during our visit to one of South Jersey's top hiking trails.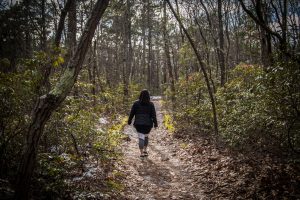 You don't need to be an avid hiker or a fitness nut to enjoy nature's beauty – just step outside and start walking. Fortunately Jes, my friend, always encourages me to get outdoors and take a break from being a college student. She also joined me on this adventure through the woods. Blueberry Hill Trail (Gibbsboro, NJ, about 20 minutes from Rowan) holds three miles of paved and dirt trails that opens up with a view of Philadelphia's skyline – bringing together nature and man-made beauty.
Shocked by the view of the city skyline, "I had no idea this hiking trail even existed before today, nor that it had such an amazing view of Philadelphia," Jes announced. I was on a mission to capture some professional photographs, so we took the more scenic routes that would grant me more natural-picturesque beauty.
We stumbled upon a clearing that gave me a small impression of just how extensive the trail was. With a recent snow storm that hit the area, there were a few downed trees and some ponds left by the melted snow. However, the reddish and orange hues of the dirt within the clearing combined with the downed trees and ponds gave this area a whole life of its own.
Inside this basin we were able to get below ground level. Here the wind was calm, blowing through the trees over our heads making pine needles dance. It's important to give attention to the small details of life that are so easily taken for granted – the trees, wind, and dirt.
After climbing out of the basin, we walked more winding-paved roads. My friend and I definitely aren't the best at following directions, but the trail was easy to follow. We eventually came back to where we started – I was sad to see the day end so soon. With the sun setting and the temperature dropping, though, I was glad to get warm. I'm excited to find more trails by Rowan and see what else there is to explore.
Like what you see? Register for a tour or open house.

Related stories:
20 Minute Radius: It's Always Fun in Philadelphia
#RowanPROUD Philanthropy at the Beach
Carlo's Day at Rowan University [Video]
Photography and story by: Alexander Belli
Senior dual major, public relations & advertising