Today, we speak with Nicole Cier, a sophomore writing arts major from East Brunswick (Middlesex County), NJ, who lives on campus in Rowan Boulevard. Nicole will share her #PROFspective with us on what it's like to be a Rowan University student and how she's getting the most out of her college experience as a Rowan Prof.
Name: Nicole Cier
Major: Writing Arts 
Minors and Concentrations: New Media concentration & Strategic Communications minor
Year: Sophomore
Hometown and County: East Brunswick (Middlesex County)
On Campus Resident: Yes. I live in Rowan Boulevard apartments.
Athletic clubs: Women's Volleyball Club
Do you work on campus? I write for the Rowan Blog, a website through the Division of Student Affairs. I love it because it gives me the opportunity to meet really cool students and faculty, and explore different organizations and places on campus I never would have known of otherwise.
Do you have an off-campus job? I work retail at Justice as well.
Why did you choose your major? Writing has always been a huge part of my life. From as early as I can remember I have always been purging my ideas into notebooks, writing poems and prose and journal entries. I was planning on pursuing a journalism degree since it would allow me to write and (hopefully) travel, but once I heard that Rowan had a more specific writing major with many different paths I could take, I decided it was the best fit for what I wanted to do later on. I started taking writing classes and decided I want to write for publications or social media in some way, which is why I thought it would be a beneficial to minor in strategic communication.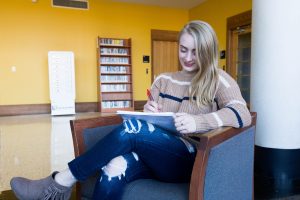 One reason why you chose Rowan? My high school guidance counselor graduated from Rowan and loved it, so she encouraged me to apply based on what I was looking for in a university. To be honest, it was not my first choice since I did not know much about it, but my mind quickly changed after one Google search. I discovered the Write Rowan, Write Now Literary Writing Scholarship Contest to represent the (fairly new) Writing Arts major, and decided to enter my writing on a whim. I ended up being the first prize winner and was so excited right away (there were tears of joy and everything) which to me, was a sign that I truly did belong here. And I have zero regrets about my choice! I also love that the Writing Arts program encourages so much creative freedom, and I frequently submit my work to the literary magazine on campus, Avant.
My typical day as a Rowan student:
My days at Rowan are usually pretty chaotic and packed with activities, but I don't mind because I like to stay busy. I wake up at 8 am every day so I have plenty of time to get ready and work on an assignment or two before my classes, which start at 9:30 most days. Most of my classes are under the College of Communication and Creative Arts, which is nice because they are near my apartment so I don't have to walk very far.
Usually, I have a photoshoot or interview I have to conduct for my student worker job, so I schedule in time for that throughout the week as well. On Tuesdays and Wednesdays I have volleyball practice at night, and every other day of the week I hit the gym on Victoria Street to get moving and relieve stress. I love working out because it makes me feel strong and confident, and gives me a chance to forget about my responsibilities, if only for an hour or so.
Thursdays I only have one class at 2 pm (Sociology) so I stop by at the office in Savitz to work on the Rowan Blog assignments I have that week. Afterwards, I stop by the Rec Center for a smoothie (my favorite is the Chocolate Peanut Butter Banana Protein) or meet my friends at Prof's Place for a quick meal. I try and maintain a fairly healthy diet, but Jersey Mike's is my secret guilty pleasure. I don't know what it is about a mini #3 sandwich that is so addicting, but I always crave one around lunch time!
Fridays are my day to relax and catch up on schoolwork. My friends and I always put on our pajamas and gather in somebody's apartment to watch movies and do face masks after a long week. And since a lot of our classes overlap we are able to study together and help each other with assignments.
In my free time, I like to watch Netflix (my favorites right now are Californication and Atypical) and write poems, which I post on my personal website. This does not happen as often as I would like, since my brain is usually exhausted by the time I finally get home, but usually one good idea I scribble down during the day inspires several different poems. I'm hoping to publish a book of my writing in the near future!
I love that Rowan is so close to Philly, because it provides a lot of opportunities and there is always something new to explore there. If I'm not too busy on the weekends, my favorite thing to do is venture into the city to check out new restaurants, museums and places to shop!
Like what you see? Register for a tour or open house.

Related stories – all by Nicole Cier, our story subject!
Inside Look, Chestnut Hall: Door Decs and Good Friends
Tips to Make the Most of Your Dorm Room Space [Video]
Vanessa, College of Communication & Creative Arts at Rowan University [Video]
Story organized and photography by:
Courtney Hopper, senior marketing and advertising double major