Transitioning from one career path to another is no simple task, but in the case of Rowan Global student Katrina McCarthy, she's used her prior knowledge to set the foundation for her next step forward. In our conversation with Katrina, a Rowan undergraduate alumna and member of the first cohort to launch the  M.S. in Urban and Regional Planning program, we discuss how her experiences have led her into different fields as well as how Rowan is setting its students up in the Urban and Regional Planning program for future success.
Can you tell us a bit about your geography background? What made you pursue it for your bachelor's degree? 
I was initially an undergrad in the Radio/TV/Film department [RTF] here at Rowan. I was one class away from finishing the program when I had taken a class called World Regional Geography. From that class I realized that there was this whole discipline around geography and that I could make a career out of it if I pursued it.
At the time I never knew something like this existed; I had always loved flipping through the Rand McNally Atlas ever since I was a little girl. I remember being in the backseat of my family's pickup truck during road trips just perusing through it. After that I was all in on geography. I took every class you could possibly take about GIS (Geographic Information Systems) and learned how to make digital maps. It all spiraled from there.
What was that experience like going from RTF [Radio/TV/Film] and transitioning into Geography? What aspects of it made it difficult and what parts of it were easier than you anticipated? 
Geography is one of those disciplines that is very welcoming and open. There are many people like me who didn't realize that you could study places, people, spaces and how or why they become those places. It ends up being somewhat of a catch all program where other people stumble upon it from these teaser classes. You have your gen ed experience and stumble upon something like Geography. You discover it. The program is very all encompassing and accessible to any person who is passionate about the big and small details of the world we live in. It's a bit different, but I felt like RTF was a little bit more niche and competitive and I wasn't ready for something like that at the time.
Could you provide some insight as to what Urban Planning encompasses? 
Urban planning to me is taking the physical world around you and just looking at it as if it were an onion and peeling it all back and seeing all the different component parts that make up the world that you traverse through every day. So whether it be infrastructure, roadways or buildings, it's the built physical landscape that you live in and the other aspects of it that support it. With that being said, you're looking at food systems (where your food comes from), water systems, affordable housing, transportation, green spaces and so on. There's just so many different facets of how urban planning works.
What is your concentration? 
So I've really concentrated on conservation. I've worked on a project called NJ MAP. We've partnered with some conservation organizations to work on a project called the Conservation Blueprint, where we are basically bringing together all the conservation groups in New Jersey together in a collaborative way to figure out how to connect and preserve the available land that is left in New Jersey.
One of my colleagues, Dr. John Hasse, famously stated in 2001 that New Jersey is projected to be the first state to reach "build out." Build out means that all the land in New Jersey is either developed or preserved; there's no in between. From that you get what's called a locked-in landscape. New Jersey has become rapidly suburbanized, and you see a lot of McMansions and wandering suburbs. But then you also see a really strong push to conserve the beautiful landscapes that make up this state, the Garden State.
Why do you believe there should be a prevalence in keeping the balance between wanting to build more but also wanting to preserve? 
I think the balance is being able to do urban and community planning the right way. For a long time the planning profession to me seemed a little bit daunting and scary, because, growing up, I thought urban planning was something done by technocrats. I thought that it was a top-down operation and through the first half of the 20th century, it was in many ways. After going through this program, what I found out is that real true planning comes from the community.
True planning comes from learning about the history of places and opening it up for a proper dialogue. You realize that without the residents' input you create a disjointed, sprawling landscape. In order to do it better, we need to really break it open, turn it on its head, bring more youthful vibrancy to it and, and bring in the voices of the people that are living in these places. And I think that's what it's lacked for a long time.
So with New Jersey being such an historic state, there's been a lot of changes going on throughout. What difficulties do you run into when going through your urban planning? How do you overcome these difficulties?
So for example, since the onset of the COVID pandemic, you can see the skyrocketing of e-commerce and what does that do to our landscape? There are warehouses everywhere, just going up by the minute and what it's doing is eating up farmland, it's eating up forests, it's eating up land that shouldn't be developed in that way. If it was done better, we would have more coordinated roadways, we'd have more coordinated rail lines that connect to harbors and airports. New Jersey is ground zero to see these impacts. We're the linchpin right in the middle of the Northeast megalopolis. We're in the center of Philadelphia, New York, Baltimore, Washington DC – you could be to any of these places within a couple hours drive. We have the second biggest port in the country with Newark.
But what we see is, all these warehouses, just dabbling in the landscape now because of broken or short-sighted planning. All of this can be done more efficiently. But we're just not there yet.
Part of that problem is that New Jersey has what's called Home Rule. New Jersey is the third smallest state in the country, but at the same time, we have 564 discrete municipalities and so 564 different towns, making their own decisions about what happens in those towns. For situations decided by mayors and officials that are on two- and four-year terms, they often make decisions about what's good for their town in the most immediate time frame and it can be very short sighted. What happens is that the next administration inherits what the previous administration's already done and it sort of bleeds into each other.
Part of the reason that it's so difficult to tackle things like warehouses is because we need to take a more regional approach. Not even just regionally in New Jersey, but regionally in the Northeast. How do we do this better, how do we make it more efficient? And how do we bring about the policy, regulation and/or votes to make these changes happen?
You're clearly passionate about the subject. But with that passion, how did we get from the little girl who liked looking at maps and books to where you are now?
I think that when I transitioned into geography, like I said earlier, I realized this is actually a discipline with discourse that is able to shape the modern world. Going through the process of creating and maintaining NJ MAP really engrossed me in the power of maps to communicate change and bring awareness to matters often unseen in day-to-day life. Then when I committed to going back into this graduate program, I realized that it's not healthy for elected officials and planning boards to be in this reactionary state when development proposals are put forward. There needs to be advocacy and understanding for the people living in these places. It starts with engaging in the community. You start to question, "Is this happening where I live? Is that happening where you live?" You start asking yourself: Where does the change actually lie? How do we change the status quo? How do we flip the script, change the dynamic, and make it so that there are more people coming into this field?
When I was in high school considering what you could go to college for, I never thought about planning. I mean, I don't know who would because it's not really introduced in such a way. And it's not a really appealing field like others. Planning doesn't exactly present itself as a riveting field. But when you really dig into it, you start understanding that there is so much to it that impacts your daily life. You start saying "We can have a say. We can figure out how to build momentum for these different initiatives."
What was the hiatus that you mentioned earlier? 
After I graduated in 2009 with a degree in geography, I worked at an engineering firm. I was just mapping signs on roadways on a computer that was updating a road centerline inventory. It was just grueling, mind-numbing work. After that I came back to work on a project in the Geography, Planning, and Sustainability Department. We kicked off what was called the NJ MAP, which is an environmental resource atlas that we developed. Like I said earlier, a lot of the planning in New Jersey happens at a local level in these 564 municipalities. What we realized is we wanted to be able to provide data and information to people to make better decision making for their towns and what we questioned was, "How do we know where the threatened and endangered species are? Where are the stream corridors? How do we protect the wetlands? How do we not allow development in areas where development shouldn't occur?"
We thought that we could catalog all this data because of how New Jersey is so fortunate to have a really strong program through the Department of Environmental Protection that produces so much data.
We can document and we can show where these things are. So we thought if we take all this information and we can put it out there on a publicly accessible map, people will be able to use it in the field and then bring it up at a public meeting and say, "Where is this location where would they want to build this warehouse? And is there another location that might be more suitable, where there might be a willing seller? Is there a site that isn't going to build on prime farm soils but instead redevelop abandoned lots?" Typically all this information isn't readily available but NJ MAP bridges that divide. We wanted to take this data and make it publicly accessible so that everyday people can use it. That's been going on for around 11 years now, and this type of thought process is still going strong.
Do you ever feel as if there's an immense pressure with your work? Do you think it might be too much at times? 
Whenever you build something, especially if it's open source like NJ MAP, I feel like people could use it for nefarious purposes. It's kind of out of our control, you just hope that more people use it for good than bad. Being able to take data and put it down to a parcel level, a place where you can measure it and see where things are, I think that that gives a lot of power to make more informed decisions and support grassroots advocacy efforts.
When did you start your master's program?
I started the master's program in fall of 2020, which is when the program began. So I was part of the first cohort to start the program.
With you being in that inaugural program, what kind of skills have you learned during your bachelor's that are now being tested for your masters? 
I'm a lot more focused on the question: "How do we make planning more regenerative?" For a long time planning was this one way, just kind of how humans build up the landscape to be able to accommodate automobiles. The United States was largely built for the automobile, which, if you look at Europe and other places, it's glaringly obvious that we did it all wrong. But now we're starting to figure out how we can get it right, undoing some things and deepening the involvement of the community. You follow practices that are regenerative.
I feel like coming through the program, there's a real emphasis on what's called the triple bottom line, which means doing things that are good for the economy, but also society and the environment. How do we set our sights on that as our goal and create strategies that achieve tangible results? What is the best situation for the mental, physical and social well being of a community? I think that's a big part of planning today, as well.
With this master's program, do you have to have a final thesis that you came up with?
No. There's no requirement for a final thesis, per se. There is a capstone Planning Studio course that is immersive in applying planning techniques in a real-world project. We partnered with Frederic Byarm of Invincible City farms to gain a better understanding of community perceptions of food insecurity in the city of Camden, NJ. Mr. Byarm is passionate about cultivating nutrition, economic growth, and dignity in his mission to eradicate food insecurity in Camden and wants to create a service where local food may be produced and delivered by local employees. We worked together to conduct a semester-long project that included conducting focus groups, one-on-one interviews, surveys and a food environment scan and created a final report and presentation to the community stakeholders.
We've done many other interesting projects, and definitely a lot of writing, just to document different research methods. We also did a lot of qualitative research methods. For example, we did another project where we looked at the Chamberlain Agora that's being developed right now. During this process, we knew the plans were already in motion. They're already going to expand the building and it's one of the places on campus, that's an iconic campus hub. It's one of the places that everyone goes and is a meeting place that connects all these other places on campus.
So we wanted to get some information from the people that use this place every day. We were trying to figure out what was missing and what should be there when the expansion is complete. We were looking at the seating options, charging stations, sustainable materials, water features and greenery. Mainly we were trying to figure out how to make the site functional for humans and nature. That was a really fun project that was done collaboratively (three-student team).
What is it like working with your degree here at Rowan? What is it like working on your own university, so to speak?
I had a great experience. I think that there is definitely room to build the Rowan MSURP program relationships with campus planning and other offices. Like I mentioned earlier, this program is quite young, it just started in the fall of 2020. So I think that there's a huge opportunity for this cohort of grad students coming through to interact with the campus landscape architect, planning office and sustainability leaders. There are so many things going on, there's initiatives that some of my colleagues are working on like Re:wild (a movement to build a world in balance with the wild) and accessibility on campus, not just for physical impairments, but for any kind of other accessibility consideration.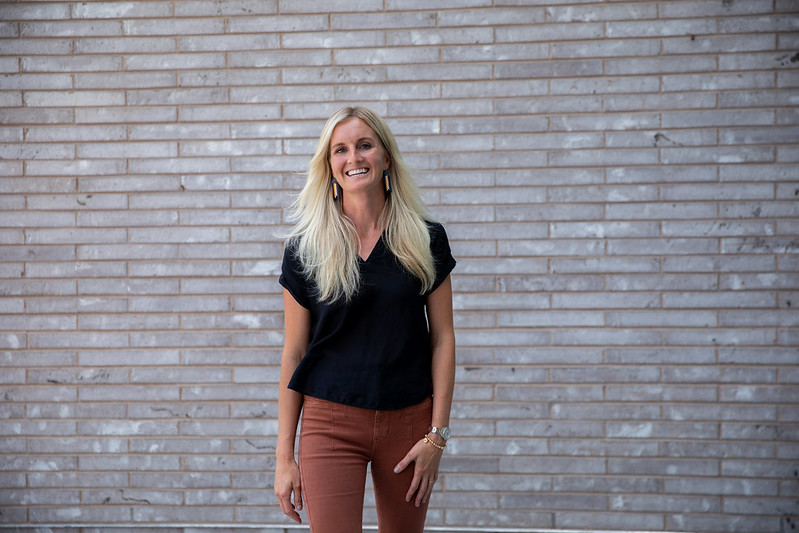 What job opportunities are out there for people that have a degree in urban planning? 
With job opportunities, the work ranges. You can work as a community developer or for conservation organizations, you can work at planning firms, whether they be urban, regional or rural. A lot of planning is done at the local level, but it's generally done by a planning firm.
In this area in particular, planning firms might cover Camden and Gloucester counties. You can also go into fields like transportation or historic preservation. I have a colleague in the grad program who is really interested in historic preservation and vintage motels, specifically in Wildwood, and he was able to intern with their Historic Preservation office over the summer.
If you're interested in working on climate change, mitigation and adaptation measures are being put in place now but need a lot more support from working professionals. Developing and implementing green stormwater infrastructure and practices, for example, is a huge field. With that being said, there's a lot of different directions that you can go.
How accessible is the program going from here to there?
I say that it's so accessible, and that's why it can be hard to nail down one niche aspect. For myself, I could say that my niche has been conservation planning because I've worked in an adjacent capacity for the last few years. You have people like [faculty member] Megan Bucknum who is a professional that works really deeply in food systems planning. A lot of people wouldn't think about urban planning and food systems, but urban areas need food and they don't have a huge farm base, so that is another major branch of the planning field.
Why Rowan? Was it opportunity that you spoke of or was Rowan one one of the firsts to have this program?
There is one other planning  program in the state at Rutgers called the Edward J. Bloustein School of Planning and Public Policy. It is a well-established and highly respected program. I think that it's really important for Rowan to be able to enter this space because, as a public university, Rowan has the ability to provide an accessible education to people, especially in South Jersey. With this program, I feel like it offers a flexible way to gain an understanding and entry into the field of urban and regional planning. The undergrad program is in Community and Environmental Planning, and really so much of what urban planning is comes from well-executed community engagement. There is also a 4+1 program to help streamline undergrads into the program if planning becomes their passion.
What would you say to encourage someone to look into urban planning? 
It depends on where your niche lies. If you're a really technically minded person, you can dive deep into GIS. GIS once upon a time was using a limited software program to be able to draw polygons and points lines on a map. It was very straightforward. Now, if you want to dive into GIS and really get into the data and information, you have to be almost a software programmer to be able to do it, but you will also be able to pair that with a passion for places and spaces. If you manage to synthesize the two it will bloom even more. If you enjoy writing or graphic design those skills are strongly needed too. So it just depends where your niche lies.
Even if you enjoy traveling, then I feel like it activates something inside you. I have always loved to travel. As of now, I don't travel as much anymore, because I have two young kids. But at the same time, being able to get lost in a map is something that will never get old to me. And I can do it anywhere in the world. I am never not intrigued by what I find. No matter where you are, just go for a walk and observe; there's something so enjoyable about that. And if you enjoy that, you would enjoy geography, you would enjoy the discipline, you would appreciate all that goes into the field of planning.
Is there any pride that you feel having been part of this inaugural class that's going to graduate with this master's program? 
I've had a long history with Rowan. Like I said, I started my undergrad program here back in fall of 2005 which is scary to say out loud. I graduated in 2009. And I've been a proud Rowan alum and I will be a proud Rowan alum after I leave this program.
It's cool to see Rowan plant its flag in this field because we need more urban planners, we need more young people realizing that they can do something about the urban and physical landscape around them and they can make a difference.
Like what you see?