Meet Larry Diehlman, a senior Sports Communication and Media and Journalism double major with a German minor and Esports CUGS. Larry is a commuter student from Gloucester County, NJ and a columnist for The Whit campus newspaper. Here, Larry tells us about his summer internship with South Jersey Magazine and offers advice for future journalists. 
How did you discover your internship?
I actually found it in an email from Professor Kathryn Quigley [chair of the Journalism Department]. She was sending all these emails about internships. I was looking through the emails, and I found the South Jersey Magazine internship. I saw the requirements, and I thought, "Ok, this could be good." I feel like the work I do there is pretty good. I am so glad I got it. 
What does your day-to-day look like at South Jersey Magazine?
It honestly depends on what the assistant editor of the magazine needs me to do. A lot of times I'm doing events and calendars. Sometimes I go online, and find events or whittle down articles or press releases she gives me, so we can put them in the magazine. Sometimes they'll give me mini projects to do. Last week, she gave me an assignment. I had to go back and look at all the covers from 2016 to the present of one of our branches. For South Jersey Biz, I had a look back at the covers, and if they had a person or people on them, I had to write who it was and who they were for. We're avoiding repeats so we can have fresh covers as much as we can. I know Dr. Houshmand was on there a few times. That's the day-to-day. Projects, events, calendars and whatever they need me to do.
Have you learned anything new in this internship?
Yes. I've learned the power of editing, such as trimming down articles, what's important in a story and what's maybe not, at least for that excerpt. I've learned about using the power of research, looking up events, and seeing what's relevant and what's not.
I always work in a timely manner, and I always make sure I hit deadlines, but deadlines are always another great thing to practice. But I've learned a lot of good skills so far. I haven't done too much of being given something to write about and going to write it. But I've been honing skills I've learned from journalism classes or The Whit. Those are what I've learned so far.
Has your experience helped you inside and outside of school?
I'm trying to learn things outside of the classroom. I got to a point where I feel I get it already in the classroom. I want to actually apply my knowledge to the outside world. With one semester left in college, I can finally take that next step into the real world, not worry about a book assignment due in a week. It feels so liberating to be outside of the classroom.
Why did you choose Rowan University?
Rowan was the first choice I had. It had the major I wanted. I knew some of my friends would be there. It was honestly close by. It was just everything I wanted, and the tuition wasn't ridiculously expensive. If you go to other colleges, one semester over there might be the same price as two or three semesters at Rowan. All those factors were good. I got accepted to other schools, but I tossed the other two aside. I said, "I'm at Rowan."
Why did you choose your Sports Communication and Media major, and then your Journalism major?
I've always wanted to do something in sports. I came into Rowan with a passion for broadcasting, but I guess over time, I realized maybe I didn't have the broadcasting voice, so I pushed my way to the writing side. I know COVID took away certain opportunities, and there are only so many spots available, so I decided writing is more my strong suit.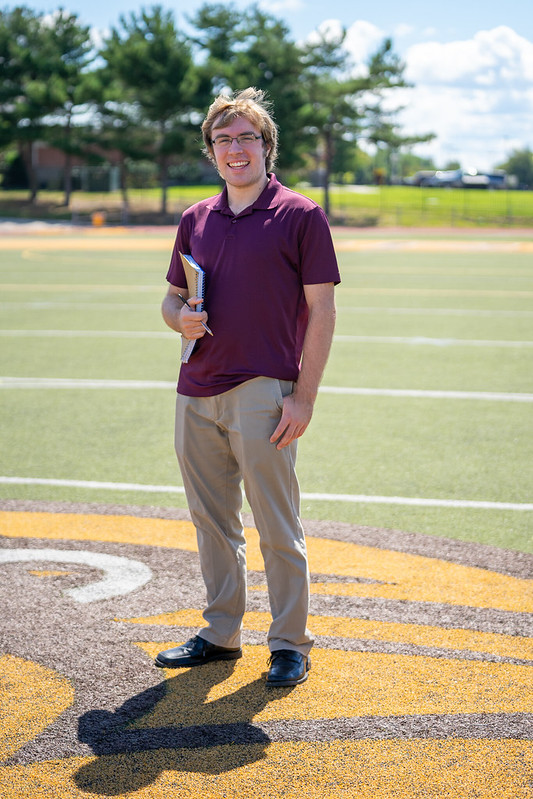 Can you tell us about your column with The Whit?
I do a weekly NBA column called "Diehlman at Halftime." I know it's pretty popular on the site and in the column section. I talked about a variety of NBA teams, and I know that some of the other columns and articles that people do focus a lot on Philadelphia area sports, but I go through the whole rotation of the NBA. I praise some teams, and I mock teams. Sometimes I go a little harder on others, but I tried to throw some humor in there a lot. But I try to divide it into an introduction and then highlight low light and a random stat. It's more my commentary, but I have statistics. 
Did your work with this weekly column prepare you for your current internship?
Oh, yeah, definitely. We had to email the editor at South Jersey Magazine or wherever we were applying for a resume cover letter and writing samples. I think I had to submit either three or five. The samples I sent were from my columns. I noticed they were impressed. I think it definitely helped.
What are your future goals and career goals?
Before I started at Rowan, I said, "I want to be a sports broadcaster. I'm going to be the next Monday Night Football guy." That dream plummeted, realizing that few people get that job, even those with the experience. Some people who actually played the sport don't even get that job. I decided it would not work. I had to come to the writing side, and I'm like, "Well, I could cover a team, I could cover a league, the NFL and NBA are where I'm at."
With The Whit, I have some NBA experience already. Now the traveling part, I don't, but it will give me a starting point to show an employer I can turn things in on a weekly basis. I can also make fresh content, not just saying the same five things over again. That's my ambition. But Neil Hartman has always told us, "You're not going to get the ESPN job on day one."
What is your advice for future students on internships?
I would say try to get involved as early as you can. There are some opportunities that you can't get early on. For example, you had to be a sophomore to get this internship. So you might not get certain opportunities as a freshman, but in sophomore year and above, try to get as much experience as you can. If you're getting emails about internships, don't just delete them, actually open them and see what they're about.
When you're at the internships, just try to soak in as much as you can. Obviously, take nothing for granted. Be on time and do your work. Complain as little as you can. Just try to use everything you can, and maybe apply it back to the classroom. For example, if it's a summer internship, I'll take everything I'm learning right now. Then, I'll go into the fall semester and say, "Okay, this is what I learned" and tie it in with what the professors teach us. Now, I'll take that, and I'll reapply it at my next opportunity. Then it's just this one continuing cycle until you get a full-time job, and you're working many hours a week. So definitely soak in as much knowledge as you can.
Final thoughts?
I guess it's been a weird experience going through COVID during college and studying journalism. I was fortunate enough to graduate high school right before COVID, so my high school experience was untouched. In my second semester of college, COVID said, "Here is my time now," so I had one real semester of college and then everything went south, having those two semesters that we'll never get back in person. Now that we've made a comeback here on campus, it's been an experience just learning to adapt to this major.
Journalism is certainly a major that was affected by COVID, especially with sports. But always learn how to adapt. No matter what major you're in, and if you have to adapt and learn quickly, and also pace yourself as well. 
Like what you see?
Edited by:
Rachel Rumsby, senior communication studies and public relations major
Photos by:
Ashley Craven, junior sports communication and media major