Today we feature Amelia Gonzalez of Cumberland County, a Rowan Global student in the MBA program. Amelia works as a Recruiting and Retention noncommissioned officer (NCO) for the New Jersey Army National Guard. She shares how she and her husband James, who also works for the New Jersey Army National Guard, got involved with the military. 
Amelia Gonzalez is not afraid of the hard work or challenge that comes with being a non-traditional student.
Within her professional life, Amelia is currently in the military as a recruiter for the New Jersey Army National Guard (NJARNG). Amelia expressed that even though she always wanted to pursue her graduate degree, being in the military made the decision to pursue her master's degree less financially stressful. The military provides Amelia with the opportunity to obtain her MBA while being able to raise her family of six with her husband.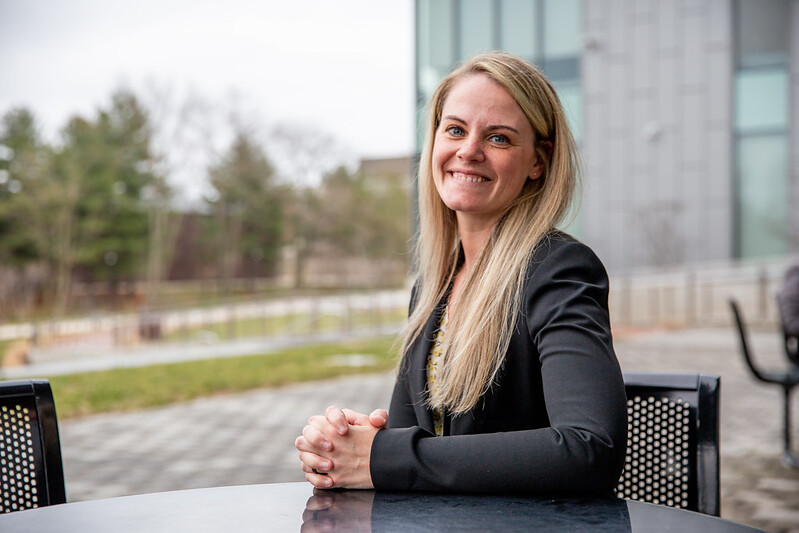 Amelia earned her undergraduate degree from Hofstra University in 2007 and married her husband, James, in 2012. At the time, Amelia worked as a wedding coordinator at a local hotel, while her husband was a general manager at a restaurant (both being private, family-owned businesses). The cost of healthcare while working for a smaller business at the time compelled Amelia and her husband to look into other career paths.
After researching different options that would be best suitable for their family, of four at the time, Amelia and James came across the New Jersey Army National Guard. They realized the NJARNG could provide them with great financial relief. This is when Amelia and James first decided to become part-time soldiers and began their military careers.
They were part-time soldiers for the first 3-4 years of their military careers. While being members of the military, they were still working in the hospitality industry. When they decided that they wanted to expand their family and continue to have more children, Amelia started to rethink her professional career path. After having her third child, Owen, she resigned from her position. During this time, she ended up being a substitute teacher to figure out what she truly wanted to explore professionally.
Amelia expressed, "I was in between deciding what I wanted to do, and this full-time opportunity came to my attention [by recommendation] to work at the National Guard at our headquarters with our Education Services Office, and I took it. This is where I first started my full-time career with the National Guard." Amelia shared that this opportunity was one that just seemed to fall in her lap at the right time. It came with so many benefits that not only supported her personal life, but her aspirations for her academic career as well.
Amelia's current title is Recruiting and Retention NCO [noncommissioned officer]. She works out of Cumberland County, NJ where she holds several responsibilities. Amelia enlists new soldiers into the New Jersey Army National Guard, oversees the process of enlisting them, and gets them ready to go to training.
Earlier this year, Amelia began a new position as a Marketing NCO, working within the Recruiting and Retention headquarters.
While working in the NJ Army National Guard, Amelia is also pursuing an MBA and is on track to graduate in Spring 2023.
She shares how her career in the military has supported her academic endeavors and aspirations: "By having a career in the military, I am granted with a full college tuition waiver and a stipend, which helps pay for books and other college necessities. I always knew I wanted to get my MBA, so it's amazing I can focus on school and class and never have to worry about a financial hardship."
Once Amelia earns her MBA, she aspires to stay in higher education, launching a new career as a college professor. However, she still plans to be involved with the military as a volunteer with The American Legion, a nonprofit for U.S. war veterans.
"The military has done nothing but help me, so I will definitely always work for them or give back in some way," she says.
Amelia now has a family of six shared with her husband, James, who also works for the New Jersey Army National Guard. She explains: "Now, with my husband and I both having careers in the military, our life is so much better. We have dinner every night as a family, we have good quality jobs, and we simply have a quality of life that we did not think we would have ever had in the other industry that we were in." The main reason why they first looked into the military was health insurance, but after many years of working within the military, it is easy to say that the opportunities and benefits that this career path has provided Amelia and her family is way more than assistance on just that regard.
She has learned to balance her commitments to the military, academics and her professional life by time management. Navigating these different roles is definitely not easy; however, she gets by with the help of her husband and her family's support. With the help of a daily calendar, Amelia organizes her life down to the hour, constantly making sure she is managing her time efficiently — work, school, football practice with the kids.
When times get tough, Amelia thinks of wise words from her mother: "Dishes will always be dirty and laundry will never be done, but your family has to come first. Prioritize your family over all of the work."
Whether Amelia is focusing her efforts on her professional career within the NJARNG, her academic career by obtaining her MBA, or cleaning up after her four boys at home with her husband, she chooses to appreciate the little things in life and always puts her family first.
Like what you see?
Story by:
Natalie DePersia, junior public relations major
Photos by:
Stephanie Batista, junior business management major
Related posts:
Air Force Veteran, Strategic Communication M.A. Student Alex Walpole on His Road to Rowan
Veteran Transfer Student Asks: Am I Too Old?
Woman in Business: Fey Talabi Reflects on Her First Year in the MBA Program