Today we speak with Leah Boyle, who graduated this May with a degree in Psychology. Leah comes from Haddonfield, NJ in Camden County and is a first-generation college student. She has been an on-campus resident all four years and worked as an RA (Resident Assistant) for the LGBTQIA+ Learning Community in Holly Pointe for the last two years.
What has it been like being an RA?
It's been so good. I love everything about it. I've gotten so many opportunities through it. I am the RA for the LGBTQIA+ Learning Community. I make programs and oversee all of our students as they transition into Rowan.
Is there a moment that stands out to you as particularly meaningful being the RA of this pod?
Making programs [focused] on helping people introduce themselves and finding footing in a completely safe space for the first time has been the most impactful to me. Just having people refer friends to me if they have questions. Knowing that I myself am a resource has been my favorite thing about it.
Do you get a lot of first years?
Yes, it's only first-years. I'm so happy I was able to do it. It's been the happiest job I've had. It's been so positive and a great environment.
Can you tell me more about the programming that you've offered?
Because of Covid, it's a little bit different. This semester I taught American Sign Language every month on Zoom. Last year I did Coming Out parties and LGBTQIA+ History Trivia Nights (showing the names and faces of people who are really important to our history). We have certain events for people who were celebrating their one-year anniversary since transitioning. It was so great, we had so much fun.
It's a little different with Covid. I had a Diversity Movie Club, where everyone would watch the movie on their own time and then we would get together later on and discuss whether it was reflective of our experiences. It's more flexible, but last year I had a lot more [spontaneous yet purposeful] events.
What feedback have you gotten from residents in comparing this community to where they originally come from?
I've had people tell me that this is the first time that they have had people refer to them by the name that they always wanted to be referred to by. [I've been told], "You're the first person to ask me what my pronouns are and if I'm comfortable" or "I was nervous about my roommate but because I'm part of the LGBTQIA+ Learning Community, we've had the same experiences and I feel validated." It's so important that we have this space for people to meet other people. They all go off and join clubs together and lead together through Rowan. Having people show up to events that don't even live in my pod and knowing more people around campus is so great. This has been great too. If people are happy within the community, it will continue to grow and grow.
When you talk about your job with people who are not directly part of the campus community, such as parents or relatives, do they embrace it or do you find yourself having to explain its importance?
One of my favorite things about coming to college has been that everyone comes from a different understanding of the community. It's a bit confusing for people who are older than me or don't really understand [why] I work specifically with this community. [It] also means that sometimes my job is more difficult than the people who live in neighboring pods because it comes with more difficult conversations. Sometimes I have to explain that, "Yeah, I have fun programs but sometimes it can be really intense."
It's a bit different from a typical resident assistant but a lot of times my friends would always want to show up to these events, meet people, and get people involved. I think it's important to talk about it and learning communities at Rowan are so important. They're really, really successful. I hope that the more we talk about it, maybe we could have learning communities in one or two other buildings. I like to spread the good word and let people know it's a really great space.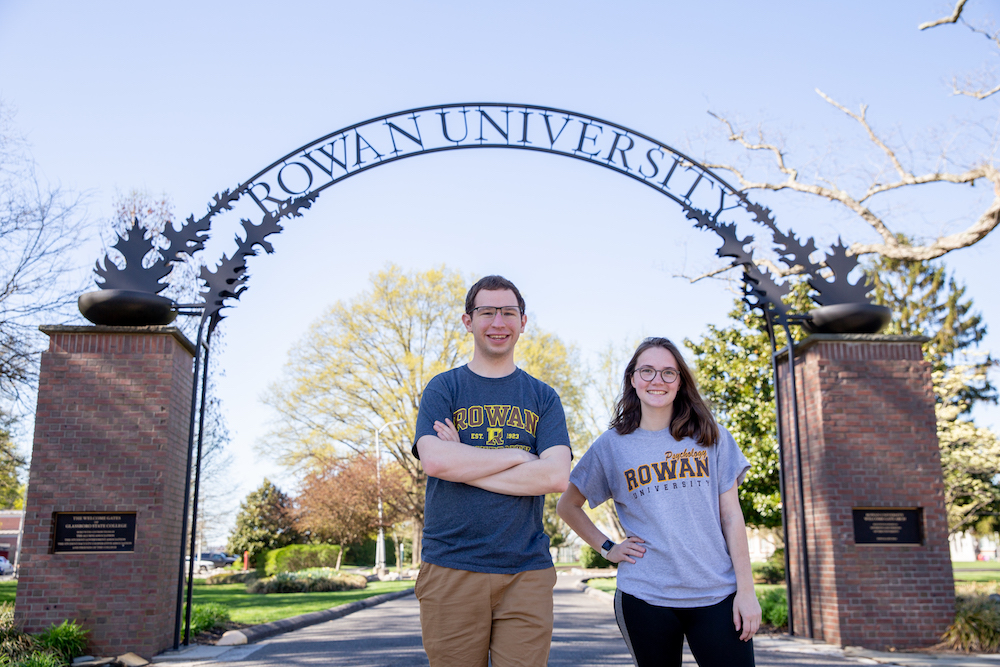 Have you ever encountered any hate towards you as being the RA or towards people who live in your pod?
I think with having a diverse community living in a space, people can make the decision to come through and be judgmental or defacing property. In those situations, we have a lot of things in place to make sure that students are feeling supported. It's not very common. I've been in this position for two years and very few times have I had to sit down with someone and say "Let's talk about why you've done this thing."
It doesn't really happen that often. A lot of the time we get people who didn't sign up for it but they're really just happy at the end of the experience because they were able to learn. I've had a lot of people grow and learn more. It helps not only our community but the people around us. Yes, we've had situations where people have not been accepting, but Rowan has a very strict policy for any of that behavior. It's always been taken care of.
For people coming into the university, do they have to share who they are to be able to qualify for this pod in terms of identifiers?
We don't want anyone to feel like they have to out themselves to their family or friends when they're coming to Rowan. So, what they can do is when they sign up for housing there will be boxes of all of our learning communities. You can select that you want to be with first-gen people or social justice people. Then you can have information sent to your personal email about the LGBTQIA+ community and find out if you were able to be placed.
I don't get a list of [how] people identify. You can join if you'd like to and it's not shared with a lot of different people. So I go into my job [thinking] that maybe this person signed up or maybe they didn't. It's more of an educational experience. A lot of people will come in letting me know that they're so excited and share their past experiences. This year is different because we have different numbers than usual. I have people who don't identify as LGBTQIA+. They have the complete same housing experience as everybody else. They just get more resources. It's a win-win.
Like what you see?
Story by: 
Marian Suganob, public relations and advertising graduate
Photos by:
Stephanie Batista, junior music industry major