Today we speak with JT Kurtz, a first-generation college student from Egg Harbor Township (Atlantic County). JT will be graduating this year with a degree in Computer Science and currently works as an ARD (Assistant Resident Director) on campus. He is also active in RUPAC (the Rowan University Philippine American Coalition) and is a Human Factors Researcher for the Psychology department.
What clubs have you been a part of?
I am part of the Rowan University Philippine American Coalition (RUPAC – the Filipino club). I am half-Filipino and half-Italian!
I'm also a Human Factors Researcher for the Psychology department. Human Factors looks at processes (not just technical, anything with how a team operates or any technologies they work with). We try to find the most efficient way to make it better or redesign it so that it's much easier for everyone.
When I was in the Honors College, my Comp II professor (Professor Flocco) was the coordinator for the Honors B.L.A.S.T. Mentor Program. I told her about my passion for computer science. I really like taking something, being innovative or redesigning it, and making sure it's the best for someone to visually see and understand. That's considered User Interface or User Experience Design (UI or UED). That segued into "Oh, she knows somebody at UPenn. Speak with them and see what opportunities you can get from there." So, I went all the way to Philly, had a 30-minute conversation and that person was like "Hey, I know somebody that's here at Rowan." I came back and had an interview with my advisor, Dr. Tremoulet. She is fantastic without a doubt. She said "I'm going to bring you on board with my team. So I've been in her lab for about a year and a half now. We actually just published one of her researches. It was super awesome."
Tell me more about RUPAC!
I've been a part of that since my sophomore year. I went out my freshman year to the Org Fair, that was always an awesome opportunity. My friend and I went to high school together. He's been in it since freshman year and was like "Hey, you should check it out." I met some really great people and being part of that org has helped me start my DJ career because they always needed a DJ for any of their on-campus events. And from there, I was able to build my network because RUPAC is affiliated with major regional and national Filipino conferences [all under the organization called "Filipino International Networking Dialogue" (FIND) spanning colleges from Massachusetts down to Florida].
I believe it was last year, prior to COVID, I went to TCNJ. They hosted a big conference called "Dialogue" where all of these other Filipino organizations come together. They talk about what it's like to be Asian American and how we can better our communities from all different kinds of perspectives. It was really cool, it's always fun! You play games, share stories, and then you make new friends. With that, I was actually able to segue into being the DJ for their regional formal dance (hosting students from 7 out of the 8 regions in FIND). With RUPAC, it's been really great to be on campus. I know they're still working their best now even with the pandemic.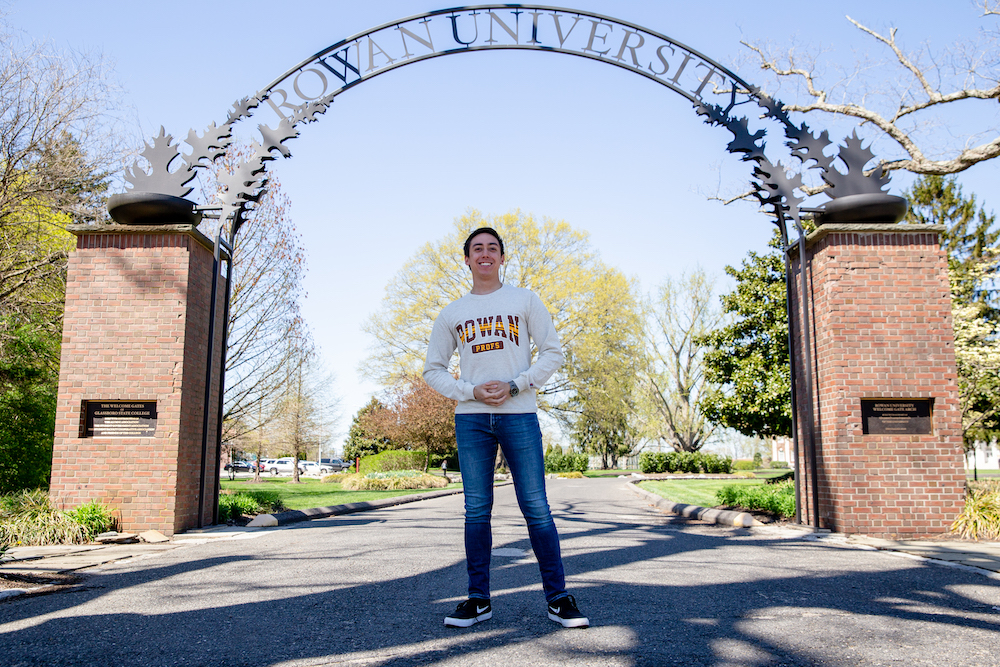 Are you part of any other clubs?
I feel like I always do too much (everyone always describes me like that). Aside from that, nothing else on campus. I have my off-campus internship as a software developer for General Dynamics Information Technology (GDIT).
Where are they located?
They have a lot of different branches and offices. They're a government contracting agency, similar to Lockheed Martin. I interned with them over the summer and I will continue interning with them throughout the school year. Thankfully, I just accepted a full-time job with them.
When do you start working for them full-time?
I believe I start with them in June. I have to smooth things out, fill out some paperwork with the manager. I'm super excited. The game plan from there is to work with them and hopefully, I would like to pursue my master's in Computer Science.
How did you find that internship?
Every year since freshman year, I went to the Career Fair and that's how I found GDIT.
Do you have any thoughts on what's happening with Asian hate?
We definitely live in a world where there's hatred all throughout. It's a shame that there are different groups that are being targeted. I think a lot of people try to work together to make things better. I know recently we had a march around campus [protesting Asian hate]. I encourage any group that has [been targeted] to come together and speak on how we can make our society better. We can acknowledge that things are happening in our world that is definitely wrong. At the same time, we need to work together and come up with solutions to prevent that from happening.
Have you ever experienced any Asian hate on campus?
Personally no, that's actually an interesting topic now. I think about how when you walk around campus and how people can tell if you're of a certain race. I don't think that's fair because you don't fully know their background. You probably didn't know I was Filipino because I don't portray the common characteristics of a Filipino. I think that contributes to why I don't experience much of that perspective. At the same time, I can still resonate with my friends, my family, and my culture. I'm sure there are other people in that same situation. Maybe they don't contribute to the hate but they don't understand it. I will definitely support this movement as much as possible with as much as I can.
Like what you see?
Story by:
Marian Suganob, senior public relations and advertising double major

Photos by:
Stephanie Batista, sophomore music industry major