Thinking of some photo ideas for graduation? Look no further. Here are a few locations and ideas we've seen on campus.
The Prof Statue
This owl statue is located behind Savitz Hall.
2. Bunce Hall
An iconic Rowan building. For directions, click here.
3. #RowanPROUD Chairs
Look for these large chairs off of Summit Lane, between Laurel and Oak Halls.
4. Welcome Gate
Learn more about the arch's location and history here.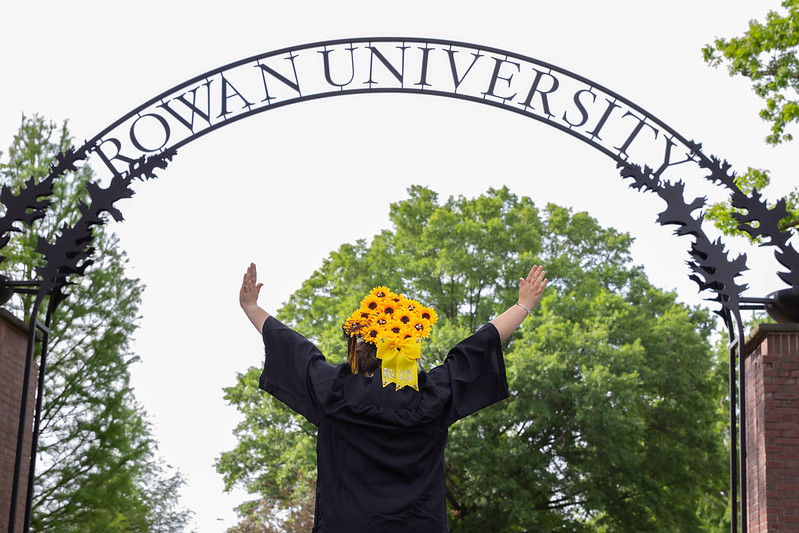 5. Rowan University Entrance Signs
There are four of these on campus. The one seen in the photos below is found on Route 322 by the Townhouses, across the street from Business Hall. You'll find another on Route 322 by Holly Pointe Commons, one at the intersection of Carpenter St. and Bowe Blvd. and the last one off of Bowe Blvd. heading toward Engineering and Rowan Halls.
Some More Ideas!
Hat Toss
2. Flowers
3. Jump!
4. Champagne (21 and over)
Like what you see?
Story by:
Stephanie Batista, sophomore music industry major
Related posts:
Passing the Torch: Future Public Health Educator Keyanna Meade
Passing the Torch: Theatre Educator Nick Flagg
Passing the Torch: How Tiana Howard Made the Most of Her Time at Rowan