Today, we speak to Psychology major and Human Resources Management minor John Tully. John, from Ramsey, NJ (Bergen County), is a transfer student from Bergen Community College.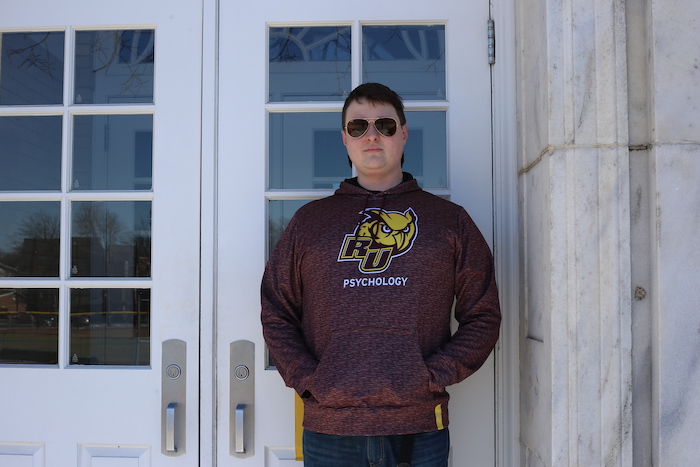 What are your professional goals? And how is Rowan helping to support you in those goals?
I am going to Georgetown in the fall for a master's in Human Resource Management. After that, I hope to work in global HR management. Rowan has Psychology majors take a professions and practice class, that is where I learned about HR master's programs and realized that is the direction I wanted to go in. Also, I was able to add a Human Resources Management minor to my program which helped me stand out from other applicants to the programs I applied to.
How does your field impact the world? What impact would you like to have on the world in your field?
HR is a crucial part of business and has major influences globally. HR has the ability to influence workplace happiness, motivation and profitability. HR also creates a safe and inclusive workplace while ensuring legal compliance. I would like to work in global HR management by designing human resource programs that are able to be applied across multiple cultures.
What inspired you to choose your major?
I was originally a bio/mathematics major and took an Intro to Psychology class to fulfill an elective requirement. I fell in love with psychology because of how diverse and interesting it is. It is an amazing field, which can be related to nearly any topic of interest. I knew after taking that class that I wanted to change my major and pursue a career in some way related to psychology.
As a student from North Jersey, how did you become aware of Rowan University?
I read about Rowan while researching colleges to transfer to. Rowan is a well-ranked school with classes related to Industrial Organizational Psychology. That made it stand out from other schools.
How long is your trip/drive "home" to North Jersey?
Around two hours.
What are some of the benefits for you, living this distance from home?
I am far enough away from home where things feel different, but still close enough where visiting friends and family is easy. I wanted a change of scenery but I didn't want it to be too difficult to visit family.
What are a few interesting or new things (to you) about Rowan's South Jersey area that you would share with future out-of-state students?
Mostly that South Jersey is very different than North Jersey. They're like different states. South Jersey has a slower, more relaxed energy. Also, South Jersey is beautiful. It isn't as crowded or urbanized as North Jersey. I always enjoy driving around and just taking in the open space and beautiful farmland.
What off-campus, local fun places do you recommend students check out?
There is so much good food here and it is so much cheaper to dine out than in North Jersey. There are also vineyards and a brewery near by. Rowan hosts a lot of events. Plus, Philadelphia is only about 20 minutes away so you have the ability to have city life if you want.
Why did you choose to transfer to Rowan University?
Rowan is a well-ranked university with an impressive psychology program taught by respected experts in their fields. Also, Rowan offers classes about Industrial Organizational Psychology, which is my area of interest.
Like what you see?
Story by:
Bianca Torres, senior music industry major
Photography by:
Jabreeah Holmes, senior radio/TV/film major
We are #RowanPROUD to be included on Phi Theta Kappa Honor Society's 2021 Transfer Honor Roll, which recognizes select nationwide colleges and universities that foster dynamic pathways for transfer students.