Today, we speak to transfer student Paul Romeo! Paul is a Radio/TV/Film major from Cedar Grove, NJ (Essex County) who transferred from Southern New Hampshire University. He shares with us why he chose Rowan and gives advice to out-of-state students.
What are your professional goals? And how is Rowan helping to support you in those goals?
My professional goals are to work toward being a filmographer or cinematographer for a major TV or movie production company. Rowan has provided me with resources to work towards this — of course the pandemic has made this difficult and caused many issues in pursuing this.
How does your field impact the world? What impact would you like to have on the world in your field?
My field impacts the world in many ways, both steering and being steered by culture of the world around us. We are able to provide entertainment and also highlight issues in the world in a way that can not be silenced. We are able to bring light to the darkness and bring forth the newest important things.
What inspired you to choose your major?
Honestly it was just a lot of realizing myself and understanding that I do not enjoy majors that are not creative. The major I had before was a programming major, and I did not succeed in it at all.
As a student from North Jersey, how did you become aware of Rowan University?
I looked at it originally before I decided on my previous university. My friend attended and told me how much he enjoyed it so I decided to give it a try. When I did, I finally fell in love with a campus, for the first time I've ever felt at home somewhere.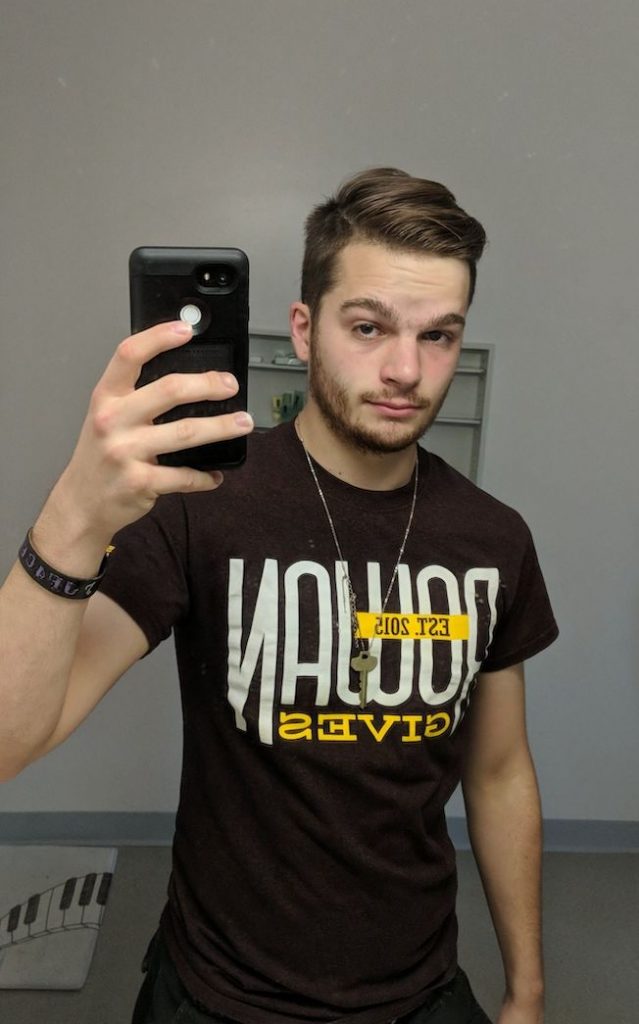 How long is your trip/drive "home" to North Jersey?
My drive is about two hours up to home.
What are some of the benefits for you, living this distance from home?
My parents aren't able to show up when they randomly want to, haha. It's nice to be able to feel like I have to be there for myself. If I don't cook, I don't eat, if I don't shower, no one is going to tell me to, so it forces me to be more independent.
What are a few interesting or new things (to you) about Rowan's South Jersey area that you would share with future out-of-state students?
Delsea Drive-In is something that's really cool! Also just the open space and flatness of South Jersey is so nice compared to North Jersey, biking is great in the area.
What off-campus, local fun places do you recommend students check out?
The food around campus is great, there are so many unique and interesting places to eat at.
Why did you choose to transfer to Rowan University?
It felt right. That's it, there was a feeling I had that both terrified me and made me feel like it would challenge me to be a new person, and I'd say it's done a good job at that.
Like what you see?
Story by: Bianca Torres, senior music industry major
We are #RowanPROUD to be included on Phi Theta Kappa Honor Society's 2021 Transfer Honor Roll, which recognizes select nationwide colleges and universities that foster dynamic pathways for transfer students.