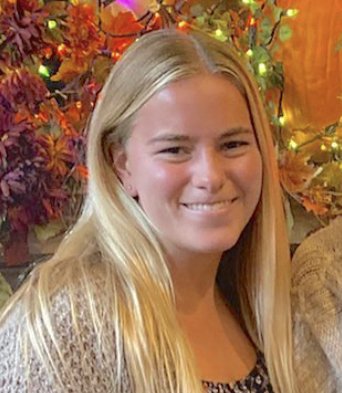 Recent grad Julia McAleavey shares guidance through this advice column for incoming students. A student with well-rounded experience, Julia earned a bachelor's in advertising this spring. She transferred to Rowan her sophomore year, after another school wasn't a great fit. While at Rowan she started as an exploratory studies major, unsure of what to major in. She's lived both on campus and off campus, held student worker jobs and internships, and participated in clubs and sports.
In high school, you probably could eat anything you wanted and not gain weight. However, you also had your parents cooking well-balanced meals for you every day, if you were lucky. Once you get to college, it's all on you to manage your own nutrition. I gained the horrifying 'freshman 15', because I lost control of my nutrition. Thankfully, I began to practice good habits, and was able to lose it all. Here are some tips to avoid gaining the terrifying freshmen 15 so you won't have to worry about losing it later.  
Explore your options: Between the Marketplace and the Holly Point Cafe, there are tons of healthy options for dining on campus. It's not all fried
foods and pizza. You can get a fresh salad or a whole wheat wrap and many other healthy options. 
Color your plate: This is a basic, elementary school health strategy, but it really works! Keeping your plate colorful with fruits and vegetables will help you to maintain a healthy diet. The Holly Pointe Cafe has a salad station, as well as fresh fruit, with tons of options to choose from. 
Protein>Carbs: Okay, it is important to have some carbohydrates in your diet, but try to stick to healthy carbs most of the time. That slice of pizza and mac n cheese is okay once a week, but try to keep your fruit and whole wheat breads and pastas as your main carb sources. Proteins are substantial and will help you to stay lean and healthy. Have yogurt instead of a bagel at breakfast, and chicken with veggies instead of pizza for dinner. Trust me, you won't regret it. 
Keep away from the dessert table: I know, that dessert table is super tempting. It is just sitting there, staring at you, calling your name, but you are strong. Like I said, it's okay to have it in moderation, but not every day. Assign yourself one day per week to take something from the dessert table. Your body will thank you later. 
Use the gym: Rowan has not one, but two gyms on campus with tons of equipment. It is true that abs are made in the kitchen, but working out regularly will still help you to stay healthy and fit. Keeping your body moving is so important to a healthy lifestyle.
Avoid snacking: When you move in, your parents will probably stock you up with snacks to keep in your dorm. This is all good fun, but try to keep it to healthy snacks. I usually keep one unhealthy snack that I treat myself to on the weekends. That way, I am only consuming it in moderation, and avoid gaining that weight again. 
Do not eat past 8 p.m. Try to keep it earlier if you can, but sometimes classes run late. Eating later makes it easier to gain weight, so it is best to avoid doing so as much as possible. The best thing to do is to not eat in bed. If you're up late studying and need a pick-me-up, keep some trail mix in your room in Ziplock bags. That way, you're not overindulging.
While eating on campus, it is important to keep in mind that moderation is key to a balanced diet. Depriving yourself of your favorite junk foods will only lead to overindulging later. Giving yourself reward days during the week to avoid this. It's all about balance, and if you practice these habits, you'll have nothing to worry about. 
Like what you see?  
Story by:
Julia McAleavey, advertising graduate