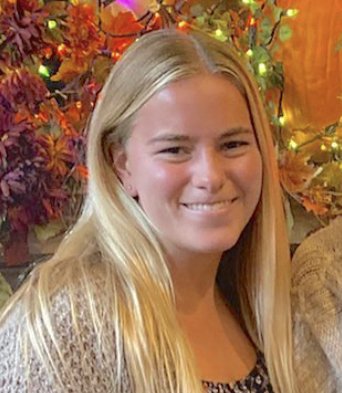 Recent grad Julia McAleavey shares guidance through this advice column for incoming students. A student with well-rounded experience, Julia earned a bachelor's in advertising this spring. She transferred to Rowan her sophomore year, after another school wasn't a great fit. While at Rowan she started as an exploratory studies major, unsure of what to major in. She's lived both on campus and off campus, held student worker jobs and internships, and participated in clubs and sports.
Okay, I understand that athletics are not for everyone. As someone who originally started college as a varsity athlete, I completely understand that. When I transferred to Rowan, I knew that the NCAA was not for me, but I still wanted some kind of sport in my life. They are a great option for those who are interested, but as other options Rowan also has many club sports and intramural sports for students to choose from. I had been a competitive swimmer for my whole life, so I decided to try out the club swim team. Joining the team was one the best decisions I have ever made, and there are several reasons as to why that is. 
It kept me busy: Having practice twice a week at night was the perfect way to occupy my time. It was a good amount of practice to still have time for school and a job, and it kept me moving and socializing instead of just laying in bed by myself. It was also the perfect workout before bed, I would always fall right asleep. Additionally, on weekends we had meets, it gave me something to do for that entire day. As a senior, I became an officer for the club. Fulfilling my duties kept me busy, and it also helped with my professional development. It may not seem like it now, but you will have times in college where you are bored. Joining a club or intramural sport will definitely solve that problem. 
Kept me active: I was always an athlete growing up. Fitness and athletics have always had a huge impact on my life. Even though I didn't want the full commitment of the NCAA, I still wanted some kind of fit, competitive lifestyle. After attending the first practice, I knew club swim would help with that no problem. Even though it is a club sport, we still compete and practice hard, and almost always get in a good workout. Most other club sports have the same type of dynamic. Intramurals, even though they are seasonal and only compete at Rowan, also helps to keep students active. 
Gave me friends: My favorite part of course! In my eyes, a good social environment in club swim was just as important as the athletic aspect.
Although many varsity athletes make lifelong friendships on their teams, the social interaction is the main reason why many students join sports clubs and intramurals to begin with. I have made some of my forever friends from club swim, and I know many other athletes that have done the same. It is one of the best ways to make friends. 
Like I said, athletics aren't everyone's thing, but getting involved in any kind of sport on campus is a positive thing. Rowan has several NCAA teams if you're interested in competing on that level. You can explore these teams. A lot of people have great experiences on these teams, but if you don't want that commitment, club sports and intramurals are great options. They are the perfect thing to keep you busy, active, and of course, give you some of the best friends you'll ever have. 
Like what you see? 

LEARN MORE