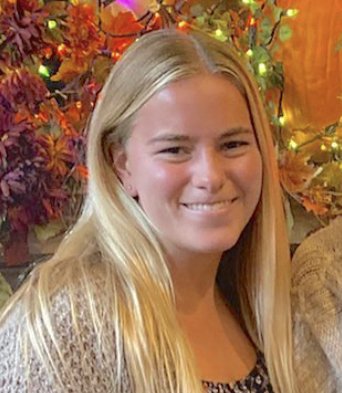 Recent grad Julia McAleavey shares guidance through this advice column for incoming students. A student with well-rounded experience, Julia earned a bachelor's in advertising. She transferred to Rowan her sophomore year, after another school wasn't a great fit. While at Rowan she started as an exploratory studies major, unsure of what to major in. She's lived both on campus and off campus, held student worker jobs and internships, and participated in clubs and sports.
There are a lot of things about starting college that can be absolutely terrifying. One of those things is worrying about finding friends. I've got some good news for you: you are not the only person anxious about this. Every college first year or new transfer is worried about not making any friends. Here are some ways to help you come out of your comfort zone and break that fear of never finding friends.
Get out of your room.
When first moving in, you might not know what to really do with yourself besides sit in your room and watch television. Or, if you commute, you might just drive to campus and back home after class. I know this is a crazy time for you and it's so easy to get stuck inside, but do not do this! Friends are not just going to magically appear at your door. Sure, you might have been friends with your roommate already, but you both need other friends so you do not get sick of living with each other.
A good start would be to go to the events that your resident assistant sets up at the beginning of the semester, or make a point to go to the September organization fair, where there are tons of tables of people representing their clubs and organizations. This way, you get out of your room (or car), and get to know some of the people. 

Go to first-year student events.
At the beginning of the semester, there will be some events to attend for new students to get to know each other. Rowan After Hours (RAH) has a lot of fun, late-night events to get students to interact with one another. They might sound lame at first, but don't let that keep you from going. You might even meet your best friends there. Plus, there is usually free food of some kind, and it's hard to say no to that, right? 
Two words: Get. Involved.
This is HUGE! Many first year and new transfers go into college not wanting to get involved because they are afraid they will fall behind on school work or won't fit in. Yes, it is true you are at Rowan for a degree, but getting involved in something will help you to make friends and professional connections. I joined the Swim Club and it introduced me to my best friends. 
There are a lot of activity fairs at the beginning of each semester to share information about different clubs and organizations. Look out for these dates so you can find the perfect fit for you.
I'm going to be completely honest with you — college can sometimes feel like a lonely place. You might feel sad and overwhelmed and might even just want to go home. But once you find a great group of friends everything will fall into place. 
Like what you see?
LEARN MORE
Story by:
Julia McAleavey, advertising graduate