If you're looking for an adrenaline rush or an exciting rainy-day activity near campus, check out Primitive Axe! Located here in Glassboro (only five minutes away in the strip mall by Samurai), Primitive Axe is a great place to step out of your comfort zone and enjoy a unique experience with friends.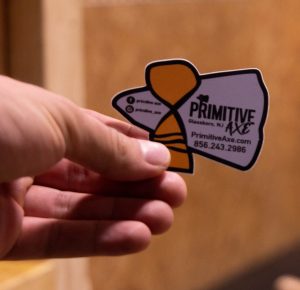 The name might give it away, but this place is centered around throwing axes. Each participant gets an axe when it is his/her turn, and a throwing coach to lead you through the adventure. Every coach is helpful and experienced, and there to make sure everything runs smoothly and everyone is having fun! You'll be taught how to hold the axe, how to throw it at the target and get tips and tricks from your coach. It looks much easier than it actually is, but it only takes 10 minutes to get the hang of it and start getting bull's eyes!
Primitive Axe's indoor Glassboro facility is brand new and beautiful, with a rustic feel and 20 targets. It's a great place to relieve the stress of homework and exams, and have an unconventional experience to share with family and friends! And for your inevitable safety concerns about throwing axes, the staff goes out of their way to explain the safety precautions and supervise your throwing. There are rules and barriers to separate each thrower and keep everyone out of harm's way. 
Tuesdays at Primitive Axe are College Night! Bring your Rowan ID for a special rate of $15 per person for an hour of axe-throwing, an awesome deal compared to the $25-40 price for other days and walk-ins. They even accept Rowan Bucks. Plus, it's BYO everything but the axes — which means Taco Tuesday just got even better!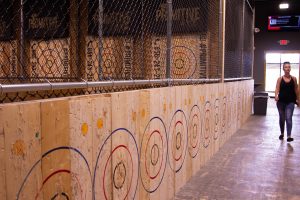 Grab a few friends and book your reservation at Primitive Axe!
Like what you see, come visit us!

Story and photography by:
Nicole Cier, senior writing arts major