Today, we speak with Joe Frascella, a freshman secondary health and physical education major from East Windsor (Mercer County), NJ, who lives on campus in Willow Hall. Joe will share his #PROFspective with us on what it's like to be a Rowan University student and how he's getting the most out of his college experience as a Rowan Prof.
Name: Joe Frascella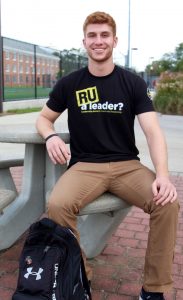 Major: Secondary Health and Physical Education
Minors or concentrations: Looking to pursue concentration in Bantivoglio Honors College next semester
Year: Freshman
Hometown and County: East Windsor, NJ (Mercer County)
Resident: Yes, Willow Hall
Athletic clubs: Unified Sports
Social clubs: FLIP (First-Year Leadership Involvement Program) 
Do you have an off-campus job? Yes, I am a Party Pro at a BounceU near my hometown. BounceU is a playground of inflatable rides for kids to enjoy. For my position I supervise and interact with children for events such as birthday parties or other private events. Summed up, I make sure kids don't get hurt and I feed the little monsters pizza after they've been playing for two hours.
Why did you choose your major? I've had teachers in my career who have a positive impact on me and made me who I am today. They've helped me through hard times and been pivotal role models in my life. I would like to do the same for other kids and help them find see the potential they have in themselves.
One reason why you chose Rowan? I knew from the moment I came on a tour that Rowan was the place to be. Along with a well renowned education program, the campus and the people were all so amazing. The only thing that wasn't amazing was my parents wanting me to look at other colleges. To sweeten the deal even more, I have not met a single person who has said anything bad about the school and I wanted that same experience.
My typical day as a Rowan student:
The typical day of Joe Frascella is not the most interesting of days, but I always make the most of it. My days are very similar, but each one has a small twist on it. Being a freshman, I'm still trying to figure everything out about being an adult. Considering I'm still alive I guess I'm doing alright.
Every day I have at least two classes, which I'm learning is way more enjoyable than being in high school classes all day. I start off my Monday through Thursday mornings with 8 a.m. classes, being either Adventure and Experiential Learning or History of American Education. Waking up this is early is worth it though since I have Fridays off from classes. Following this is either Comp 101 or Physics in Everyday Life at 5 p.m. Tuesdays and Thursdays are my busy days, having my Elements of Dance class at 11 a.m., which isn't too much of a burden since it's my favorite class.
Having my classes so spread out leaves me with plenty of free time. I like to fill it by spending time with the friends I've made here. We either spend our time eating at Prof's Place or trying not to cry over our homework in a Holly Pointe lounge room.
Getting lucky with Fridays off is truly a blessing. However, I don't just sit around and do nothing during my long weekends. I like to get involved around campus. I do enjoy sleeping in on Friday morning almost until the afternoon but once I manage to wake up I make my way over to FLIP. Here I enjoy meeting other freshmen and making new friendships while also seeing the friends I've already made.
Saturdays I usually end up in Holly Pointe doing more work with my friends, since the A/C is a good change of pace from Willow Hall. On my Sunday mornings I play on a soccer team for Unified Sports which is my work out for the entire week. Afterwards I have the rest of the day to wrap up any work I was procrastinating on for the upcoming week. Now this vicious cycle is on repeat.  
Story organized and photography by:
Vanessa Vause, junior public relations major and advertising minor
Like what you see? Register for a tour or open house.
Related stories:
#PROFspective: Secondary Education & History Major Joseph Bittman
#PROFspective: Early Childhood Education Major Naveen Khan
The Kid Behind the Video [Video]