Going into my senior year at Rowan University, I was excited. Knowing that all the hard work I have done over the past four years was finally going to pay off was something I really looked forward to. However, it also forced me to reflect on all of the decisions I have made thus far and whether or not I have made the most out of my time on campus. I can say one of the most rewarding experiences I've had is being a resident assistant in the residence halls on campus.
A resident assistant (RA) is a trained undergraduate student staff member for the Residential Learning & University Housing (RLUH) department. As an RA, I live on-campus and help students acclimate to the university environment, build a positive community and help students navigate interpersonal concerns. Part of the role includes serving on a duty rotation (conduct rounds in the building and be on call from 8 p.m. to 8 a.m.), hosting programs, creating door decorations and bulletin boards with useful information about student life, and being one of the first contacts for students with concerns.
There are many benefits to the position. First, the position covers room and board fees and pays a stipend of $800. When all is said and done, RAs are the highest paid undergraduate staff members on campus because of how much it covers in regard to a student's overall bill. However, in my opinion, the leadership and professional development are the most rewarding aspects of the position. Throughout the year, working on a staff of 12 or so people, the team atmosphere prepares any student for a future position. By participating in staff meetings and serving on the duty rotation over the course of the month, RAs learn fairly quickly what working together means for each staff. This position teaches a person how to break out of their shell and become an advocate for themselves, residents, and fellow staff members. The transferable skills include public speaking, organization, administrative time management and crisis response.
This is my third year holding this position. My first two years as an RA, I lived in freshmen residence halls in the colonial area (Mimosa, Willow, Magnolia, Chestnut). This year, I am living in the Rowan Boulevard Apartments, which are reserved for upperclassmen residents. I really enjoyed working in the freshmen area, helping incoming freshmen adjust to college life. Now, in Rowan Boulevard, I really like being an extra resource for upperclassmen as they continue their journey at Rowan.
Over the years, I have continued to grow as a leader on campus and continued to foster strong relationships with residents and fellow RAs. Everyone's motivation to become an RA is different. Personally, my parents told me that if I didn't earn the position, I would need to commute since I live in Camden County, close enough that the drive would be reasonable. College debt is real and the benefits of this position take a huge weight off my shoulders. But, I also knew that I didn't want to be away from campus. While my initial reason for applying was because of the financial aspect, the reason I continue to be an RA will always be because of the continued growth the position allows. There's always something more that one can learn from holding this position, even when it seems like I learned everything there was to know.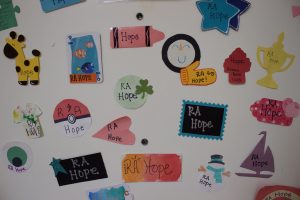 While at times it can be a lot to deal with on top of classes, club meetings and all the other responsibilities a college student holds, the RA position has become of my identity. In our department, we like to live by Henry Rowan's words, "Make a difference. Make this world a little better because you lived in it." We try to make difference in each of our own lives, the residents around us, and for the campus as a whole. Being an RA isn't for everyone, but I'm extremely grateful for the friendships I've made, the difference I've made, and the growth I've had since moving into to Chestnut Hall freshman year.
By: Hope Holroyd
Senior triple major: Public Relations, Advertising, American Studies
Like what you see? Register for a tour or open house.
Related stories:
Find Your Passion through Exploratory Studies
Sophomores Give Advice: What It's Like to Live On Campus
Advice for Transfer Students by a Transfer Student