Check out Holly Pointe Commons here:
Okay I'll admit it, living in Holly Pointe Commons as a sophomore was not my first choice. When it came time to pick housing almost everyone I knew, including me, was trying to get into the Rowan Boulevard Apartments. The plus side that everyone sees to living in an apartment is the comfort of having your own room, bathroom, and kitchen to cook your own meals. By the time I was able to choose where I wanted to live, Holly Pointe Commons was the only building with rooms available. Little did I know, this would not be so bad after all.
Personally, I believe living in Holly Pointe has many benefits over living in an apartment. When living in an apartment you take on extra responsibilities: cleaning the bathroom, doing dishes, and going out and buying your own food to cook. Every morning I wake up to a sink room, bathroom, and shower that's been cleaned for me and stocked with toilet paper and paper towels. I can't complain!
Another aspect of Holly Pointe Commons that I love is having the Glassworks Eatery right inside the building. On a rainy or snowy day, you bet I love having the luxury of not leaving the building to get food. I also don't have to worry about going grocery shopping and cooking my own meals. These are just some of the little things you don't think about when choosing where you want to live. Students are so quick to avoid living in a dorm room, that they don't take into consideration all the extra responsibilities that come with living in an apartment.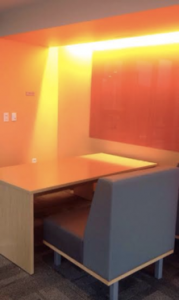 Holly Pointe Commons also have great lounge areas on every floor that are great for studying or just getting some quite time to yourself. Some of the lounge areas even have flat screen TVs which are great spaces for hanging out with friends and relaxing. Plus, it's great for group study meets. Sure if I had lived in an apartment I could study quietly in my own room or watch TV in the living room, but Holly Pointe Commons provides these same amenities just in different ways.

I've had a great experience living in Holly Pointe this year!
What are you most looking forward to about living on campus? Tell us in the comments below!
Story by: Chris Schumann, Wall, NJ (Monmouth County)
Sophomore public relations and advertising double major
Like what you see? Register for a tour or open house.
Related stories:
Sophomores Give Advice: What It's Like to Live On Campus
Roommates Reflect: What It's Really Like to Live With You, Holly Pointe Commons [Video]
Video Tour: Mimosa Hall