Just like many other 18-year-old incoming freshmen, the only thing I cared about was living on my own inside a college dorm without a parent in sight. What could be better than no parents, a dorm and unlimited meal swipes? Although all of that was more excitement than my 18-year-old mind could even handle, as freshmen year began I quickly learned there was more to being at college than just independence. No one tells you what to expect, only all the fun memories they made while in college. So here are five things I would like to tell incoming freshman before they come to Rowan in the fall:
1. You WILL miss your parents and family. What you do not realize with all the excitement coming to college is that your parents are really your rock and are there for you more than you realize. You will learn this fast, but luckily you will adjust to this big change.
2. Rowan is far enough! Even if you are only twenty minutes away, Rowan will quickly become your world. For residents or commuters if will be far enough from your hometown to make you feel independent, but not too far to get that nice home cooked meal.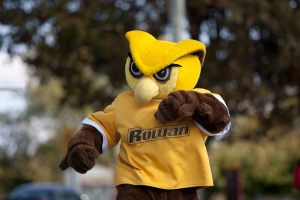 3. You NEED time management. No one is on your back anymore making sure you get all your homework done. There will be many times within your freshman year your new friends beg you to come hangout, but it is important to remember why you are here and what must done first.
4. The freshman 15 is real! In college it is acceptable to sometimes eat waffles and ice cream for dinner, but do not do it too often! Just as you get unlimited swipes into the cafe, you also do at the gym! With all the extra sweets that late night binge studying will bring it is important to keep that in mind.
5. The last thing I wish someone had told me is, you learn more about yourself in your freshman year of college than all four years of high school. Your life is about to change. You will loss and gain friends. Some of you may fail your first ever test. Remember it will be okay, you are here to learn not only about school, but yourself. This is where most of you will find your true passions and friends. Do not be afraid to sometimes fall, just never forget to get back up.
By: Nicole Traeger, Jackson, NJ (Ocean County)
Junior public relations major