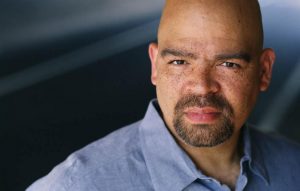 Feature photo courtesy of David Cimetta
Philadelphia's own professional actor Brian Anthony Wilson joins Rowan theatre students to perform the audacious role of Titus in Shakespeare's Titus Andronicus. The 6′ 3" thespian is most known for his work in Creed (2015), Limitless (2011), and as his character Vernon Holley in the HBO series "The Wire." This is the first time Brian has joined a Rowan production. He shares that he finds our theatre majors to be professional and enthusiastic in their approach to rehearsals.
"I'm amazed with the handling on the text these kids have. They're even further along than me," Brian says. Balancing films, TV shoots and auditions, Brian has his plate full, but the minute he shows up to rehearsal at Rowan he feels embraced and welcomed by his cast mates.
Having the chance  to work alongside a professional in the business has been quite the learning experience for our students. Emily Hoffen, from Baltimore, MD, plays Tamora in the production and says, "Brian is a breath of fresh air for this process. I love having the opportunity to learn and grow whilst watching him perform and work. It is an excellent opportunity!"
Stage Manager Kyle Santopadre of Hazlet, NJ (Monmouth County) claims, "Working with Brian has been one of the greatest opportunities Rowan's Department of Theatre & Dance has given me in my time here at Rowan. I have learned so much from him in just three weeks and I can't wait to see the end result of this show!"
I had asked Brian what advice he has to give to our theatre students and he replied: encouraging them to find ways to work on their craft. "Be better, see better shows."
Brian is a Barrymore Award judge, allowing him to watch many productions, seeing actors who inspire him to be better.
"Take anything to better yourself, even if there is no pay. Know your work, know your type, be aware."
Having Brian work on this production has been a beneficially mutual process. He has also learned from working with our Rowan students, claiming to always be growing, especially admiring the genuine qualities our students have and their joy for the art. "It's invigorating to me."
When I asked Brian what is the most important thing the students can take away from this process, he said, "The stage is a great equalizer. Once all on the stage, we're all the same. We should try to be as true as we can when we step on the stage." Brian preached the importance of equality among us all, specifically between adult professionals and students.
"We're artists; 30 years or 30 seconds, we're being true to our art and as true as we can be."
As I waited to conduct this interview with Brian Anthony Wilson, I watched the cast get into the zone, set their focus and prepare for their designer run. The positive energy and enthusiasm made me excited to see the real run of this show. I could feel the sense of community, support and love within the cast and I'm sure it will shine through on stage as they perform Shakespeare's most gruesome and violent work.
Buy tickets here to see Brian and our Rowan students perform in Tohill Theater in Bunce Hall from Thursday, February 23 through Sunday, February 26. Tickets are free for Rowan students with ID; $10 for alumni, faculty, military, seniors, non-Rowan students and children; $15 for adults. 
By: Vanessa Vause, Williamstown, NJ (Gloucester County)
Double major theatre (musical theatre track) and public relations