Osvaldo Rosi, an international student from the Dominican Republic, gives his insight on Rowan's international program and his experience as a management information systems major. 
Osvaldo Rosi, originally from the Dominican Republic, is a senior management information systems major with a minor in business analytics and a certificate in cybersecurity. He originally moved to America in 2020 with his family, seeing it as a land of opportunity to further his career outside of his home country. 
He says his Rowan experience was amazing from the start: "I applied to around 20 universities in the area and was accepted to all of them, but to me Rowan was a big campus but with everything concentrated in one place. When I visited Rowan I felt at home, everything from Rowan Boulevard to the academic buildings just felt right. The energy in the student center and other places around campus is something that really inspired me to be here."
Osvaldo feels like he made the best choice with Rowan, especially with the international student program: "I think that Rowan really offers opportunities to all international students with the program that they have. They give us the opportunity to be involved with American culture and its students. Everything is networking, so being able to be involved with different cultures and see different points of view, it really helps to open your mind. Rowan gave me all the resources I needed to be successful here." In fact, Osvaldo currently serves as the vice president of the International Club, where he helps fellow international students get adjusted to their Rowan experience: "My job is to help international students around campus and help introduce them to the resources Rowan has to offer. Our job as a club is to help students get involved around campus, with their advisors, and other things to help them through the process."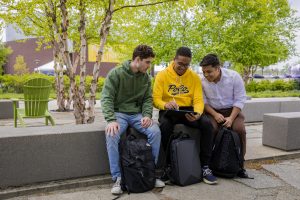 Touching a bit more specifically on his major, Osvaldo explains: "Management information systems is the science that studies people, organizations, technology, and companies. We are like the bridge between technology and people. We try to take all of the data and create ways for companies to make better decisions with the implementation of technology in their companies." Osvaldo also elaborates on the importance of management information systems, especially in the modern-day surge of workplace technology: "The best part about this major is that you can be involved in any area of the company. You can be in finance, you can be in marketing, you can be in human resources, because in the end we try to implement technology into all the functions that any company has."
As far as his advice to incoming Profs goes, Osvaldo had a simple message to send: "Live every day. Enjoy your time. Take advantage of all the resources that Rowan can offer to you. You can get jobs, you can be involved with campus activities, you can be involved with clubs. In the end, the big word for me is networking. If you can make connections here, they are connections you'll take with you all your life. Be open to learning, and be open to new experiences."
More specifically to any students considering the management information systems program, Osvaldo has this to say: "The world is changing every day, because we have technology. My major offers you the opportunity to always be in stride with technology. If you change with the technology, you will always be involved and job secure. MIS offers you those kinds of opportunities."
Like what you see?
Story by Connor Bicknell, senior communication studies major