A proud graduate from both the Political Science and Communication Studies departments, Connor Schmiegel's segue from student to professional illustrates the impact of leveraging classroom learning, internships and networking to successfully launch a career. As a young grad from the local Gloucester County, NJ, area, having graduated four years ago, Connor's story shows how "local kids" can get that "away at college" experience, building a world away from home and a personalized path to success as they personally define it.
Originally intent on a completely different major, that changed after Connor attended Dr. Lawrence Markowitz's talk on Russian collusion in American elections. Although he quickly changed majors to political science, he did not want to lose other areas of interest that had been a big part of his life growing up, causing him to pick up a communication studies major to pair with the political science.
"I always wanted some aspect of performance so thought: communication studies. I could go into marketing, journalism, radio, TV, or film if I wanted, and since I'm not set on those industries– I could make the major what I wanted it to be," he says. As he soon found out, dual majoring in political science and communication studies proved to be one of the best decisions for his academic and future professional career.
Additionally, getting involved with clubs and internships helped develop Connor as a student and professional. The hands-on experience, networking, and the mentors that he met proved invaluable. After a nudge in the right direction from Dr. Danielle Gougon,Rowan's office for Government and External Relations was one of his first chances to meet new people and network with individuals who could help down the road.
"My internship with Government and External Relations was with Elaine Mahoney-Kennedy for a year and a half and once I started, I never stopped until graduation. That was really a great experience and Elaine was my first mentor," he says. Elaine was one of the first people who guided both his academic and professional career. The former lobbyist for Rowan University helped teach him the art of presenting facts. Not only the art of presentation, but the art of connecting people, including bringing Connor to meetings with different legislators. Advocating for the University came in different ways with different end goals. At certain points, it was all about advertising and highlighting what makes Rowan University unique as a leading research institution. 
"Here we are polishing messages or facts about Rowan University then advocating on behalf of Rowan to elected officials. That's what we did. It'd be like, 'Hey, Rowan University is one of two schools in the nation that has two medical schools', I believe at the time that was the fact. We'd present facts like that or that we're the third fastest growing university in the country," he says.
Being a lobbyist was about creating connections to bring in funding to continue expanding on new ideas that Rowan University could bring to life for the world or offering suggestions on legislation that may impact the University.
"New Jersey State Senator Andrew Zwicker, at the time Assemblyman Zwicker, was on the Science, Innovation, and Technology committee and visited Rowan's campus and Elaine was there to offer him a tour with others within administration. The University would highlight things by saying 'Hey, have you ever heard of Rowan CREATES? We helped create new types of asphalt and concrete that goes on roads that stand up better over time to things like salt and temperature fluctuations. Now people could use it across New Jersey and across the country to withstand those weather conditions," Connor explains. He said, "I'm sure it left some impression on Senator Zwicker that could lead to future opportunities for the school. It was really about connecting information to the right people," says Connor. Rowan's Office of Government Relations created not just an opportunity to open doors into the professional world or to narrow down what future careers might be interesting for Connor, but it helped Rowan grow.
The Rowan Institute for Public Policy and Citizenship (RIPPAC) was Connor's next step after Elaine recommended Connor to meet RIPPAC's Director Dr. Benjamin Dworkin. Through RIPPAC came the development of a variety of new abilities. RIPPAC's director, Dr. Benjamin Dworkin, left a massive impact on Connor as he does with all of his students. After being brought to Rowan to run RIPPAC, Ben Dworkin helped to guide Connor through his undergrad years. The years of experience that Dr. Dworkin has allows for students to grow under his guidance. Dr. Dworkin presented new opportunities, including a summer on Capitol Hill in Congressman Norcross's office, to Connor.
"About mid-way through my spring semester of my junior year, I sat down with Ben Dworkin and from then on everything changed because he was like, 'You're going to D.C. this summer," says Connor, "and it took me completely by surprise, but that's exactly what I did with only a week left to apply." Working with Dr. Dworkin didn't just provide chances to experience other places, but also to be able to work on research with a professor, including hands-on experience such as editing a book and setting up events. 
After the conversation about a Washington, DC internship, Connor spent the summer after his junior year with Congressman Donald Norcross's office. Connor handled a range of responsibilities, all centered on working for the American public. Sometimes he would work on form letters to send to constituents when they had questions about a policy, or even talk with constituents directly. "They were calling about policy. They would say, 'Hey, I want Congressman Norcross to support this bill or vote no on this bill'. We would take all of that down and track it for the Congressman.
Connor continued, "Once my senior semester started and I was back from DC, I ended up back in Dworkin's office, but this time as his research assistant."
In the midst of being a full time student, getting involved on campus was a priority for Connor. After settling into his sophomore year as a double major, joining the Rowan Democrats brought excitement in the midst of the high stakes 2016 election cycle. In the wake of victory for the Republican party, Connor was far from discouraged. "Again, 2016 happened, and obviously being on the opposite side of the aisle of the party that won the Executive Office, things were a little disheartening. But when things are disheartening, that's when us political operatives, we don't just sit down and cry, we pick up anything that we can and help the next campaign," Connor explains.
Even after becoming communications director for Rowan Democrats, there were still other opportunities he wanted to pursue. Volunteering became an important aspect of his college career. Connor volunteered for the Legislative District 3 campaign for Stephen Sweeney, former president of the New Jersey Senate, and he also worked on the governor's race going on at the time, both in tandem with the Rowan Democrats.
Bringing United States Senator Cory Booker for a rally while serving as vice president of Rowan Democrats was a highlight of Connor's Rowan Democrat career. Not only did the former Democratic presidential candidate come with Congressman Norcross, but also an HBO crew as well who documented the candidates during the 2016 election and beyond.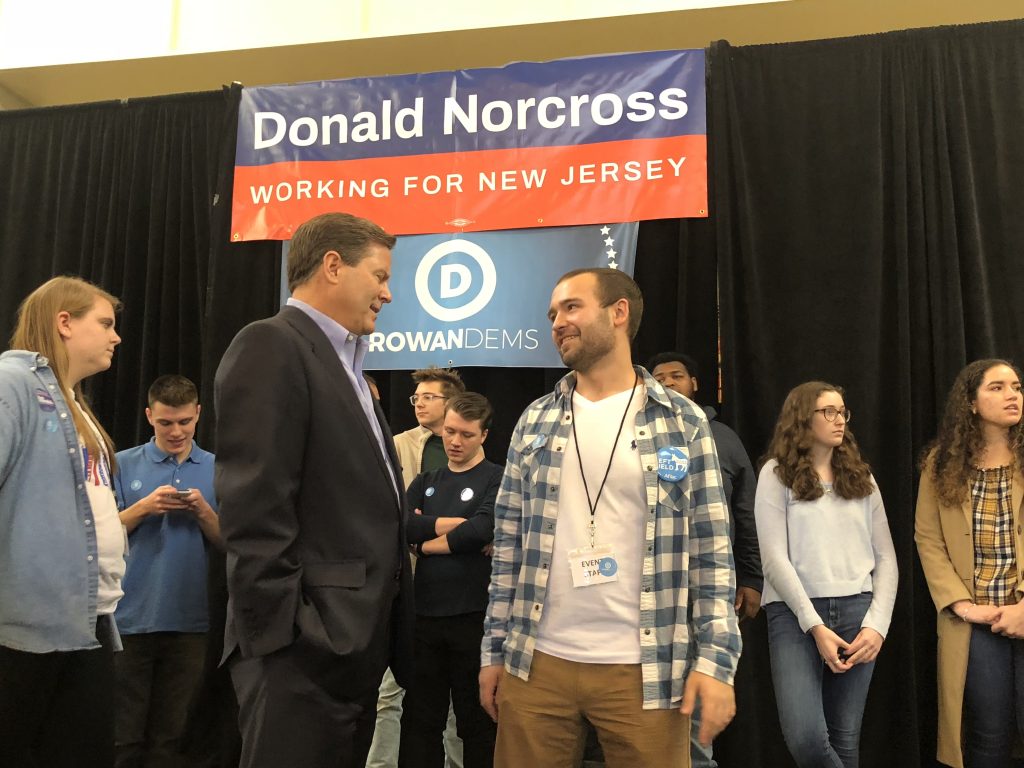 Connor also dedicated time to giving back to the Rowan community and spreading awareness for issues impacting students. In the midst of the 2018 immigration crisis, legislation was rolled out to send immigrants back to their countries of origin, and this could potentially impact Rowan students on temporary student visas. Connor and the Rowan Democrats decided to host an event to show support for those students. "The event was essentially us advocating for certain policy changes that the countrycould make, but hearing from the people it actually affects. Like I'm a white guy, that issue doesn't affect me so the event was to give the mic to individuals it actually affects." The theme of giving back and doing something bigger than himself was a recurrence in both his internships and his involvement with RIPPAC and Rowan Dems.
Many lessons were learned during Connor's time at Rowan but networking was emphasized the most. "Ben Dworkin always says your network is worth its weight in gold– everything has a connection in some regard. I met Ben through Elaine. Additionally, I met Elaine's boss, former Vice President of External Affairs Steve Weinstein, also through Elaine and my internship with her. Steve just so happened to be able to recommend me to Congressman Norcross's office and that helped me get the internship there, which eventually helped bring Congressman Norcross and Senator Booker to campus."
Like what you see?
Story by:
Thomas Ubelhoer, sophomore political science and international studies double major