Today, we hear from Isabella Shainline, a junior English Education major, Photography minor, and John H. Martinson Honors College student from Pitman, NJ (Gloucester County). Isabella co-founded Business Hall's Creatives 230, which is an interdisciplinary learning lab for creatives and entrepreneurial students.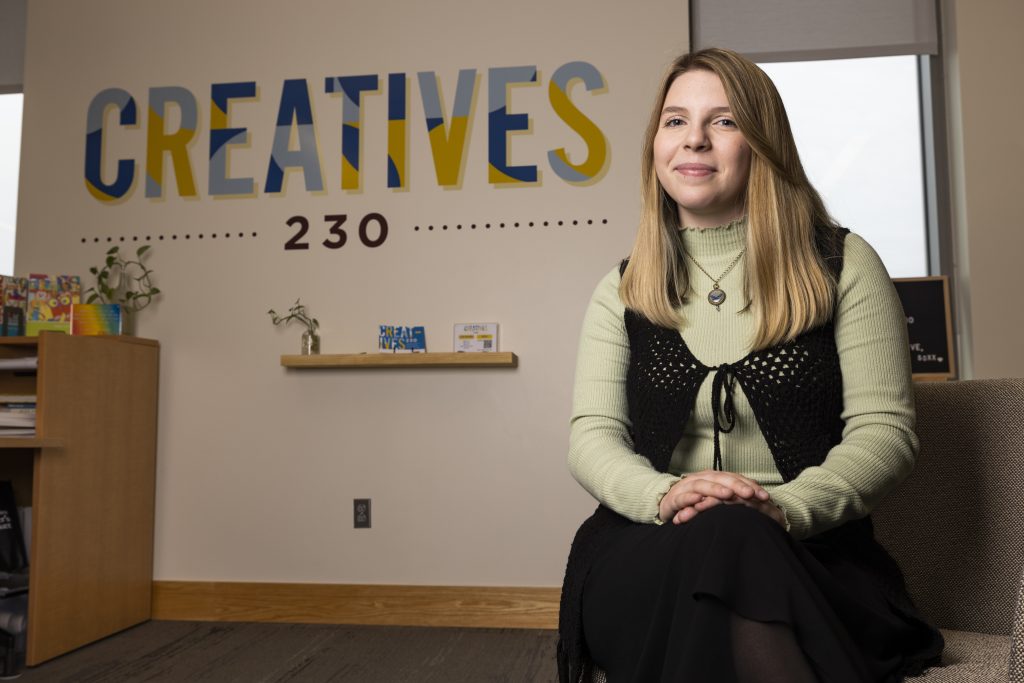 The business world and art world are not that different, but yet they are so separate. Art is really our entrepreneurs, and entrepreneurs are artists.
How did Creatives 230 come to be?
"Last year, my photography professor Jenny Drumgoole and I went over to Business Hall. There was a discussion about how Business Hall and Westby Hall, the art building, are right next to each other, but they never cross paths. We went over and started a print sale of our photography during their new venture business challenge. From there, it started to bloom. We saw that there was an available space, and we started working with different student entrepreneurs. And then, over the summer, my professor reached out to me and one of my friends, Grace Fox, and asked us if we were interested in working during the fall semester. She had the idea where we worked with entrepreneurial students, with the goal being that we can all learn something from each other."
How did you prepare to open up your space?
"We did four test runs last semester before we actually opened up the space, which was with me, Grace and two other individuals."
What is your main role within Creatives 230?
"I am actually a project manager and writer for Creatives 230. What happens when a client comes in is they need product photography and headshots. My expertise lies in the realms of copywriting, creative writing and project management, which includes emailing people, setting tasks & deadlines, coordinating everything, and sending the final deliverables to the clients. All of the communication comes through me with a client."
What type of people have helped lead this team to success?
"The majority of our team are women. Myself and Grace are the writers, Lauren and Isabella are our graphic designers, Taylor is a photographer, and Phoebe is involved in everything. There are a lot of strong females on our team. It is really nice to be able to present an idea and be able to work together to support those ideas. We are constantly learning and exploring new things."
What type of photography style do you like to focus on?
"I focus on fine art photography that focuses on storytelling with women. I grew up reading novels about strong female heroines and that has come through in my photos. I like working with the idea of strong females, mystery and anything with ambiguity."
Do you have any favorite experiences to share with us about Creatives 230?
"Recently, we just worked with Tanara "DoubleChocolate" Mallory, who is a Tik Tok influencer. She is somebody who is very grateful, has integrity, and we really believe in her work. For me, this was an awesome time and I loved working for her."
How could others become involved in Creatives 230?
"We are open Mondays through Fridays during the week, and we look for individuals who are hard-workers and dedicated to the process. Come stop in, meet us and show us your excitement.
"The business world and art world are not that different, but yet they are so separate. Art is really our entrepreneurs, and entrepreneurs are artists."
Like what you see?
Written by Jordyn Dauter, sophomore dance & elementary education major
Photos by: Brian Seay, senior sports communication and media major