Ella Emmer, a senior Psychology major with a minor in German from Somerset County, NJ, reflects on her experience as the PRISM club president and the legacy she hopes to leave on the organization.  
Ella has made her mark on Rowan University's community. Her impact can be attributed to her efforts as PRISM president, an LGBTQ+ organization on campus.
"PRISM provides a safe space for members of the LQBTQ+ community to socialize, form friendships and be their true selves," she says.
Ella stumbled across PRISM… literally.
"I got lost going to a study abroad meeting and I wandered into JoAnna Murphy's office in the SJICR office. After we got to talking, she introduced me to PRISM. The meeting times fit with my schedule, so I started going to meetings regularly. I became really close with members of the e-board and passionate about activism, so I decided to run as secretary my sophomore year. After serving as secretary, I ran for president and have served in that role ever since," Ella explains.
As president of PRISM, Ella manages a lot of events for the organization. "So much goes into planning and executing events for the club. I have to pick a venue, contract any guest speakers or entertainers that come out, and spearhead any fundraising necessary for the event."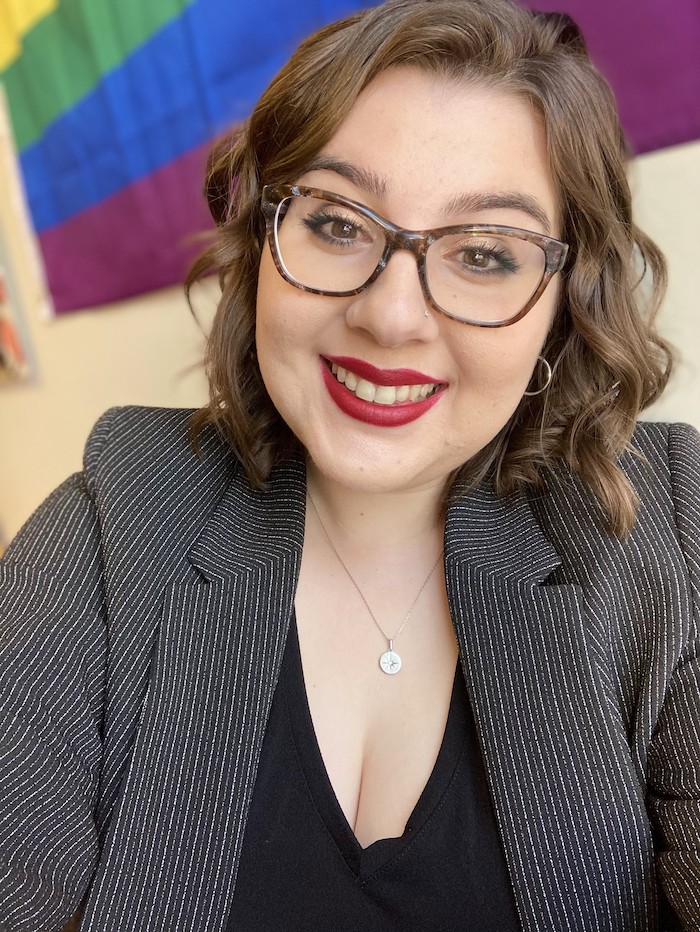 Ella was especially proud of PRISM's role in the university's Lavender Graduation ceremony, which recognizes and celebrates LGBTQ+ students and allies ahead of their respective college commencement ceremonies. 
"Lavender Graduation is very special to me. Since legal names have to be put on your diploma for graduation, it can oftentimes not reflect a person's true identity. PRISM helps host a graduation that uses the person's preferred name — their real name, to be recognized and honored for graduating as their true selves. I am speaking at the event and I could not be more proud to be a part of it." 
Along with hosting events, Ella leads e-board meetings as PRISM President. "During meetings, aside from preparing for events or upcoming fundraisers, we have an educational portion about LGBTQ+ history. Since LGBTQ+ history is not taught in schools, it is so important to learn about our history and all of the activists who got us here today," she says.
As she reflects on her experience in the club, Ella looks back fondly on the memories she has made.
"I am really happy I got to be involved in an organization that makes a difference. Since I have been in PRISM, we have raised over $2,500 for LGBTQ+ organizations. This money has gone to not only big organizations, like The Trevor Project, but smaller organizations that aren't as popular or advertised as well," she says. "Aside from fundraising, I also worked with JoAnna Murphy with the SJICR to create a map for gender-neutral bathrooms on campus. This was a really important project to help others feel more comfortable on campus."
Ella hopes the club continues to advance and do great things after she graduates.
"I hope the future of PRISM is bright and continues to make a positive impact for people in the community. Now that Covid is slowing down, I hope the new e-board can hold more events and partner with other organizations in the surrounding area for our members." 
Like what you see?

LEARN MORE
Story by:
Loredonna Fiore, public relations and advertising graduate
Photos courtesy of:
Ella Emmer
Desire Forman