Amanda Drayton, a first year Dance major from Somerset, NJ (Union County), rehearsed on Zoom with Associate Professor Paule Turner for weeks leading up to her first live performance during COVID-19. Amanda walks us through her performance and shares her experience as a College of Performing Arts student this past year.
What made you choose your major?
I have been dancing almost all my life, it is something that has been keeping me going. It is comforting to me and I have had a lot of great role models from it, like my dance teachers.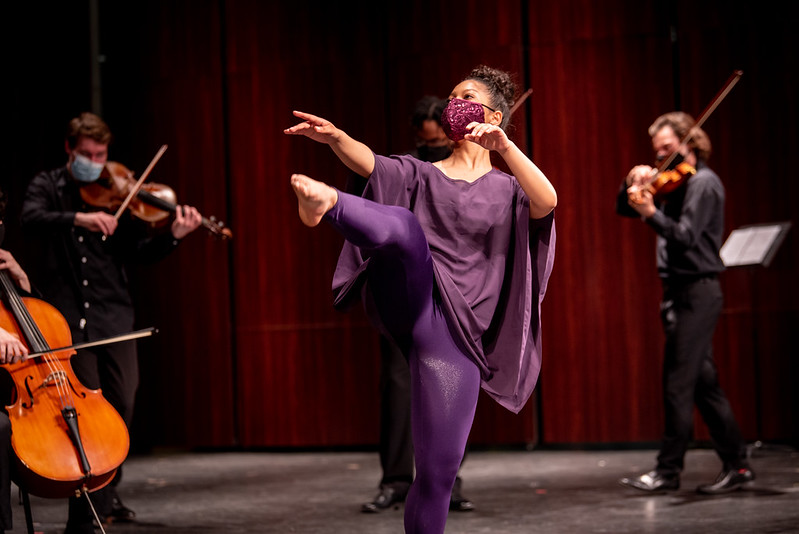 What are your career goals with Dance?
Right now, I would really like to perform in some companies, but eventually I would like to start teaching maybe in a studio or even co-own a studio.
As a first year, you are already performing and doing dance classes this early into your schooling?
Yes, we start off the bat with our dance classes. Usually we have the options to take Fundamentals of Modern Dance and were encouraged to take a ballet class, along with others. As a Dance major you are encouraged to take dance your first semester.
What has been your favorite class so far?
My favorite class so far is Fundamentals of Modern Dance, it is definitely one for the books. Just having Paule [Turner] as my teacher was really monumental. I have not had that many dance teachers that are of color or certain diversity like we have here. I am really fortunate for that.
Tell us more about Prof. Paule Turner.
The mentorship is basically like a family. We are very very open, honest, kind and respectful of each others' ideas. Paule is amazing, they are all amazing, they are all so sweet, they are just pushing for our best and they are so understanding of these times.
Tell us about your performance.
Rehearsing for this performance [was] interesting. Basically I rehearsed in my bedroom with Paule and we met through Zoom on the ensemble as well. Weekly practice and going back and forth.
How does something like this performance come together?
With this performance, the idea was combining from the old bringing new elements. This piece vaguely is about British folk dancing. There was an idea Paule mentioned about diversity and how the ensemble is so diverse than me who is also diverse. I am Black and Puerto Rican, so it is interesting how this all mixes together and see how we can have this British folk dance music and combine it with other races.
With the diversity aspect … what impact do you hope to have?
Diversity in the performing arts is interesting. It is definitely becoming more diverse. It is good to see that because you get used to seeing, well where I am from, used to people who did not look like me. I felt kind of left out because ballet is a dance that we are all encouraged to take for technique.
As a person of color and as a woman, I really hope that when people see this they can see that, "Oh she is doing this, I think I can do it too." I just want to encourage people to have fun go with it.
Dance is not all about techniques, it's not, it's really about putting yourself out there and having the audience see, feel, understand another side of you.
What advice do you have for someone who is considering dance as a major?
My advice for anyone looking to start their dance career or classes in general just try it out there is YouTube. You can go on different pages and see what you like and what fits your style, what makes you move and just go on from there. And if you like it, it is not only going to feel good but it's going to look good.
Why Rowan?
I chose Rowan because when I first came here it just felt like home and very comfortable. The environment is very beautiful, diverse … it's definitely different from other universities and colleges where you don't get the same experiences, and just walking here I felt at home.
See our video of Amanda here.
Like what you see?
Story and photography by: 
Stephanie Batista, junior music industry major