Are you new to campus? Is it your first time taking in-person classes on-campus? As any new place is, Rowan's campus may be confusing at first. To help you out, here are 10 ways to avoid getting lost!
1. Visit the information desk
The Information Desk at the Chamberlain Student Center provides directions and other useful resources to students, parents and any other visitors on campus! The Information Desk is located on the main floor of the Student Center.
2. Tour campus before the semester starts
Even if you are already committed to Rowan, taking a campus tour is a great way to get to know the campus and have questions you may have answered. Rowan is currently offering guided personal and multi-family campus tours, as well as self-guided audio tours. There are also virtual opportunities to learn more about your major and campus culture!
3. Walk your class schedule
Can't get to campus for a tour before moving in? No problem! A great idea is to walk around campus and find the buildings your classes are in before the first day of classes.
4. Check out the campus map
Already out and about and lost? Check out the campus map on your phone! 
5. Look for landmarks
Try to associate certain landmarks on campus with certain buildings. For example, when I see the Prof statue, I know I am next to Robinson Hall, and Science Hall and Savitz Hall are across the path.
6. Read the signs around campus
There are signs in front of buildings telling you their names, as well as signs around campus pointing you in the direction of other buildings. Find one of these signs to figure out where you are. 
7. Ask an RA for directions
If you live on campus, you will most likely get your RA's contact information during your floor meeting. If you need directions, your RA is there to ask for help!
8. Stop into Admissions at Savitz Hall
There are Admissions Ambassadors that work the front desk for Admissions. The Ambassadors give tours of Rowan. They know where most buildings are, so they can give you directions.
9. Find a PROS member
PROS (Peer Referral and Orientation Staff) are the staff members in the yellow polos that you see at Orientation and during Welcome Week. They don't wear yellow polos during the school year, but they do wear big braids on their bags to identify themselves. PROS members are trained on how to answer questions from new students and families, including where buildings are located! If you see a PROS member with a braid on their bag, you can ask them any questions you may have.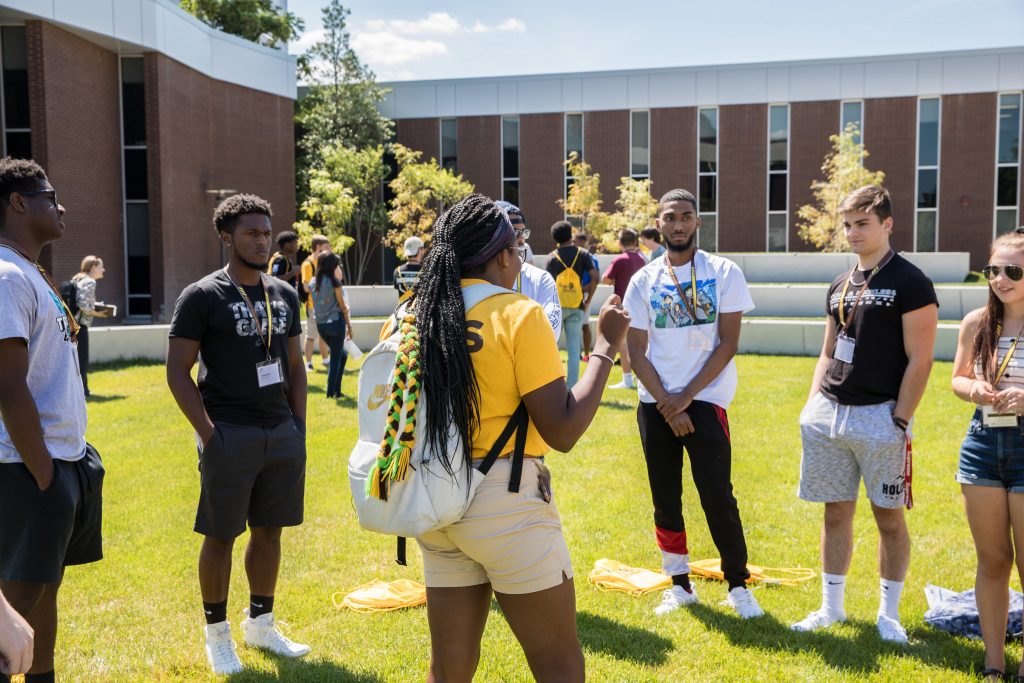 10. Stop in the Welcome Center on Rowan Boulevard
The Welcome Center is located at the end of Rowan Boulevard. Staff members know the layout of campus. If you are lost on that end of campus, popping in there and asking for directions can be helpful!
Like what you see?
Story by:
Rachel Rumsby, junior communication studies and public relations double major
Related posts:
The Best Study Spots on Campus
Summer Session: Painting Campus Landmarks with Art Education Major Brooke Bryant
Advice for Incoming Freshmen from Upperclassmen