Today we share moments from our conversation with College of Performing Arts students Michael Landolfi and Jenna Hope during a session of their Stagecraft Fundamentals class. We asked them about their favorite parts of their majors and the course itself.
Michael Landolfi is a sophomore Theatre major with a concentration in Theatre – Design/Technical.
Why did you come to Rowan?
"I recently just transferred from the Music Industry program so it was actually the major that made me want to come to Rowan. I also like that it is fairly close to home but not too close. It was important to me to be close enough to home where I could see family but still be able to explore a new area."
In the Stagecraft Fundamentals course, have you found anything you are particularly passionate about that you did not think you would like?
"I definitely have taken an interest in woodwork and carpentry more than I thought I would have."
Can you tell me about the relationships you have between the staff here?
"Especially the staff in the theatre department and the staff in the music program … [t]hey all have been pretty open with communication. Several professors have helped me figure out what trajectory I am taking in terms of what I am learning here and what I want to do in the future."
What made you change your major?
"I personally did not like taking business classes … [t]here were quite a few of those classes I had to take. Also I have also always loved live sound, and that is mainly what I am trying to get a career in because those jobs are more secure than trying to land a job as a music producer or a performer in general."
What is your favorite class so far?
"Stagecraft Fundamentals is pretty great. Starting to get involved in the theatre department and stuff has been a really good experience. I also enjoy a Social Problems class I have taken that is completely not related to my major. I just needed to take it for credits, but I heavily enjoyed it."
---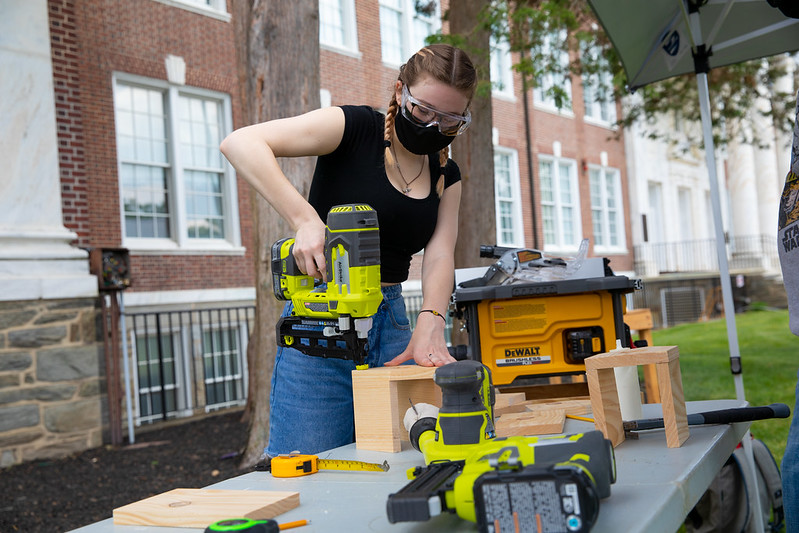 Jenna Hope is a transfer junior Musical Theatre major; however, she will be switching to the Theatre – Design/Techical major.
What made you want to change your major?
"What made me change my major was the fact that I felt like I was not able to use my hands as much, and getting to take classes like Stagecraft Fundamentals in my first year was something that really made me realize that design and tech is something that makes me really excited. Things like carpentry and costuming are so interesting and also simply fun for me."
Out of all the elements in design and tech, what would you say your favorite is?
"Out of all of them I would say carpentry, but I really have a soft spot for costuming even though I have not gotten to do it yet."
Can you tell me about some things that you have made in your Stagecraft Fundamentals class?
"We made a couple of different things … sadly most of the things we make in class are for productions we are holding in the semester, but with Covid we were unable to put on the amount of productions that we would have liked to so we did not have that many sets or props to make. With that being said, we have been making birdhouses this semester as a little project for everybody."
What advice would you give to a person who is interested in the major but unsure of design and tech?
"I think they should just take Stagecraft because it gives total insight to the major. Asking for help is also so important. Just because you need assistance or help does not mean you cannot partake in something you enjoy."
See more from the Stagecraft Fundamentals class in this video.
Like what you see?
Story By:
Natalie DePersia, junior public relations major