Today we speak with four out-of-state first year students about why they chose a university further from home and their experiences here at Rowan.
Abby Riley, a first-generation student and Exercise Science major from Elkton, Maryland, shares the value of attending an out-of-state university. Abby says, "I considered and chose an out-of-state university because I wanted to expand my horizons to other states and see how different one state can be to another."
Abby first learned about Rowan her junior year of high school when looking at field hockey prospect clinics to go to. Abby is a part of Rowan's Field Hockey team and says it's her favorite aspect about coming to Rowan.
"Not only have I formed many great friendships with my teammates, but my coach is the best of the best. The overall environment at practices and team events is something that I've always looked for," she says.
Abby advises that students considering an out-state-university should just go for it and experience a different way of living.
Alec Lacher, a first-generation student and Theatre major with concentrations in Musical Theatre and Theatre Education from Orlando, Florida, describes why he chose Rowan. Alec first learned about Rowan from the Florida Theatre Conference, where he auditioned for over 50 colleges. When Rowan gave him a callback, he researched the school further and started to fall in love with it immediately.
Alec says, "Some benefits I have experienced when choosing an out-of-state university are the different experiences and environments I am exposed to. Upon arriving at Rowan, I met so many people and have learned so many new things such as the difference between Pork Roll and Taylor Ham."
Alec is very active in the theatre community, serving on the Lab Theatre executive board as the Assistant Production Manager where he helps to produce yearly productions. Additionally, he has already been a part of two productions and says it's really helped him branch out to form new relationships with people and has given him a sense of belonging. "Some advice I would have for students considering an out-state-university is to make sure to do research on the location of the university. Also, don't be afraid to reach out to current students or other incoming first years so when you arrive, you already know some people," he says.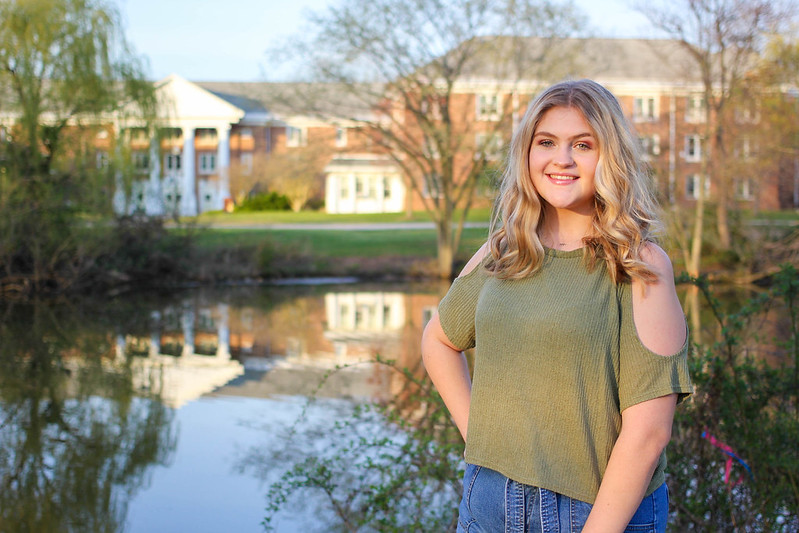 Caroline Adam, a first-generation student and Business Management major from Uxbridge, Massachusetts, shares her experiences as a Rowan student. Caroline was actually matched with Rowan using Naviance and College Board who provide quizzes for incoming college students, she looked more into Rowan and decided to take a tour. Caroline likes that she can start her college experience with a completely clean slate, away from previous high school peers. Caroline always finds things to do and new people to meet when spending her weekends on campus, since her home is further away.
During her first semester at Rowan, Caroline joined the Society for the Advancement of Management Club, where she now sits on the executive board as Senator. Caroline explains: "Coming to a school out of state was one of the best decisions I've ever made. Getting to experience a new way of life and meet people that were raised in a completely different environment than you really opens your eyes and helps you learn a lot about the world, and about yourself." Caroline's advice to students considering an out-of-state university is to choose the school that feels most like home to you. "I knew I belonged at Rowan, and I absolutely made the right decision."
Isabel Dory, a first-generation college student and Biomedical Art and Visualization major from Shawnee, Kansas, shares what it's like to attend school on the East Coast. Isabel first learned about Rowan when visiting another university in Ohio, where she heard amazing things about Rowan's BMAV program.
"Something I've enjoyed about attending an out-of-state university is being able to experience a new place for the first time. It seems a bit cliche to say, but considering I've lived in the same place my entire life, it's been fun to learn about all of New Jersey's quirks!" she notes.
Isabel points out that one of the biggest differences between New Jersey and Kansas is how close everything is on the East Coast. During her first semester, Isabel joined the Honors Fiber Arts Club and says it's been a great opportunity for her to meet new people who share her same interests. "I was a bit worried about making new friends, especially during the pandemic, but I've been able to virtually meet some great people who love to crochet and knit as much as I do," she says.
Isabel's advice to students considering an out-of-state university is don't be afraid to! "I was a bit hesitant at first when I was considering an out-state-university because I was worried about being homesick, but luckily I've made some great friends who have made being away from home easier to manage."
Like what you see?
Story by: 
Caitlyn Dickinson, senior public relations and advertising major
Photo of Caroline by:
Joe Gentempo, senior art major 
Photo of Isabel by:
Stephanie Batista, sophomore music industry major