Meet Jacob Molinaro, a Chemical Engineering major with minors in both Math and Chemistry who transferred from the County College of Morris and is originally from Essex County, NJ. He is taking remote classes at Rowan from his current residence in Utah. He shares more about his decision in choosing Rowan and what he loves about South Jersey.
What are your professional goals? And how is Rowan helping to support you in those goals?
My goal is to get my Ph.D. in Chemical Engineering and lead research in the field of renewable energy and energy storage. My time at Rowan has provided me with the educational background and experience to be competitive as I apply to my graduate programs and indirectly inspired me to follow this career path.
As a sophomore, my department head sent me an email encouraging me to apply to an REU (Research Experience for Undergraduates) program in Ohio. Following his advice, I applied and was admitted to the program and discovered my passions for both research and the field of electrochemistry.
How does your field impact the world? What impact would you like to have on the world in your field?
The field of chemical engineering is extremely diverse, incorporating manufacturing, research and development and process design. Without chemical engineering, we would find many of the everyday products we use would be unavailable. I specifically would like to work in the growing field of renewable energy and energy storage, which is becoming increasingly important as we strive for more sustainable and ecologically friendly alternatives to fossil fuels.
What inspired you to choose your major?
Excellent chemistry teachers in high school (for both Honors Chemistry in 10th grade and AP Chemistry in 11th) fostered my interest for the subject, but I have always been more interested in applying chemistry to real-world problems rather than understanding the technicalities of it. Hence, I went into chemical engineering (applied chemistry).
As a student from North Jersey, how did you become aware of Rowan University?
At the time I applied, there were five strong chemical engineering programs in the state of New Jersey that my community college made me aware of. I applied to all of them, and upon being accepted to Rowan, I came to visit and loved it!
How long is your trip/drive "home" to North Jersey?
This is an amusing question. As the question is intended to be answered, it is two hours up the NJ Turnpike/Garden State Parkway to where I lived in Essex County from my apartment in Marlton. To go visit my parents in Pennsylvania is about three hours.
However, at the moment my wife and I are living in Orem, Utah while I do all of my classes remotely. My wife, Kaitlin, is a travel nurse and is supporting a hospital here in Utah. Back to New Jersey from HERE is about 35 hours of driving.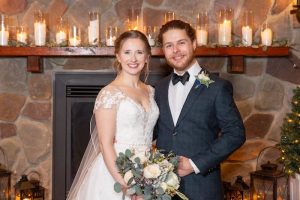 What are some of the benefits for you, living this distance from home?
When I'm back in NJ it is nice to be close enough to my parents to go visit over the weekend and help out around the house, but far enough away that we're not getting unexpected dinner guests every other evening while I need to be studying for an exam or my wife is getting home from a long shift at the hospital.
Here in Utah, the largest benefits are by far the accessibility of my favorite hobbies. I'm a runner, climber, mountaineer and skier; the whole Salt Lake City area is absolutely amazing for these activities. In the past two weeks I've been to the climbing gym, two different ski resorts, been up two mountains, and been able to run and hike in between classes.
Between my own personal travels and moving around with Kaitlin's travel nursing, I've been to 49 of the 50 states, and Utah is probably tied for second with Montana among my favorite states (only second to Wyoming!). Utah residents are also doing a great job with social distancing and mask-wearing, so COVID-19 cases are low here and places like the ski resorts and climbing gyms are able to stay open and operate at reduced capacity.
What are a few interesting or new things (to you) about Rowan's South Jersey area that you would share with future out-of-state students?
After living in the "sixth borough on NYC" in Essex County, I've really appreciated that South Jersey is much more rural. If it hasn't come across yet, I'm not at all a city person and really appreciate some good nature. The accessibility to different parks and preserves throughout the Pine Barrens has been really special. There's also a great running community, some really awesome little towns (I work as a barista in Haddonfield and love it there, for example), and a bit more of a laid back feel than you'd be used to in North Jersey.
What off-campus, local fun places do you recommend students check out?
Parallel to 322 and off of Delsea Drive there's a really awesome bike path that runs about seven and a half miles to Sewell. That's a fun ride/run, and I would definitely recommend students check it out. Duffield's Farm Market in Sewell is a great place to visit in the fall for pumpkin picking and year-round for affordable fresh produce. It's a bit of a drive, but I love the Black Run Preserve a bit north in Evesham Township.
Closer to campus, Pitman is always worth a visit for great restaurants and a fun main street. Overall, I'd encourage any new students to just drive around and get to know both Glassboro and the surrounding towns. There's a lot of neat stuff to be seen, regardless of whether you're interested in getting outdoors or visiting a town.
Why did you choose to transfer to Rowan University?
Of the three schools I was accepted for transfer to, Rowan was the most affordable (by a long shot!) and the most rural. I had spent two years at that point living in the extremely urban sections of northern New Jersey and was ready for a little farmland nearby!
Like what you see?
Story by:
Bianca Torres, senior music industry major
Header photo courtesy of:
Unsplash
We are #RowanPROUD to be included on Phi Theta Kappa Honor Society's 2021 Transfer Honor Roll, which recognizes select nationwide colleges and universities that foster dynamic pathways for transfer students.