Meet Dr. Susana C. Santos, assistant professor of Management and Entrepreneurship within the Rohrer College of Business. Rowan Global Learning and Partnerships awarded Dr. Santos its Excellence in Online Learning faculty award last year. Learn more about Dr. Santos, her teaching and how she created an inventive, daily exercise to build online engagement with her students. 
Dr. Susana C. Santos is teaching her students chasing business dreams the skills to leverage those ideas into real ventures, to improve their lives and, perhaps, to make the world "a little bit better." 
An assistant professor of Management and Entrepreneurship, Dr. Santos joined the Rohrer College of Business faculty in 2018.
Santos' family lay the foundation for her future career in entrepreneurial research and scholarship. 
She was drawn to teaching by her parents, both of whom were educators. 
Growing up in her native Portugal, she was actively involved in her extended family's ceramics business, which, like many at the time, was affected by the economic crisis of the late 2000s. This shift, according to Dr. Santos, showed people they couldn't wait for someone else to develop, generate and launch their own businesses. 
"To have your own job, to be self-employed, was becoming very important," she notes. 
Observing this movement through the lens of her family's business shaped her research and study in entrepreneurship. 
"I realized how it could be important to teach our students these … comprehensive mindsets and skills of how they can be self-employed, how they can be launching their own companies," she says. 
Dr. Santos teaches Entrepreneurship and Innovation, a course she describes as hands-on, experiential and one that thrives on experimentation. As she quickly converted her sections from in-person to online delivery due to the COVID-19 pandemic, her research into entrepreneurship handed her a distinct advantage. She explains: "The online environment really asked me as a teacher to be entrepreneurial in thinking about how I could adapt and change my own exercises that we used to have in the classroom and how we can change it."
She believes entrepreneurship is a life skill, and with COVID-19, students needed this know-how more than ever before. In her course, "we define entrepreneurship as a way of thinking, acting and being that combines the ability to find and develop new opportunities and the will to act upon them. This mindset is something you do daily," she says.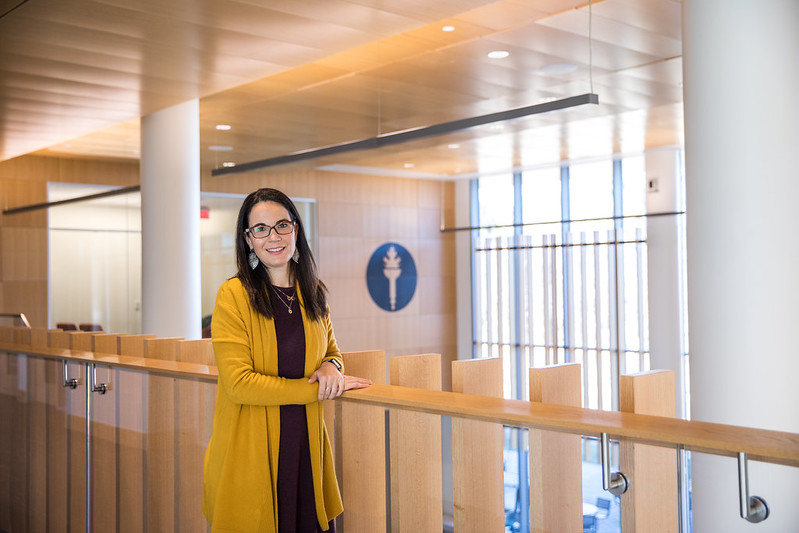 Inspired by the work of Dr. Heidi Neck from Babson College, Dr. Santos developed a mindset exercise. She sent her students what she calls a "a daily mindset vitamin" and launched an accompanying classroom chat via the What's App application. Her "vitamins" took the forms of questions such as "What is the difference between learning and failure?" or an action item prompt like "Today, smile a lot more than usual." 
"I didn't expect anyone to actually answer them, they weren't required to answer. But guess what — they actually did!" Dr. Santos says. "People started chatting every day about whatever it was I was sharing with them. I wanted to send this daily mindset vitamin to be absorbed and to be connected in such challenging times."
She adds, "I believe this was a unique way to build connections between students themselves and also with me during online classes." 
This isn't the first time Dr. Santos has used technology to engage with students. 
She also sources YouTube and podcasts to extract the most up-to-the moment resources for her courses, which simply cannot be replicated in textbooks.
One such source is the NPR podcast "How I Built This," which deep-dives into businesses launched by entrepreneurs from Chipotle to Instagram. A self-described fan of the program, Dr. Santos connects these real-world stories of successes and struggles with key concepts or theories in her courses. 
She also collaborates with Rowan's Center for Innovation and Entrepreneurship, with whom she is a faculty partner. The Center supports budding entrepreneurs throughout the university by hosting guest speakers and offering competitions, events and workshops. Without missing a beat, RCIE has delivered its programming online since the pandemic. Dr. Santos connects her course content to the people and workshops offered by RCIE.
Dr. Santos' infusion of tech with daily doses of engagement prompted colleagues from the College of Business to nominate her for Rowan Global Learning and Partnerships' second annual Excellence in Online Learning award. She says will extend her "vitamins" to her upcoming summer course and continue her teaching and research on the entrepreneurial mindset, which she says is more universal than most assume: 
"When I do research in so many different fields, it's thinking about how people can use this mindset in different contexts. One of my research [interests] is on low-income people. They have few resources, they live in a very complicated world. But they find a way to turn around, they leverage the resources they have and the courage to act on those opportunities. So in offering my research I make an effort to understand better how this entrepreneurial mindset can be really relevant in many others rather than just having your own company."
Like what you see?