Lonniece Senior works for Quality Packaging Specialists International, LLC as a lead Human Resources Specialist. She graduated from Rowan in 1997. She has since earned two master's degrees — one in Business Administration and one in Philosophy in Management.
What was your major in college? 
"My major was Business Administration with the Human Resources concentration and a minor in Early African American Studies."
Knowing that corporate law would deal with business, Lonniece looked through Rowan's catalogue of business-related majors and found HR, a program on legal aspects, employee relations and management. She immediately recognized this was the major for her. 
"I took my first class freshman year with Dr. Byrd. He was an African-American professor in the business department and an attorney. He had a class called Legal Aspects of Human Resources. He said, 'No one gets an A in my class.' And I said, 'Hmm, we'll see about that.' I got an A in his class."  
Can you summarize your journey after college and up to your current role? 
"I worked all through college on-campus and off-campus. My first role was as an HR assistant. I had been interviewing, and within three months I got a call back for a second interview. I went from being an HR assistant to being an HR recruiter at the Deborah Heart and Lung Center." 
Lonniece's strong understanding of employment law helped her land her promotion at the Heart and Lung Center. Later on in her career, she worked on her master's degree during the weekends. She eventually moved to Commerce Bank (now TD Bank) and rose from a general HR employee to a specialist in employee relations and later Assistant Vice President of the HR department. Lonniece gained the most experience in this role with the help of mentors who encouraged her to take on new projects and responsibilities.
When asked about her resume in interviews, Lonniece always leads her with saying "Everything is true. My résumé is not one of those [made-up] ones. Everything on there, I did it." She encourages students to utilize this fact because it has always worked well for her. 
Lonniece has been the Director of HR at QPSI, a minority-owned secondary packaging business in Florence, NJ since late 2020. She loves her new role and found the unique industry of secondary packaging to be very interesting. She explained that QPSI repackages items like NyQuil and DayQuil together into a dual pack. QPSI also does the labeling or "artwork" of the items. She loves learning new things everyday.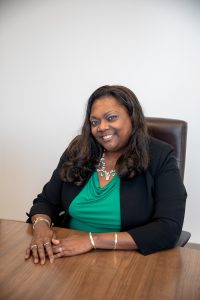 What advice would you give to new students, especially Black students? 
"Become involved on campus whether you live there or you're a commuter. You get your best experiences when you're involved. I believe in being decisive about where you want what you want to be when you grow up. If you take too much time trying to find yourself, you may never find yourself. Before you know it, it's three and four years later. Talk to someone about [your career goals].
"[Careers] are not always traditional, and it's not always written in a book. Be decisive and be prepared. When you are unprepared, you spend a lot of time doing nothing. Doing nothing gets you nowhere. I find [when] I talk to young people, they say speak in questions instead of speaking in absolutes. If you're not going to open your mouth [and] if you're not going to think for yourself, you will be a 10-year college student with nothing."
What would you like to see in the future at Rowan?
"I'd like to see more outreach to students of color as well as to faculty. [I want to see] concerted effort that there is good representation of faculty that are Black and brown people, not just women. People need to see people like themselves. That is important and that is what helped many of us when I was there. You need to see people in academic excellence, in business excellence, and in a professional capacity to help you feel good about who you are. 
"I can see we've been able to get the money to expand the school, but I think it's [important to think] about the culture. If you leave the culture behind, it won't be as successful as I would like it to be. Being underexposed [to other cultures] is the worst thing possible."
She hopes that all students can learn from each other and understand each others' experiences more. She finds that when people are underexposed, they tend to bring certain biases up throughout life, and she deals with the many issues that arise from these biases in her role as an HR manager. 
Is there anything you would like to share that I didn't ask you about? 
"I would like to see Rowan find as many opportunities to feature alumni outside of Black History Month. I would like to see a little more diversity in the features that they do. I'd like to see the university be the model for [change]. There are so many opportunities here for Rowan to step out in the forefront and to change some of the practices and industry norms."
How do you think we could start that change? 
"I think doing things like this starts that change. I think RUBAN [Rowan University Black Alumni Network] started that change. But, I also think that it needs to be outside of this. It needs to be a part of a larger culture and practice. I'd like to see [diverse stories] be the norm. I'm not sure where that starts, in terms of the university, but I do believe that a lot of time it starts from the top down. I'm sure that the Department of Diversity, Equity and Inclusion on campus has a strategy in terms of looking at who's being hired. I think it takes a long time to bring in a variety of people, but I think it has to be done. Students need to see people in leadership roles who are like them." 
During her undergraduate year, Lonniece worked for Julie Peterson for five years. She found a mentor in Ms. Peterson and envisioned the professional brand she wanted to build from her mentor's example.
Like what you see?
Story by:
Marian Suganob, senior public relations and advertising major