Today, we feature alumnus Brad K. Leak '94, who earned a bachelor of science degree in Business with a specialization in Accounting. He also led the men's Track & Field team as captain from 1991-94. As a three-time all-American champion, Brad wisely balanced the many responsibilities of being a student, an athlete and a leader.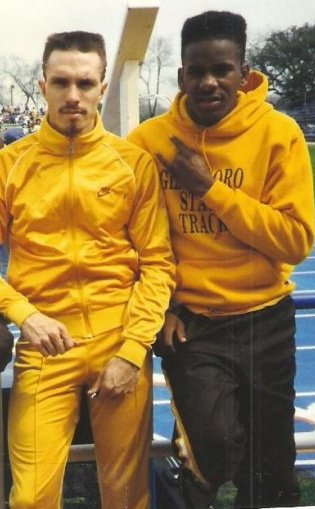 Where do you currently work?
"I am the Associate Managing Director of Financial Aid at Kean University, but I still love my school [as Brad proudly shows he's wearing Glassboro State College apparel]. Although it was awkward for me, accepting a job at one of my school's rivals, my wife and I were excited at the opportunity for my kids to attend college for free. I'm also going to run the EOF program for Kean University! I was equally blessed that my fraternity brother is the first African American president of Kean University. He was putting together a diverse team [to lead Kean]; my name came to his mind as someone who would not only relate to the students of today but also knew how to go about understanding federal compliance as it relates to financial aid and helping students to graduate. Just three weeks previous, I was offered to be the first African American Director of Finance of Union Township, but the local politicians wanted to ensure they put all options of the table for the betterment of my career. I could not turn down the opportunity to assist in molding the future minds of society."
What was your experience as an undergrad?
"I received a bachelor of science in business with a specialization in accounting. As an only child, my mother said I always [pretended] to have a business office and clients. I also excelled in mathematics in school. [Although] I wasn't interested in the complicated formulas, numbers had always interested me. In the church, anytime the offering was going to be taken, I wanted to help manage the finances of the church."
Eventually, somebody pointed Brad toward accounting. In high school, he took an accounting class, learning the concepts of debits and credits. From a young age, Brad "knew [he] wanted to study accounting, become an accountant, and build a whole career as an accountant."
Brad's favorite class was Accounting 102 with Dr. Diane Hughes, one of the few African American teachers he met in his entire educational experience. Brad later became the president of the Institute of Management Accountants (IMA) at Rowan from 1993-94. Brad earned the position by impressing IMA's advisor at the time, Dr. George Romeo, through class and one-to-one basketball sessions.
Coming through the EOF program, built solid friendships and learned more about the campus environment. Brad credits his start in EOF in helping him make it through college because it was a major adjustment from his hometown in North Jersey. Living only six minutes from the Newark airport and 20 minutes from New York (on a good day), he remembers being surprised Glassboro only had one Wawa in the area.
Can you tell me more about your extracurricular activities?
"I specialized in the 800-meter race and ran the anchor leg in the 4×400 relay. The anchor leg was tough, especially at nationals where everybody gets excited. I [also] ran run cross country because as a middle-distance runner, you have to be fast and strong.
"I am a member of the Phi Beta Sigma Fraternity, Inc. I pledged in the spring of 1990, and that network has led me to have a fraternity brother who is the president of a major university in the state of New Jersey. The model of our fraternity is focused on service for humanity. Phi Beta Sigma recruited you so that you could become a leader of the community. It was less about yourself and more about what you could do for other people. There's a difference between aspiring to be a leader, and already being a leader who wants to serve people. I stayed active through the alumni ranks.
"As one of the historically Black fraternities and sororities, the alumni portion of [Phi Beta Sigma] is as strong if not stronger than the collegiate ranks. [As an alumni], it's less about college parties and more about community service, networking, and conferences; and, because of that, we've become an intellectual thinktank."
Brad remembers being a social butterfly and recruiting members for Phi Beta Sigma, starting off with five to six members and gaining up to 25 new recruits. This experience helped shape Brad into the leader he is now. He believes that intentionally creating positive situations will lead to positive results and that "iron sharpens iron."
Could you share with us a little bit about racial inclusion and the student culture while you attended Rowan?
"In my day, the only diversity that came through the campus was from the EOF/MAP programs. In 1992, the Rodney King verdict was released, and we marched down 322 onto the football field during a game. We tried to stop the game. After that, we immediately went to the President's house [Hollybush Mansion] and camped out. I also went to NAACP events in Clayton and Camden as well as Black Cultural League once a month."
Coming from North Jersey, Brad remembers driving back home and about 35% of the time he drove up the highway home, he was pulled over by NJ state troopers. It happened so often with one state trooper, he eventually remembered Brad as "the college kid."
What advice would you give to students, especially Black students?

"Always understand that you want to be the change that you want to see. The blessing is, with [the culture] today, I can comfortably speak about the Black Lives Matter Movement. Where in my day, you didn't want to be so radical. We were being trained to assimilate to corporate America. You didn't see a lot of African American CEOs or presidents of major corporations, you only really ever saw us in sports and entertainment. Now, we have had an African American president [and now a Vice President] of the United States. So, I would tell those students — especially the males — to understand that if Black Lives Matter then Black education MUST matter. I want them to value their education first and foremost.
"Education is more than just the process of going to class and going back to your dorm and playing the PS5 or whatever kids are playing with today. Education means you have to join a professional organization. Make sure you not only do sports but also participate in academia and build a relationship with your professors. Ask them about their professional experiences.
"I challenge them, [especially] African American males, to set the example and change 'perception.' Make sure you're holistically involved in the campus, be involved in the ENTIRE process of being a college student. You're only going to be able to do that for four or five years. If I had the chance to do it all over again, I would do it all over again. I would do a couple of things differently and I could make my career that much greater just by the basis of my college education and experience at Rowan University."
Brad has always appreciated the power of education, especially being the second person in his immediate family to attend college. His aunt, Dr. Violet Martin, was the first to go to college and also calls Rowan her alma mater. Brad and Dr. Martin now have six other collegiate-level students or graduates in their family.
What was your journey like after college?
"When I graduated from college, I had applied to a lot of the Big Six accounting firms. I wasn't getting the opportunities I really wanted. Because, at that time, if you didn't go to one of the Ivy League schools where the Big Six recruited on those campuses and where they have associations set up, they did not look at you. Being the president of IMA, I got sent to a three-day weekend at UPenn. [Even] being one of the most outgoing people in the organization and having a down-to-earth attitude (coming from Rowan), the only kids they were recruiting from were from UPenn, Drexel, or Villanova. I didn't let it bother me. Long story short, I found out I have a second cousin, Walter Frye, who owns a CPA (Certified Public Accountant) firm. Walter brought me into his firm, and I've continuously worked with him for 25 years at the same time as my other jobs. The firm had a contract with KPMG to audit New York City. We made sure to send diverse accountants because the people auditing the city should look like the public. I received training by KPMG in Denver, Colorado. This opportunity set up my whole career. I became a top executive for Atlantic City Housing Authority. I began my own firm and worked with housing authorities all over America, traveling 80% of the time. I would not have believed a small kid from North Jersey would become a key figure in the housing authority. Now, I've pivoted back to college and higher education."
What do you hope to see in the future of Rowan?
Brad appreciates the fact that the minority base at Rowan is growing. He hopes that everyone feels accepted at Rowan and that diversity will not be treated as just a statistic. He also hopes to see the faculty one day look like the people they are teaching.
Like what you see?
Story by:
Marian Suganob, senior public relations and advertising major
Related posts:
Beyond The Classroom: Entrepreneurship Major, Owner of Showtime Sneaker Boutiques, Christian Giannola
Alumni Success: Michael A. Wilson Jr., Marketing Operations Specialist for SHI International Corp.
Alumni Success: "What's Good" with Isaiah Showell '15, Multimedia Journalist and Local Storyteller