Today we feature first-generation college student Elona Noka from Albania studying Economics and Political Science. Elona is a senior who transferred from Tirana University in Albania. She is a part of Women in Business and Phi Sigma Pi. She currently commutes from Deptford, NJ (Gloucester County).
What wakes you up in the morning?
What wakes me up in the morning is the opportunity to learn something new. That's what keeps a person alive, improving and refreshing your knowledges every day. I put a high priority on my studies, so I'm really passionate about completing my professional career. To be honest, instead of looking for role models, I try to become one. I constantly work on my skills and knowledges, learning new things and languages.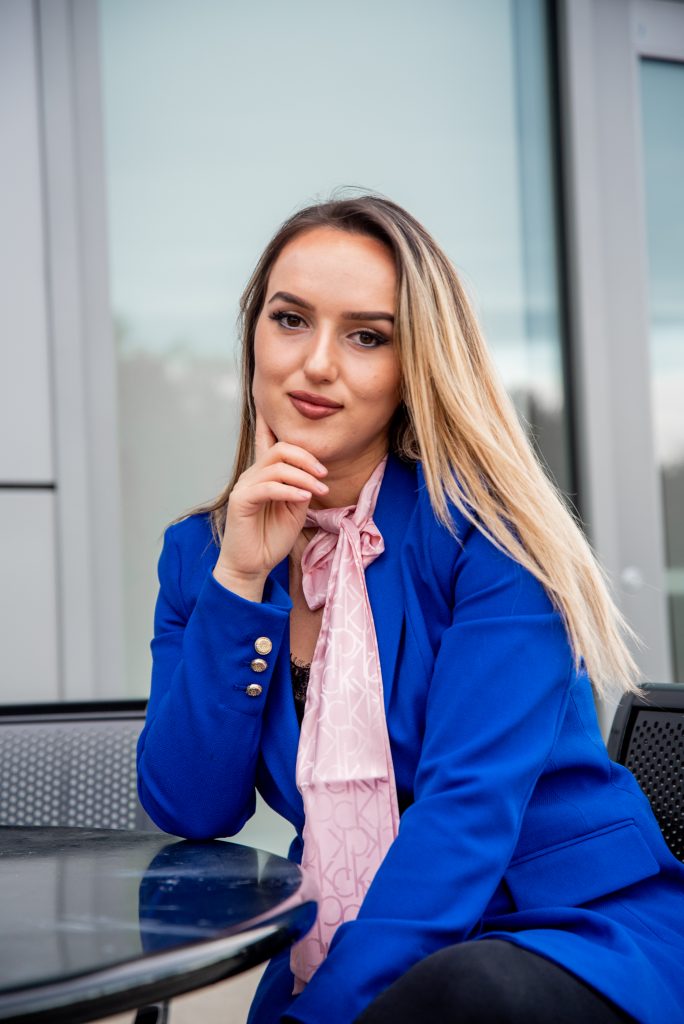 How would you tell a fellow student interested in your major that they're choosing a worthwhile field?
I decided to get my second degree in Economics and Political Science because I thought it would be a great fulfillment of my first degree in Finance and Accounting. I am where I am because I knew what I wanted and nothing happened suddenly. Once my father advised me to study Finance or Economics because he considered it a great path to success since Economics is related to all the huge businesses, companies, institutions or even government jobs. Now, I advise all fellow students to study economics because it will help them think strategically and make the right financial decisions. Studying economics is the key of achieving success. You will have many chances on becoming a great economist and moreover you will have no limits on becoming a CEO, CFA or a CPA.
Could you share with us one moment that made you feel inspired or confident that you're in the right field for you?
I come from a relatively poor country and I only have two years living in the U.S., but since the first time I stepped on Rowan University I knew I was where I belonged. It was the right place for me to present all my values. I was fascinated by the territory of the University and the warm hospitality that the professors offered me. Everything around us is strongly focused on money, but what makes it wonderful is the fact that you can focus on how money is used and how it can change the world, for better or for worse.
What has been one aspect of Rowan that you've enjoyed so far, OR one happy thing about Rowan that surprised you?
As I mentioned above, Rowan University has surprised me in many ways. The University is "a state of mind," everyone will see it differently and therefore impact on their lives in a unique manner. To me everything has been great, all those relaxing environments between class hours, the communication that the professors have built with me, the lab hours and much more.
How was transferring to Rowan the right choice for you?
Transferring to Rowan from Albania, my hometown, has been so challenging, competitive and exciting. I would say completely a change of mindset that grows me intellectually every day and more. Being one of the … students of Rowan makes me engage in self appreciation and ask more of myself every single day.
Like what you see?
Story and photography by:
Stephanie Batista, sophomore music industry major