Today we feature Drusilla Appiah-kubi, a Biological Science major, Psychology minor and Honors concentration student wrapping up her junior year. Drusilla is a first-generation college student from Old Bridge, NJ (Middlesex County) who lived in the Townhouses.
Academic or social clubs you are a part of: I'm the Vice President of the Rowan African Student Association
What inspired you to choose your major?

When I was little I would babysit my little cousins all the time, and I would play with them all the time until it was nap time. Even though taking care of babies is a pain :), I would always love putting a smile on their faces. I also loved it when I was younger my pediatrician would come to work so lively and energetically. At the end of the appointment, I would always receive a sticker and a lollipop, which always put a smile on my face. This showed me that they truly loved what they do and gave me a huge interest in that field.
What would you share with a future student interested in your major?

Being a Biological Sciences major isn't easy, especially if your main focus is to go to medical school. One thing I've noticed is that if you like chemistry you're not going to like organic chemistry so much. Every major consists of putting time into studying, but if you plan on majoring in science and going to medical school, you should put a lot of time into studying, be organized, and have friend groups where you guys can all study together.
How does your field impact the world? What impact would you like to have on the world in your field?

Being a pediatrician plays an important role in today's world by taking care of children, making sure they're well treated and healthy, and that their growth and development are where they should be in age. The kind of impact I'll like to have on the world in my field is having my own office where kids will come and have fun.
Describe for us an experience you've shared with a Rowan professor in which you felt like you were working with a visionary in your field.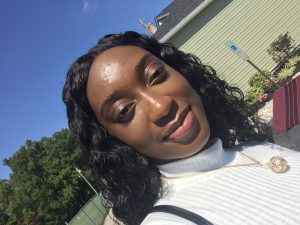 I felt like I was working with a visionary in my field when I attended [one of my professor's] office hours. I felt like I was able to talk to her and build a great relationship. Exchanging conversations back and forth made me realize that she truly cares for students and is willing to help her students succeed. Over the semester, I told her that I was planning on furthering my education by going to medical school and becoming a pediatrician. 
Like what you see?
Story by:
Nicole Cier, senior writing arts major

Photos courtesy of:
Drusilla Appiah-kubi