Welcome to our series to give you a glimpse into Rowan University, our campus culture, and the lives of our students, while practicing social distancing to protect society from the spread of COVID-19. Today's story is from Devon Graf, a senior Communication Studies major isolating from her home in Gloucester County, NJ. 
Currently with too much time on some of our hands at home, we may not know where to begin. I'm here to give you some top Netflix shows around. While being at home, this can be a great time to sit around with family and start a new series! Let's get to it!!
1. Dexter
Oldie, but a goodie? Am I right?

Expect to see graphic close-ups of severed arms, legs and heads. And running a close second to the bloody visuals is the psychological mayhem that comes with taking a peek inside the twisted mind of a killer. The real catch is Dexter Morgan's day job: He's a blood-splatter expert for the Miami Police Department, which further assists him in his clean technique of taking care of his own victims. This eight-season show will have you in for a thrill. One question you can take away is, Why do we sometimes root for the bad guys? Is Dexter a "bad guy"? 
2. Black Mirror 
With all of this chaotic pandemic craziness going on, what better way to take your mind off with some sick, twisted Black Mirror episodes? One thing I love about this show is that every episode is different. You have five seasons and 22 episodes of dark, British social commentary. There are lots of violent (and often scary) events, sexual themes and cursing. There are references to social media like

Facebook

,

YouTube

 and

Twitter

, as well as similar but futuristic technological concepts, like a Tinder app that helps people find their true love by using computer simulations. Definitely a show that can mess with your mind! Take this away: Can you think of examples where technological advances seem to have gone too far in real life?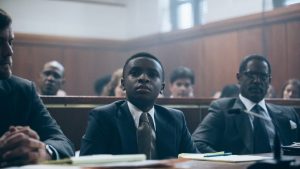 3. When They See Us
Looking for something more in depth and real?

When They See Us

is a dramatization of the Central Park Five case, in which five teenagers were wrongly convicted of the violent rape of a 28-year-old woman. The 1990 trial was widely publicized at the time and has become an example of institutional racism within the police and the American justice system. The complex subject matter makes this brutal but often powerful series is a harsh reality that is very compelling, although violent. If you watch maybe with a younger sibling, there is some strong language and the content is mature, so I would recommend this for those who are 14+ and able to handle content involving racism, violence, sexual content, etc. 
4. Dead To Me
This quirky dark comedy is about a widowed woman who makes a mysterious new friend in a support group. This unusual show combines both a suspenseful mystery and a narrative about a woman becoming a stronger and more complete person after a terrible blow through a supportive (if fraught) friendship and therapy. This show stars Christina Applegate as Jen, a recently widowed woman whose overwhelming grief leads her to a support group where she meets Judy (Linda Cardellini), who's going through her own grief process. When the two spark a friendship, Jen quickly learns that there's more to Judy than meets the eye — but just how much more will take longer to unravel!!!! You can also talk about this with family while watching and ask about what type of show this is. Is it a crime drama? A fantasy? A family drama?
5. The Umbrella Academy
Looking for a dark comic? This show is a series about a group of adopted siblings with superpowers who team up to try to prevent a fiery future apocalypse. Characters, usually depicted as villains, bad guys or faceless "hench" people, are dispatched bloodily by the so-called heroes. They're shot, stabbed and torn apart, with spurting blood and gore — in piles of dead bodies. Action packed? I think so.  Here are some questions you could pass around the table with your family: What makes stories about humans with extraordinary powers especially appealing? Why would people want to have superpowers, particularly at this moment in time? If you could have a superpower, what would it be? 
Like what you see?
Story by: 
Devon Graf, senior communication studies major
Header photo courtesy of:
Pixabay