Name: JT Kurtz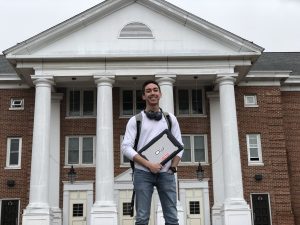 Year: Junior
Major: Computer Science
Hometown: Egg Harbor Township, NJ (Atlantic County)
On campus resident or commuter: I am a resident assistant in Chestnut Hall

First-generation college student? Yes
Academic or social clubs you are a part of: I am a part of Rowan University Philippine American Coalition (RUPAC), I do research for the psychology department and College of Business, I am a learning assistant for Introduction to Computer Science, and I oversee the computer science learning community.
What inspired you to choose your major? I aspire to be a full-stack developer, which is a person who has the ability to design and develop both the front-end and back-end of a software program.
What would you share with a future student interested in your major?
Persevere. Going into computer science is challenging, but very rewarding. When you see results, you will recognize the work you put in, and it is a lot of work. Rowan's Computer Science department has so many opportunities. There are so many internships, jobs and co-op program opportunities. Also, be independent, but don't be afraid to ask people for help.
Did you ever have a moment of uncertainty within your major? How did you get through the challenge? I can't pinpoint a certain moment, but there come times where you really can't figure things out and it gets tough. I got through it by having my RA staff around and being honest with them.
They were motivational. Listening to music and getting in the zone helps. I learned to not be afraid to ask for help from some of my computer science major friends, then that translated into feeling comfortable asking for help from professors. 
Tell us about one moment that made you feel like Rowan was the right fit for you. When I first stepped on campus, I felt at home. Rowan isn't too big, or too small. It felt just right. During orientation, Professor Jack Myers really hyped up computer science, which motivated and influenced me to pursue my degree. He got me excited about the major and made me feel like computer science was what I wanted to do with my life. I also knew Rowan had the tools to help me go far.
How has DJing impacted your experience at Rowan and vice versa? I love to DJ. I DJ for on campus events, formals, and I also outsource to other
universities. When I outsource to other universities and in the outside world, I am representing Rowan. Being an RA has made me more confident and comfortable, as well as increases my interpersonal skills. These qualities are transferrable to my DJing. Both jobs have also taught me how to be adaptable and make people feel welcome. Also, DJing has helped me make many connections, and being an RA people reach out to me to DJ their events. 
How will being a DJ and an RA affect your future career? Both jobs go back to the fact that I love technology and helping others. My goal to be a full-stack developer is to help people, and both jobs allow me to help others in different ways. For example, as an RA, I was able to redesign the duty system for housing. The system made scheduling a lot easier for everyone. Being a DJ, if a party or event is dying and starting to become slow, I rescue it and bring the event back to a party level. 
Like what you see?
Story and photography by:
Rachel Rumsby, freshman communication studies and public relations double major
Nicole Cier, senior writing arts major