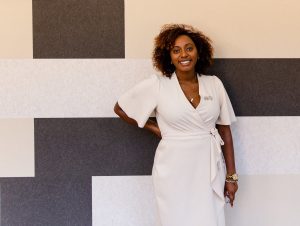 Meet Pre-College Institute (PCI) alumna Troi Barnes, a 2017 graduate from the department of Public Relations and Advertising. She is from Williamstown, NJ (Gloucester County). Today, Troi will share with us what she's up to now and how PCI helped her prepare for Rowan.
What are you currently doing? "I am a public relations account coordinator at Skai Blue Media, located in Philadelphia. I lead accounts such as The African American Museum in Philadelphia, I handle all their communications. I work with [teen activist and author] Marley Dias, I lead her account for #1000BlackGirlBooks. I also work with [author and producer] Fanshen Cox DiGiovanni, who does a one-woman show called "One Drop of Love." She is also a consultant for Matt Damon and Ben Affleck for Pearl Street Films. So, I secure their accounts for speaking engagements and different social media partnerships."
How did PCI help you prepare for college? "It helped me a lot. My mother is Dr. Penny McPherson Myers [from the Division for Diversity, Equity and Inclusion at Rowan]. So, I was 12 when I started coming to the PCI summer program. It helped me to get to know people prior to even before coming to Rowan. And when I was actually in the program in 2013, I met so many lifelong friends. It also prepared me for college with being able to take courses that would eliminate me taking them in the school year, building up my GPA and just having a family going into the school year and college life in general."
Were there any classes that stood out for you during the summer program? "I took a writing class that really helped me strengthen my writing before I entered college. I wasn't that strong [in writing], and that helped me to eventually get where I am now, where I am writing press releases and media alerts."
Any advice you would give to PCI students? "Give your all. As much as you give is as much as you get from the program. So, if you engage with everyone, you will become family. If you put effort to become friends with the people you are here with for six weeks, then you will definitely get a lot out from the program."
Like what you see, come visit us!
Story by:
Iridian Gonzalez, senior journalism major