Today we are talking with Enzo Ronchi, a senior Public Relations major who transferred from Atlantic Cape Community College. Enzo is a part of the band Transfer Post. Transfer Post was featured on a completion album produced by Rowan Music Group.
Enzo was always inspired by music and is a self-taught musician from an early age, being a part of music in anyway he could — from jazz band in high school to writing his own music. One of the major reasons he decided to join the Rowan family is because of the music scene around us, with Rowan Alternative Music club and the venue 4333 playing an enticing role. When Enzo arrived to Rowan he met his bandmates, who formed Transfer Post.
"Coming here gave me every resource I needed to start this band," says Enzo. Besides having a great music industry and tech program, Rowan allowed him to meet many talented people. Enzo was able to network throughout the music scene on campus enough to meet the right people, who eventually asked his band to be a part of their album and produce their song.
"A friend of mine who recently graduated was a part of Rowan Music Group and asked if we wanted to be a part of an album compilation and at that time we finished recording the song shortly prior but we didn't have anyone to produce it, so everything sort of fell into place." Rowan Music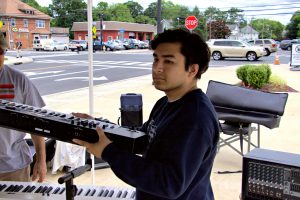 Group opened the door of opportunity for Transfer Post to become more known and get their name out there with other popular local bands. Here's a story of how a talented self-taught musician, was provided with every opportunity and made his aspirations a reality.
Like what you see? Come visit us!
Story and photography by:
Justin Borelli, senior advertising major